Ruth's Chris Steak House
08 May 2016
Ruth's Chris Steak House
301 N. Water Street, Wilmington
910-343-1818
ruthschris-wilmington.com
By BRIDGET CALLAHAN Photos by JENNIFER SIMPSON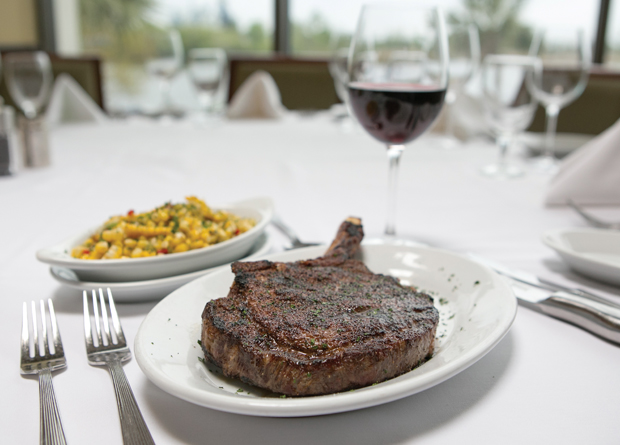 There are certain times in life that require a fancy restaurant. Birthday dinners. Anniversaries. Business lunches. Your wife's father's first day of retirement. Your daughter graduating from college. These are the times to get dressed up, and go somewhere classy. A place where cell phones don't ring, where there is no need for schmaltz, schtick, or cover bands.
However, a Friday night in downtown Wilmington, with crowded sidewalks full of bars, restaurants, and tattoo parlors, can be intimidating depending on the mood you're in. Will you be able to find parking? Did you just accidentally park in a taxi stand?
Here's a cool trick: take a right on Front Street instead of a left. Head out of the bar-hop crowds, to the much calmer North Side and the Hilton Wilmington Riverside hotel. Don't even worry about parking. Just pull up to the revolving glass doors, and hand your keys off to that nice young man in the Hilton uniform. Walk in like you own the place, because that's how everyone should walk into hotel lobbies. Pretend you already know where the restaurant is. (Hint: It's behind the check-in desk, and to the left.) You are going to a steakhouse, after all. A pretense of power moves is always a nice touch.
Ruth's Chris Steak House is a chain; let's admit that right off the bat. There are Ruth's Chris's all over the world. There are four in North Carolina alone. But Saks Fifth Avenue is also a chain. Chew on that for a minute
Saks Fifth Avenue, however, does not serve a sweet potato casserole that has been passed down by generations of Louisiana delta farmers. You cannot get a perfectly medium rare, Midwestern, corn-fed, bone-in ribeye, sizzling and sputtering with butter, at Saks Fifth Avenue. (If they did sell those, I'm sure they would be great. Not "fifty years of steak-making experience" great though.)
The Ruth's Chris Steak House location in Wilmington, tucked away under the hotel and off the beaten path like an exclusive club, has its own distinctions that set it apart from its sister restaurants. Guests can see the first difference as soon as they walk into the comfortable, upscale dining room – a sweeping picture window that gives diners an impressive view of the Cape Fear river. Eric De Curtis, assistant manager and a recent addition to town, has worked in several other Ruth's Chris's throughout the years, and even he's impressed.
"It's the best thing about this location, the view of the river. People rave about it, and specifically ask for it when they make reservations. The sunsets here are beautiful. The sky turns orange, blue, pinks, and purples. It's not something I'm used to at the other places," De Curtis says.
The other glowing distinction about Wilmington's Ruth's Chris is its executive chef, Chris Jewel. Jewel started with the company in 2008, and has been with this location since it opened. "He's a great teacher, very knowledgeable, and he takes a lot of pride in his work," De Curtis says. "I can't say enough about his passion, and the teamwork he promotes."
Teamwork is important when you're directing an experience. After all, a perfect dining experience is like a movie set, with many people working hard to get that shot in one take. From the hostess who takes your reservation, to the server, the busser, the bartender, and of course, the whole kitchen staff, Ruth's Chris prides itself on quality and consistency. "The entire staff is enthusiastic, and very educated on the menu. We provide weekly Saturday wine trainings. Our table maintenance is very detailed. When you call to make a reservation, the hostess always asks if it's a special event, so we can add touches. Creating memories is what we like to do, something you'll really take with you," says De Curtis.
The menu, like the tablecloths, is high-end but classic. Oysters Rockefeller make an appearance, for instance, and the gloriously simple Iceberg Wedge salad. There are, of course, steaks, ranging from the tender petite filet, to the rich forty ounces of the porterhouse for two. The menu tells you very clearly you can ask for extra butter on top, in case you were wondering. Sides are served in large portions, meant to be shared family style with the table, and all the beloved standards are there too: pan-fried Lyonnaise potatoes with sauteed onions, asparagus drizzled with creamy hollandaise, sweet caramelized tomatoes, wild mushrooms in a veal demi-glaze. If you aren't in a red-meat mood, your options include huge 18 oz pork chops, a variety of fresh seafood, and an intriguing dish of veal osso bucco ravioli. Then there's the chicken -- an oven-roasted breast, stuffed with a garlic herb cheese and dripping with lemon butter.
"Yes, we're a steakhouse, but you can't really get that dish anywhere else," says De Curtis. " People come in here just for that chicken."
If you're looking for something a little more casual, Ruth's Chris provides a happy hour menu in the bar and lounge Mon-Fri from 4-7pm, with reduced prices on dishes like a steak sandwich with béarnaise sauce and fries, or lobster mac and cheese, as well as three dollar beers and seven dollar manhattans. They also hold several wine or cocktail-paired dinners throughout the year. On June 16th, Cakebread Cellars from California will guest star at the wine dinner, and August 18th, Grey Goose cocktails lead "A Night of Extraordinary Spirits." Reservations are required for all pairing events, and typically go fast. And while reservations are not required on regular dining nights, they are recommended, because after all, there are only so many tables next to the picture window.