Fulfilling a Dream
08 May 2016
New owner Buffy Frank is bringing in top artists to her gallery and extending her reach into fashion ware
By JOHANNA COLBURN Photos by JENNIFER SIMPSON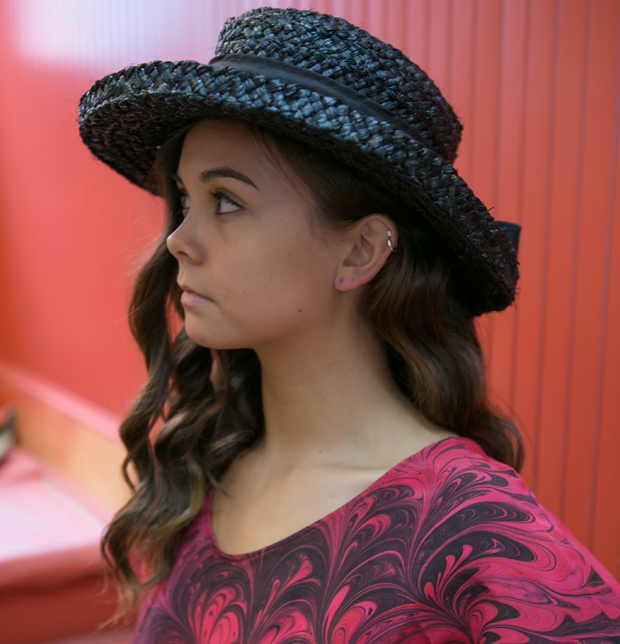 Crescent Moon Gallery at 24 North Front Street in historic downtown Wilmington merges art and style from their artist's studios to your home. As ambassadors of art, the team at Crescent Moon supports artists throughout the United States as well as locally with prices that everyone can afford. The gallery features glass, pottery, fiber art, jewelry, metal, fashion, wood, home decor and mixed media art.
Owner Buffy Frank re-opened Crescent Moon's doors on October 17, 2015. She expanded the showroom floor by 500 square-feet to exhibit sculpture and sisal fiber art. Currently, Frank is implementing plans to broaden its customer reach to anyone who likes or is interested in art. Frank reorganized the gallery to include a new office, dressing rooms, space for art classes and the ability to host events such as wine and design. With new gift lines, a children's section and bridal registry, Crescent Moon has opened the door to a whole new world of clientele. Crescent Moon also uniquely features art and products for the entire family. "There is a lot more art for families than there used to be," says Frank. The new children's section features a take-and–make jewelry area and fun souvenirs related to the exhibits.
Operating under the motto, "all under one moon" Crescent Moon incorporates each customer's needs. It is the place to find a special piece for your home or for that special someone on your list for an upcoming anniversary, wedding, birthday or holiday. Crescent Moon carries everything from bridal emergency kits, stationary, wedding, girlfriend gifts and items for every room of the house. Just in time for the summer season, they even have beach ware including towels and blankets made from renewable resources.
Also new to Crescent Moon is an extensive offering of fashion and accessories. Art and fashion are Frank's passions. "Fashion is an art form too and many designers find it difficult to break into the industry," says Frank. "By bringing in new fashion designers, I have merged fashion and art together for the most innovative collections."
The gallery is set up like a museum with artist biographies throughout. At any given time, Crescent Moon showcases work from more than 50 artists in its gallery. A customer favorite is Annie Anderson who was commissioned by Sigfried and Roy at MGM Grand Hotel and Mirage Hotel in Las Vegas. Crescent Moon features her exotic, life-like animal sculptures including a lion, zebra, giraffe head, koala and a kangaroo. In-house artist Mark Gansor displays his decorative paintings and murals of sailboats and architectural renderings of downtown Wilmington. Accomplished jewelry designer Marita "Marty" Bon features her distinct creations in copper and sterling silver.
Frank joined the U.S. Army in 1988 and served in Desert Storm. She quickly moved up the ranks from E1 to E4 as a U.S. Army Dental Specialist. Originally from Michigan, then living in Northern Virginia, she began visiting Topsail Island in 1991 and fell in love with nearby Wilmington. What started as a one week visit per year, gradually increased to several visits a year. It was during one of these trips that Frank discovered Crescent Moon. After buying a house in 2012 on Topsail Island, she began collecting local art to fill her home, including pieces from the gallery.
"When I saw that Crescent Moon was up for sale, I was devastated that the community would lose this," says Frank. "Purchasing the gallery has been an opportunity to fulfill my vision and dream that I have been preparing for since I was two years old." As an artist herself, Frank got into the industry in response to the frustration she felt that artists were not being represented passionately enough. "It was disheartening for me," says Frank. "I thought, who else to do it but someone who loves their work and community?" Artists are Frank's number one priority and she does everything possible to showcase their work.
Frank loves Wilmington's sense of community. "To be part of the community is an honor," she says. "I was taught by my family from a young age to be a productive member of society and to always reach for the stars. Wilmington's art scene never stops and is always new. It is inspiring to be around others who want to put themselves out there when they could be rejected. Wilmington supports artists and the creativity of the city is unlike anything I've ever seen before."
"The best thing about running Crescent Moon is the impact it has on artists," says Frank. "I enjoy working side-by-side with artists to learn what their passion is. We are a family at Crescent Moon and every day is like going home for me." She also enjoys working with the public. "I love it when someone purchases their forever piece and takes home art where the artist's story touched their heart. I am inspired by people's creativity and learning what makes them tick in order to get them what they want."
With its leading-edge window displays, Crescent Moon highlights downtown Wilmington as a shopping destination. "If I can design the windows to display art in the best way possible, it makes me happy," says Frank. "It is an extension of my art and also a way to step the area up a notch in hopes to bring more people downtown.
Crescent Moon features new promotions daily. All active military and veterans receive a 10 percent discount. Local business owners receive 15 percent off.
As an ovarian cancer survivor, Frank donates all proceeds from the sale of handmade hope stones to sherocks.org. For the sale of turtle items, Crescent Moon donates a portion of the proceeds to the Karen Beasley Sea Turtle Rescue and Rehabilitation Center. A portion of Anne Anderson's art is also donated to The Wildlife Commission. Every fourth Friday of the month (with the exception of December), Crescent Moon participates in the downtown gallery walk and host a night of featured art and music from 6 to 9 p.m. Crescent Moon is a proud member of CRAFT.org and the American Craft Council. 910-762-4207, crescentmoonnc.com