Salon Sensation
21 May 2014
A local icon spreads its wings from salon expansion to product distribution and continues to give back to the community
By CECE NUNN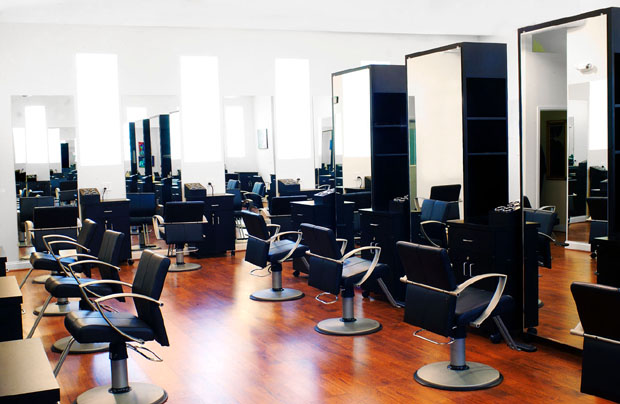 In May, Salon Beyond Basics and Day Spa will celebrate its 20th anniversary. During the past two decades, the business has grown from an eight-chair salon and spa on Oleander Drive to a 5,500-square-foot facility on Floral Parkway, with a product distribution facet of its own and enough space to train experienced and up-and-coming stylists in the use of new products.
Teaching has been a focus lately at the salon and spa, something that stylists, employees and clients said they appreciate about the business. When surrounded by people who strive for excellence, "you want to do better as well," said Natawsha Vondrak, a stylist who recently joined Salon Beyond Basics and was also recently certified at the salon to use a professional smoothing treatment in the KeraSpa Collection. Owner Kendall Fuqua said he chose the KeraSpa line of products not only because of a demand, but because he felt they were safer than other similar treatments on the market for controlling frizzy hair or unruly curls.
"It's safer for the client and better for their hair," said Brenda Williams, the salon's concierge director, who handles the front desk and reception, and often answers questions about the salon's products and services.
Some of the latest offerings, in addition to the smoothing treatments, are hair pieces and wigs. Over the years in Wilmington, the salon has become increasingly more involved in community service and charitable causes.
"The business has changed so much," Fuqua said. "We've always been a salon and day spa. We've always done everything we do, except for the wigs and hair pieces, but we are so ingrained and we're so partnered with the community now more than ever."
On a recent Friday afternoon, a client sent a bouquet of tulips to the salon with the note, "Thanks for seeing my potential and then some." The woman, who was struggling with life-changing stresses in addition to dealing with thinning hair, came to the salon for help after another client recommended she go there.
"I love it because you change people's lives," Fuqua said after reading the card. "It's amazing to me. People give me more than I ever feel like I give them."
J. Gibson, a stylist who has worked in the Floral Parkway facility since its doors opened, and who Fuqua considers a mentor after working for Gibson when he was just starting out in the business, said the number of different personalities involved in running the salon has kept him interested in working there. Vondrak echoed that sentiment. "It's like a big family," she said of the other stylists and employees.
"You'd think there'd be drama but there's not. It's more like friendships."
Salon Beyond Basics and Day Spa has about 40 employees most of the time, Fuqua said, and is willing to add talented people who work well in the business.
"We'll just continue to grow with the times," Gibson said as he worked on a client's hair.
The salon's menu of services is not limited to higher priced cuts, styles and treatments. A client can get a haircut there for as low as $30, Fuqua said, with stylists working to make sure each customer is happy with the end results.
For example, when Rachel Spalding needed help with a color treatment that didn't meet her needs, Fuqua stepped in, Spalding said.
"He knew what I was looking for, and he didn't want to let me leave until I was satisfied," she said. "Not everyone would do that."
The distribution arm of the business is called Beyond Basics Beauty Supply and was born from the efforts of Terry Allgood, the salon's management consultant, after discovering there were a lot of products available in the industry that were not being sold in the area. "Now Terry sells and distributes new, innovative, specialty beauty product lines to professionals in the salon and spa industry in North Carolina, South Carolina, Virginia and beyond," Fuqua said.
The salon will celebrate its 20th year with a sale of 20 percent off everything in the salon and likely other festivities, Fuqua said. In addition to serving clients, the business makes a point of helping charitable causes, including New Hanover Regional Medical Center Foundation, the Red Cross, Make-A-Wish, Coastal Horizon and others.
"If it's a charity, we will be there to support it," Fuqua said.