Shuckin' Shack Oyster Bar
16 May 2017
6 N. Lake Park Blvd., Carolina Beach, 910-458-7380
109 Market St., Wilmington, 910-833-8622
theshuckinshack.com
By BRIDGET CALLAHAN » Photos by ERIN WHITTLE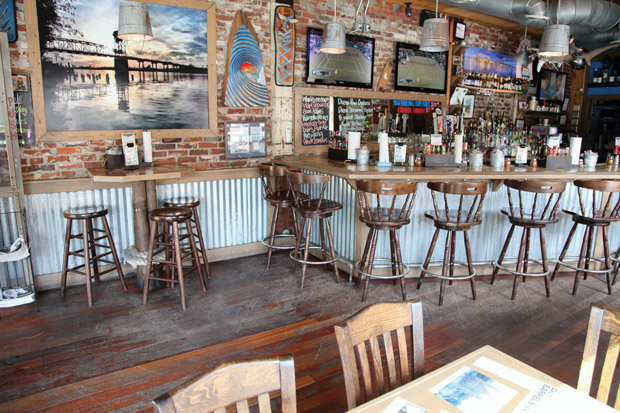 On a Friday night in downtown Wilmington, the Shuckin Shack is packed by 6:30pm. Luckily, there's a table outside on the sidewalk, overlooking the intersection of Market and Front Street, which is filling up already with would-be partiers and tourists, even in March. In the midst of all the Friday night bustle, this small, but mighty oyster bar is a comfortable sanctuary.
Despite its popularity, people are often surprised there are multiple locations. If you frequent the Carolina Beach location, chances are you didn't know there was one downtown too, and vice versa. In the last few years, The Shuckin Shack has become a franchise, with eight franchise locations and thirty more committed. There are Shuckin Shacks now not only in North Carolina, but South Carolina, Maryland, Tennessee, and Georgia. Turns out all those tourists liked what they ate enough to want to bring it home.
But the original location, a tiny little oyster bar on the beach where owners Matt Piccinin and Sean Cook imagined a friendly neighborhood spot, is still standing strong. The Shuckin Shack Carolina Beach location will celebrate its ten year anniversary this November, which is also the five year anniversary of the downtown Wilmington location.
Leanne Tluchowski, regional manager of the two corporate locations, met Piccinin appropriately enough on the beach. She was an Ohio teacher who had moved down here for a job, and he had just graduated UNCW with a business degree. Sean Cook, owner of Pleasure Island Rentals, approached Piccinin one day with the idea of a low-key, sports and oyster bar.
"Their idea was really to have it tied to the local area. They wanted it to be a sports vibe, they wanted it to be a surf vibe. A local fishermen hang-out. It was designed as a place where Matt and Sean would want to go and hang out," Tluchowski says. She's been with them since the beginning, first as bartending staff, sometimes as a cook, sometimes a manager. She's about as heavily invested as you can be, since she's married to Piccinin.
"It was several years of working all the time, because we couldn't afford other staff, and being there all the time. Still now, we've had the same customers for ten years, who come in the same time every day, drink the same thing. We call it the 'Cheers' of Carolina Beach," she adds.
Both locations are covered in newspaper clippings and old photos framed on the walls, celebrating the history of Carolina Beach and Wilmington. On the menu, locals will see items like the Hermit's Feast, referring to the Hermit of Fort Fisher, Lake Park Lemonade, and Cappy's Roast. Cappy, she explains, was a local legend in Carolina Beach in the seventies.
"Every morning he would get up and swim from pier to pier, back and forth. He ended up passing away while in the water, and there's all sorts of folklore about it. Some story that he was surrounded by dolphins when he was found," Tluchowski says.
Celebrating stories like that is part of the charm of the Shuckin Shack, which for all its success still feels intimate, and real. The important things here are the seafood and the people, and everything else is secondary.
Oysters are, of course, the favorite here. They come raw, fried, steamed, charbroiled. You can even get them swimming in tequila or vodka, with one of their infamous oyster bombs or shooters. But Tluchowski's favorite at the downtown location are the fish tacos.
"I'm obsessed with the fish tacos. We have tuna tacos, rare, blackened. They're amazing. And it's all made fresh―we make our chips fresh and our salsa is homemade," she says. The downtown location has a larger menu offering than Carolina Beach, with po'boys, salads, and the most popular item, a lobster roll with a mustardy Carolina twist.
Though the menus may change, both locations offer the same daily specials throughout the week. Mondays are seventy-five cent oysters, Tuesdays are twenty-five percent off peel and eat shrimp, Wednesdays are forty-five cent clams, and then Thursdays are for crab legs. They offer a different lunch special and chalkboard dinner specials every day too, so even though you may just come for the oysters, it pays to branch out sometimes.
That Friday night, my date ordered the lobster roll, which came on a nicely toasted bun, which earned his Northeast coast seal of approval. My fish and chips were delicious, evenly golden and fried, and our crab cake appetizers were served with a spicy aioli that was so rich and creamy, we scraped the bottom of the cup with our fries. Watching the sunset over the river at the end of the street as tourists and their dogs meandered around us, we had the best seat in the house. The sweet, but not too sweet, rum punch may have contributed a little to that feeling.
For Piccinin, Cook, and Tluchowski, the future is pretty bright. And recently, the restaurants have taken pains to try and keep it that way. Carolina Beach, Downtown, and their franchise in Morehead City, have all been certified as ocean-friendly establishments by the Surfrider Foundation and Plastic Ocean Project. A big event celebrating not only their anniversary, but also conservation efforts and their commitment to clean oceans, is planned for November at the location in Carolina Beach that started it all.
"So we're getting rid of styrofoam, we're getting rid of plastic," Tluchowski says. "We're trying to do this whole Skip the Straw idea. When we really thought about expanding, we thought we needed to stand up for these things, because it's our livelihood. If we don't protect the ocean, there won't be seafood restaurants anymore."