Staged to Sell
16 May 2017
The technique of creating beautiful spaces to help sell your home or showcase an event
By CAROLINE GOBBLE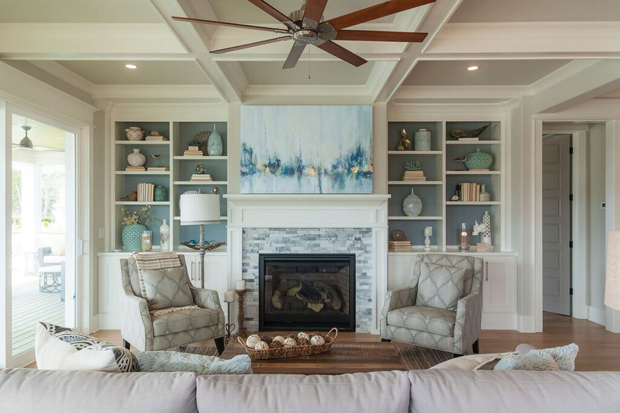 Imagine an empty house sitting on the market for over a year. It boasts an expansive layout, though buyers time after time cannot seem to visualize living in the space. Enter Custom Home Staging and Design. After its design team steps in to bring the space to life with staging and design expertise, the home sells in 19 days. This was true for one Wilmington family who discovered the importance of their services and talents.
The company's mantra is "a staged home is a sold home," and 90% of the homes they stage sell in the first 30 days of being on the market. Julie Glew, the Director of Operations and lead designer explains, "we offer a variety of services including a one hour consultation, guidance on rearranging, de-cluttering recommendations and full on home staging." Glew and her team of designers stage vacant, model, and occupied homes, and they also offer furniture rentals for staging, events and weddings.
So, why should a seller stage their home? According to Glew, "The real question is can you afford not to stage your home? We see incredible requests daily, homes selling in 1 day, 3 days, 10 days and even 17 days from all price points. This is the type of results you can expect when staging with our team of designers. Our goals are disguising the home's flaws, highlighting the home's features and increasing the value of your home. Our mission is selling your home as quickly as possible, for as much as possible."
Home staging and space planning allows potential buyers to visualize and imagine living in the space. De-cluttering and depersonalizing a space as a part of the staging process allows a wide variety of potential buyers to "mentally move in" to the space.
Custom Home Staging and Design offers a variety of styles that are hand selected and custom made to showcase any home based on its demographic. They research the local market to ensure they are reaching the best possible buyers for clients whether they are a builder, realtor or seller.
Custom Home Staging and Design recently staged Crane Building Company's model home in Helms Port, developed by D. Logan. The 4,000 square foot home, situated on the Intracoastal Waterway, was the perfect setting for Custom Home Staging and Design to transform a newly constructed luxury house into a space that now exudes the feeling of home, by showcasing every one of its beautiful features.
"We really focused on the marina-front lifestyle that the home has to offer. By staging the outdoor areas, buyers are drawn to the extended livable square footage and mesmerized by the variety of views," says Glew. "Likewise, the office boasts a panoramic view of the waterway as you walk into the home. By staging this room, buyers are naturally introduced to the benefit of working from home."
Along with the interior design by Lizzie Mac Interiors, Glew and her designers transformed Crane Building Company's luxury home into a warm, tranquil, nautically inspired waterfront home.
In January 2017, Custom Home Staging and Design participated in Courtyards and Cobblestones, a creative wedding event featuring seven fully styled venues and a hand-picked collection of the most innovative, creative wedding professionals from Southeastern North Carolina. Custom Home Staging and Design was honored to showcase its wedding and event furniture offerings in not one but two venues, both Bakery 105 styled by Salt Harbor Designs and The Annex styled by Design Perfection.
At each venue, Custom Home Staging and Design wanted to create a lounge area that was both luxurious and inviting for guests throughout the evening, offering a styled destination for memories to be made. At The Annex, white tufted sofas and chairs by the fireplace created an ambiance of romance and warmth for wedding guests. The lounge area at Bakery 105 featured dark brown leather couches and beautiful wooden coffee tables, perfect additions to the rustic yet elegant space.
For any special event or wedding, Glew recommends, "always consider the atmosphere of your venue and the comfort of your guests. As a bride or host, if you are not sure how to capture the perfect look, one of our on-staff designers is happy to help you space plan. We offer the details that are paramount in elevating the ambience of your special occasion. We can offer as much or as little guidance as you need. We work with designers, corporate event planners, individual clients and everyone in between." customhomestaginganddesign.com