Adventure Education
16 May 2017
A love of being outdoors and doing adventure sports leads to a nationally accredited education center
By TERESA A. MCLAMB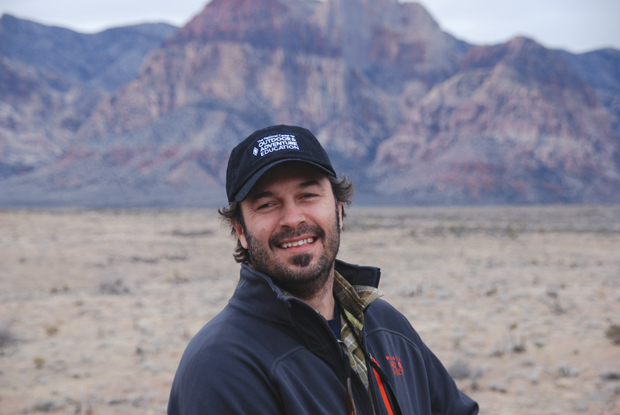 When Zac Adair began racing BMX bikes at the age of seven, he'd never considered that some people study and make a living in adventure education. Over the next two decades, as he participated in football, baseball, rock climbing, surfing, white water rafting, and snow skiing, it still didn't enter his mind. Yet, in the mid 1990s, while working as a guide on the river, he encountered a man wearing a Prescott College shirt, and asked him about it. That man had studied adventure education at Prescott. "I was like 'You can get a degree in this?! Holy smokes!'"
After doing some research, Adair applied to the Arizona school's adventure education program. "It just so happened that was the same year my now wife had applied to go," he added. He, however, didn't go. He was accepted, and ready to move when a friend called about a big swell in Costa Rica. He and his surfboard hopped a plane and rode the waves for several weeks.
It would be 2010, many jobs and many towns later, before Adair completed his master's degree in adventure education at Prescott. His thesis for that degree was the 290 page policies and procedures manual for the National Center for Outdoor & Adventure Education, the nonprofit center he and his wife Celine built on seventeen acres off River Road near Carolina Beach.
The center holds multiple month-long programs for junior high and high school students and adults in the US, South America, the Himalayas and Africa. They are accredited by the Association for Experiential Education headquartered in Boulder, Colorado. UNCW students can get course credits for their programs, he said. They're also working on another national accreditation.
At the heart of their program is Education Without Walls (EWW), which targets local students who are chronically homeless and at the poverty line. Kids learn about the program through presentations at their schools during which they have the opportunity to apply. Serving 24 students each semester, NCOAE takes them on excursions on the coast and in the mountains – climbing, back packing, mountaineering, all at no cost to the participant. "We pick them up from school in our van and go straight into the field." The field could be the Intracoastal Waterway, or it could be Uwharrie National Forest, Hanging Rock State Park, the Eno River or elsewhere.
"We follow their grades and school attendance. They have to want to be ambassadors of their community and of NCOAE," Adair said. "We buckle down on them pretty hard. We've had a couple of dozen students to be the first in their immediate families to graduate from high school and go on to college. We're super committed and proud of that for these youngsters who wouldn't have a chance without participating in a program."
He regularly hears from many of the kids who have graduated, and he's grateful for the chance to have helped them.
They're also in the early stages of setting up EWW in Ashe County. "We will be imitating what we do here with the same demographic and population. As soon as we get the green light from our resources, we'll establish a small base camp," he said. There's also been interest shown in taking the program to Durham, Raleigh and Charlotte.
NCOAE offers four Outdoor Educator courses and two gap year/semester courses each year. They also run four custom programs per year with private schools, Adair said.
The Outdoor Educator courses and gap year/semester is for anyone 18 an older. College credit is available for these courses and can be transferred to the student's home college/university. The trips cost several thousand dollars. The NCOAE website offers suggestions for raising money, setting up payment plans, etc. "We are currently working on a nationally recognized accreditation that will take a couple years for final approval," Adair said. "Once this happens, NCOAE will then have access to Title 4 funding, i.e. Pell grants, student financial aid, etc."
Thanks to a $25,000 grant received earlier this year from the National Parks Service, NCOAE will take ten students in July to Wrangell-St Elias National Park and Preserve in south central Alaska. The high school students have all participated in NCOAE programs since the seventh grade, Adair said.
While grants fund much of the work of NCOAE, the Adairs realized early on that sustainability was going to be difficult. The adventure programs they do around the world require that guides be medically trained to administer emergency assistance. Adair is a certified EMT who does much of their training. While he was attending mandatory medical classes, he realized there were people all over the country who had to take that same training, and that they were paying a substantial sum to do so. "The light bulb went off." Providing medical training could guarantee funding for the student programs. He began contacting hospitals, fire departments and others that required the training.
Modeling his curriculum on one he had studied, Adair set up a 19-day accelerated EMT basic training program. "It took a year and a half of paperwork and red tape," he said, but the program was approved. "We have a waiting list on every class, and we offer seven per year." They also offer two wilderness first responder courses and two wilderness first aid courses each year.
Participants stay in rustic cabins Adair built on the property. "They have nice beds, but no power." Students come from all over the country and the world, he said.
The Adairs' passion for their work is evident, but the possibility was strong that it might never have gotten off the ground. Zac's delay in entering school wasn't just his big surfing trip. In 2003, while working and playing in the Outer Banks, he was struck by a car.
"I was standing on the side of the road, about 10 feet away from the edge, and a taxi cab traveling 60 mph swerved off and hit me. After impact, I was airborne for 140 feet before hitting the ground. I had five hairline fractures in my cervical spine, legs were broken, right scapula broken. I was in a coma on life support for about seven days. The increased intracranial pressure compromised my optic nerves and caused the loss of my vision."
Recovery was long and difficult. He had to learn to walk again, and to walk without his sight. Alfred came to him as a guide dog. His search to find a way to live and make a living and to still do the many things he had loved to do led him back to Prescott and to Celine who was using her adventure education degree to run Maui Surfer Girls. They've been together since the day they met.