Steeped in Nature
04 Nov 2021
A neighborhood on the bluffs of the Cape Fear

By Teresa McLamb » Photos by Brandon Williams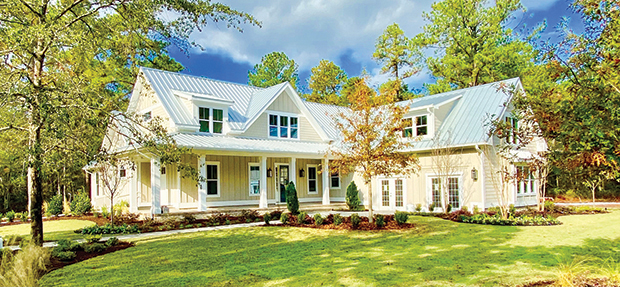 Imagine a picnic on the river with only the songs of birds or the occasional fish jumping. Imagine lying awake on a blanket, the milky way glittering in the night sky. Now, imagine that all this is only 15 minutes from downtown Wilmington.

The Brunswick County neighborhood, Bluffs on the Cape Fear, sits on a high bluff over the Cape Fear River. "It's just minutes from everything you need," said Marc Wilson, sales manager for the amenity-rich community. "A grocery store is five minutes from the gate; three restaurants, major medical in Leland and then just a few minutes to the hospital. The airport is 15 minutes away." By boat, the community is about 30 minutes from downtown Wilmington through the dark waters of the Cape Fear where vestiges of rice plantations can still be spotted.

Potential residents who inquire about the community want to know about the arts, culture, education, transportation and more, he noted. They also are intrigued by the privacy and peacefulness of the property in such proximity to a major city.

Residents, including himself, find themselves with busy social calendars. Wilson noted that he has tickets for three performances at Thalian Hall, one of the nation's oldest theaters, in the near future. One stars a Bluffs resident.

Getting to Bluffs on the Cape Fear requires a short ride on a small state road, then a turn onto Dogwood Lane where a buffer of green exists for miles around. All visitors stop at the front gate. "It's a secure front entrance. After 5pm, residents can get in by code or remote. Guests or deliveries can get a temporary code." Knowing the gate is monitored allows residents to travel without worry, he said.

Current residents are enjoying amenities that include tennis, a junior Olympic size swimming pool and an amenity center. They're also just 35 minutes from the community's private beach club at Oak Island which provides on-site parking and a five-minute walk to the ocean front. The $1.2 million clubhouse provides locker rooms, showers, storage, a full kitchen and more.

As real estate in the region booms, The Bluffs is also. "Last year we had our best year since opening," he said. Company goals for 2021 were hit halfway through the year and sales continue at a brisk pace.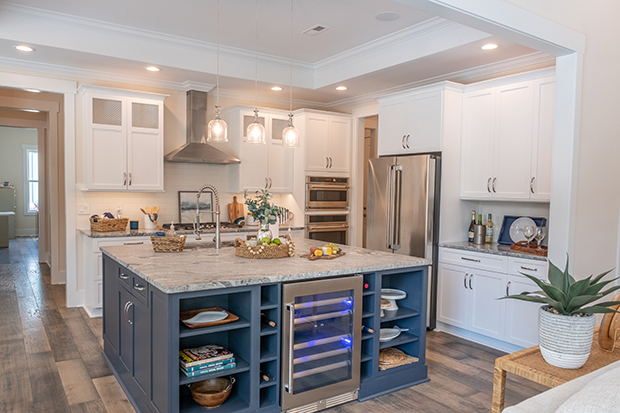 Paving has begun for the RV/boat storage area where residents can store small boats that can be launched from inside the community. A kayak launch is also planned. A pickleball area is under construction, as is the marina for waterfront homes. An addition to the clubhouse is in the final design stages. It will add 11000sf to the existing building, adding space for a full fitness facility, yoga room, dry sauna, bar and kitchen, covered porch and more. It's expected to be completed by the end of 2022, he said.

Property owner association dues, which include access to all the neighborhood amenities, are $100 per month.

New home phases are being opened and new home inventory is being released, Wilson said.

At build-out, The Bluffs will have about 700 homes on 600 acres averaging lot sizes of 4/10 of an acre.

Homesites run from about $80,000 to $500,000. Property owners can select their own builder and design if it is approved by the Architectural Review Committee.

In addition to the featured builders – AR Homes, Southern Pines and Clark Legacy Homes – well known Kent Homes has joined the lineup at the Bluffs, building model homes for potential residents to view. Home prices begin at about $480,000. Some offer lease backs. Natural gas is available in the community for residents who prefer to cook and heat with gas. Wilson noted there is also high-speed Internet, county water and sewer, underground utilities, and county taxes.

"We are an average of 30 feet above sea level with well drained sandy loom soil. We're not in a flood zone," Wilson noted. We've been through major hurricanes, and it's been fine."

He encourages folks wishing to check out the community to make an appointment to visit; while walk-ins are welcomed, they can't be guaranteed the personal attention they deserve, he noted.

"Truly our best asset is our people," Wilson said. "They're very welcoming, and it's easy to get assimilated." Residents come from many states including the Northeast and Midwest, but he said most are from other parts of North Carolina.

The residents have organized many clubs and are starting a community garden. They volunteer inside and outside of the community, recently adopting part of the roadway that leads to the community.

People come for the atmosphere, he noted. "You can be as busy as you want or laid back. You'll have immediate friends."

thebluffsnc.com