Summer Palate
28 May 2022
Tantalizing twists on the season's homespun classics
Recipes and Photos by Kaitlin Gooding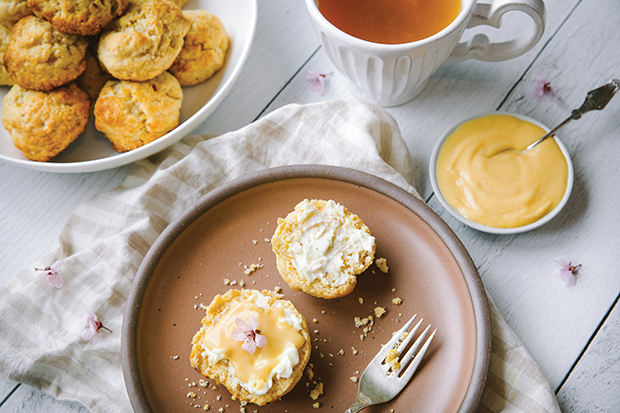 Summertime. It's another word for "fun in the sun" for Southerners, and the season is around the corner. Beach trips, camping, and backyard cookouts are here or on the way and we're sharing some of our favorite Southern dishes to serve to our guests.
Sink your teeth into a fried chicken sandwich where you'll taste a hot honey sauce brushed on while it's still sizzling. Pick your freshest produce to cook up this okra salad topped with blue cheese crumbles and prosciutto. The sweet and savory Blackberry Bourbon Baked Beans provides a new spin on a traditional favorite.
You must include sweet cornbread biscuits at your next cookout. Pair them with the peach curd if you want them to steal the show. Wash down all this deliciousness with the refreshing lemon smash that delivers a slice of summertime with each sip. Now your only decision to make is which recipe you'll try first!
Sweet Cornbread Biscuits
Makes 10-12 biscuits
Ingredients:
1 1/2 cups all-purpose flour
1 1/3 cups cornmeal
4 tsp baking powder
1 tsp baking soda
Pinch of salt
12 tbsp butter
1 egg
1/3 cup honey
3/4 cup buttermilk
Directions:
1. Preheat the oven to 400 degrees.
2. In a bowl combine the flour, cornmeal, baking powder, baking soda, and salt together. Add the butter and cut it into the flour until it is well combined into crumbles.
3. In a small bowl mix the egg, honey and buttermilk together. Add it into the dry ingredients bowl until you have a thick mixture. You can add more flour if it is too runny or a dash of water if it is too thick.
4. Place parchment paper on a baking sheet. Use a spoon to dish out a sizable biscuit on to the paper and use your hands to form into a round shape.
5. Bake the biscuits for 12-15 minutes until nice and brown.
PEACH CURD
Makes 1.5-2 cups
Ingredients:
3 peaches
1 cup sugar
1 egg
4 egg yolks
1 tsp lemon juice
pinch of salt
6 tbsp butter
Directions:
1. Peel the peaches and cut into pieces, removing the pit. Add to the blender and mix until smooth.
2. In a heat-proof bowl add sugar and egg/egg yolks and whisk together. Add the lemon juice, salt, and peach puree.
3. In a pot bring an inch of water to a boil. Place the bowl over the water, but the water should not touch the bottom of the bowl. Continuously whisk the ingredients for 6-8 minutes.
4. Remove from the heat, add the butter while it is hot, and mix until it is completely combined. Spread over your biscuits, or store the curd in glass jars in the refrigerator.
Blackberry Bourbon Baked Beans
4-5 servings
Ingredients:
2 cups blackberries (fresh is best but frozen will work)
1/2 cup maple syrup
1/4 cup bourbon
2 tsp apple cider vinegar
1 tsp Dijon mustard
1/4 cup BBQ sauce
1 tsp smoked paprika
1 tsp salt
2 strips bacon, chopped
1/4 cup white onions, diced
2 cans white beans

Directions:
1. Preheat the oven to 350 degrees.
2. Simmer the berries on medium-low heat for about 10 minutes with the syrup, bourbon, vinegar, Dijon, BBQ sauce, paprika and salt. Once the berries are soft, mash and stir the ingredients into a sauce.
3. While the berries are still simmering, cook the chopped bacon with the onions in a separate pan.
4. Drain the canned beans and add to a cast iron pan. Spoon the blackberry mix through a mesh strainer over top the beans to remove most of the seeds.
5. Mix in the cooked bacon and onions and pop the cast iron into the oven. Bake the beans for 30-35 minutes or until the sauce is thick. Remove from the heat and serve warm.
Okra Salad
Makes 4 side servings

Ingredients:
2 cups okra, cut into quarter-inch rounds
2 ears of corn, cut from the cob
Olive oil to taste
5-6 slices of prosciutto
1/4 cup blue cheese crumbles


Directions:
1. Preheat the oven to 350 degrees.
2. Place okra and corn into a bowl and toss with olive oil and salt and paper to taste.
3. Place the okra mixture onto a baking sheet and cook in the oven for about 10-15 minutes.
4. Remove from the oven once they are browned and crisp. Tear the prosciutto into pieces and add it to a bowl with the corn and okra, tossing together. Top it off with the blue cheese crumbles and enjoy.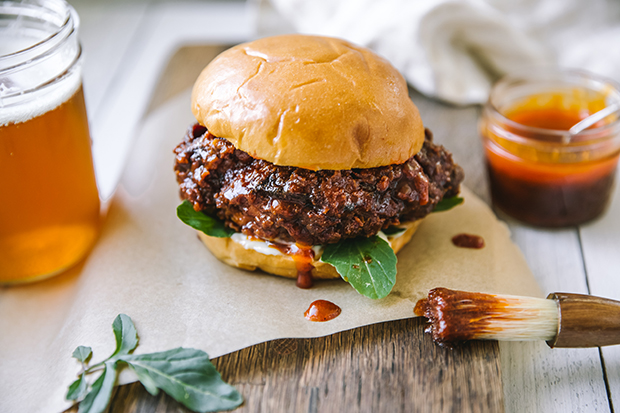 Lemon Smash
Makes one drink

Lemon Sugar Rim:
2 tbsp sugar
Zest of one lemon

Shandy:
1 ounce simple syrup
1 ounce lemon juice
3 ounces soda water
6 oz of beer (light beer)
Garnish: lemon slice or mint sprig

Directions:
1. Make the lemon sugar for the rim by combining lemon zest and sugar on a plate. Rim your glass with a slice of lemon to make the sugar stick.
2. Roll the rim of a beer glass or Mason jar through the lemon-sugar.
3. Pour in the simple syrup, lemon juice, soda water, and stir. Add the beer over top and gently stir until combined. Garnish with a sprig of mint or slice of lemon.

Note: Purchase simple syrup at the store, or to make your own, combine:
1 cup of water
1 cup of granulated sugar

Directions: Add the sugar to a pot of water on medium heat. Stir the sugar into the water until it is completely dissolved. Remove from the heat and allow the syrup to cool to room temperature before pouring into a closed container to store in the refrigerator.
Buttermilk Fried Chicken Sandwich
Makes four sandwiches

Ingredients:
4 chicken breasts
1 cup buttermilk
1.5 cups flour
2 tsp salt
1.5 tsp baking powder
2 tbsp Panko bread crumbs
Vegetable oil for frying

HOT HONEY SAUCE
1/4 cup butter, melted
1/4 cup honey
1 tbsp smoked paprika
3/4 tsp cayenne pepper (use more if you would like it spicier)
Pinch of salt
1/2 tsp garlic powder
Favorite condiments to add: mayonnaise and arugula

Directions:
1. Add the chicken breasts to a bowl and sprinkle with salt and pepper. Add the buttermilk over top, cover and let sit in the refrigerator for 30 minutes.
2. Mix flour, salt, baking powder and Panko for the coating in a large bowl. Place the chicken onto a baking tray ready for frying.
3. In a large pot, pour your oil until it covers about 2 inches deep. Increase the temperature on the stove till the oil is hot, around 335 degrees.
4. Fry the chicken for about 15-20 minutes, keeping a close eye on it, and maintaining a high temperature. Flip the chicken about half way through.
5. Remove the chicken from the frying pot and lay to rest on a cooling rack. Check the internal temperature has reached 160 degrees so you know it is fully cooked.
6. Make your hot honey sauce by mixing all the ingredients together and brush over your chicken. Add the chicken to your bun of choice along with any favorite condiments. At my house, mayonnaise and arugula usually top it off. Enjoy!