How to embrace the Year of the Trail in Wilmington

By Emory Rakestraw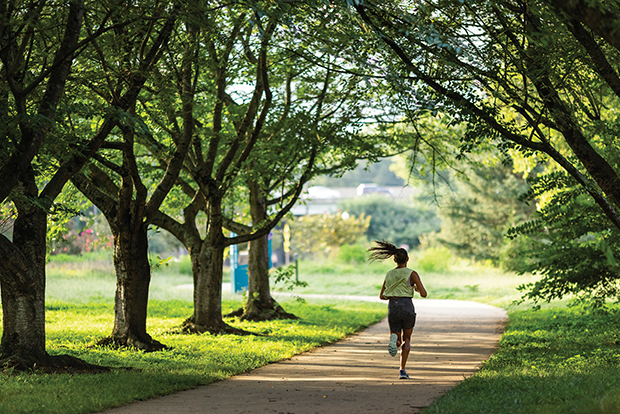 Ah, springtime! Birds are chirping as the clear morning light illuminates a world slowly coming back to life. For many in the Wilmington region, springtime equals long beach days soaking in that unseasonably high heat that often makes a surprise appearance come April. This could also mean dusting off those hiking boots and hitting the trail to explore the region in new, or tried and true, ways!

Since the NC General Assembly officially named 2023 the Year of the Trail, there's no better time than now to explore options for getting outdoors. What is the Year of the Trail, exactly? Connie Nelson, Communications and Public Relations Director for the Wilmington and Beaches Convention and Visitors Bureau says, "As an Outdoor NC partner, the NC Year of the Trail initiative provides additional opportunities to boost outdoor recreation and wellness travel to our destination through the promotion of nature and fitness trails." The City of Wilmington Parks & Recreation Department also supports and enacts outdoor conservation efforts as a Leave No Trace community partner, she notes.

Although, you won't always need your hiking boots in Wilmington. Some local trails include ways to experience the area's long lineage of heritage and history, grab a local craft beer and wash it down with a Permuda Island oyster. Why not add all the above to your spring must-do list?


For the Explorer

One of my favorite fun facts about this region is that the carnivorous Venus flytrap is only found within a 75-100-mile radius of Wilmington. At Carolina Beach State Park, visitors can traverse the winding, half-mile Flytrap Loop Trail through maritime forests and happen upon the Venus flytrap in its natural habitat. Surprisingly, they're often smaller than you'd think, so keep an eye out. Both the Venus flytrap and pitcher plant often grow in low-lying clusters, but if you see a crowd with their cameras out, it's a surefire way to know flytraps are nearby.

After seeing this rare wonder, walk along the park's nine miles of nature trails where scenery transforms from sandy forests to waterside vistas and marshland. If you begin going uphill, perhaps wondering how low-lying coastland suddenly jolts upward, that's just the 50-foot Sugarloaf Dune!

Nearby, Fort Fisher is an idyllic, dreamy place. Perfect for setting up a beachside picnic beneath the gnarly and winding live oaks or hiking the four-mile Basin Trail, and happening upon an abandoned WWII bunker where the famous Fort Fisher Hermit once resided.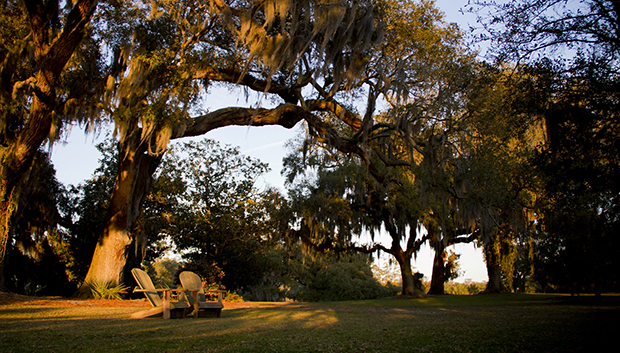 To Experience Nature

As part of the North Carolina Birding Trail, Airlie Gardens encompasses 67 acres of lush gardens and trails, a live oak dating back to the 1500s and the Minnie Evans' bottle garden. Within this coastal fairyland amassed with flora and fauna, you'll also encounter over 200 bird species. Monthly bird walks hosted at Airlie are a fascinating way to make use of both binoculars and hiking boots while exploring the grounds and gardens. For other flying fancies, the 2,700-square-foot butterfly house opens in June.

If you're craving a bit more salt air, or perhaps a midday run, the nearby 2.45-mile Wrightsville Beach Loop is a great option for those water views (bonus points if you take a refreshing dip in the ocean after).

For a short and easy way to embrace the Year of the Trail, even as a lunch-hour respite, Wilmington parks are a great option. With 70% undeveloped, the 60-acre Halyburton Park is home to secluded nature trails perfect for crafting a moment of solitude. Greenfield Lake Park and Gardens recently announced the addition of their new Park Ranger, and is just a stone's throw from downtown Wilmington, making it an easy escape for a waterside lunch, bike or walk

alongside the paved waterside trail. Personally, I love visiting Greenfield to get a close look at the alligators and turtles languidly floating in the water but don't worry, they don't pay much attention to humans.


Hidden Gems

Spanning from Wrightsville Beach to downtown Wilmington, the Gary Shell Cross City Trail is a true hidden gem that's great for joggers, walkers and cyclists. Largely off-road and enclosed amongst untouched greenery, several access points, including Halyburton Park, make it easy to explore. The trail winds throughout town but goes largely unnoticed unless one deliberately searches. In the afternoon you'll be accompanied by several walkers and joggers and, on the weekends, groups of cyclists often like to take their morning rides here. Some fun points of interest also include Cameron Art Museum, UNCW and Lumina Station. A bit of culture and shopping with my hike sounds about right!

The more adventurous will love the seven-mile Blue Clay Bike Park. Composed of (once illegal) off-road bike trails, members of Cape Fear Cyclists came together to help initiate the official construction of the park, partnering with New Hanover County. In sections, the trails are bordered by wetlands and provide playful variation with man-made elevations. Overall, if your off-road bike has been collecting dust in the corner, you don't need the mountains to get a bit of riding in. For those who prefer to ride on the road, the River to Sea Bikeway spans Wrightsville Beach to Downtown Wilmington, meeting with the Gary Shell Cross City Trail in certain sections.


Eat, Drink and Learn

This is the part we've all been waiting for, right? After a long hike, you're certainly deserving of an ice-cold beer and a hearty meal. The Wilmington Ale Trail highlights local breweries, bottle shops and eateries for craft beer lovers. Stops range from Wilmington Brewing Co., where everyone agrees Tropical Lighting is the regional go-to, to craft kombucha from Panacea Brewing Company accompanied by a robust vegan menu. The Wilmington Ale Trail website is easy to navigate and includes an interactive trail map to plan out your boozy afternoon "hike."

Oysters on the half-shell are also necessary, and thanks to plenty of local oyster farms where these briny bivalves are freshly and sustainably harvested year-round, the 'no R rule' does not apply here. The Oyster Trail includes stops at local shellfish farms like Cape Fear Oyster Company (which also offers chartered boat tours) and eateries like Seabird Restaurant where ordering the iconic Seafood Tower is a must.

For history buffs, the Gullah Geechee Cultural Heritage Corridor includes stops at Bellamy Mansion Museum while Fort Fisher, Fort Anderson and even Oakdale Cemetery are part of the N.C. Civil War Trail.

Convinced Wilmington is a great spot to celebrate Year of the Trail yet? With so much to explore, and accompanying gorgeous views to boot, this is a resolution that's easy to keep."From the Riverwalk to the Island Greenway, and from easy park hikes to more challenging cross-city and mountain cycling trails, Wilmington and its nearby island beach towns offer a wide range of trails to visitors," says Nelson. That being said, spring is the perfect time to take a hike!