A Custom Southern Living Home
28 Feb 2023
Schmidt Custom Builders and Ginger Interiors team up to design their first Southern Living Showcase Home

By Lori Wilson » Photos by G. Frank Hart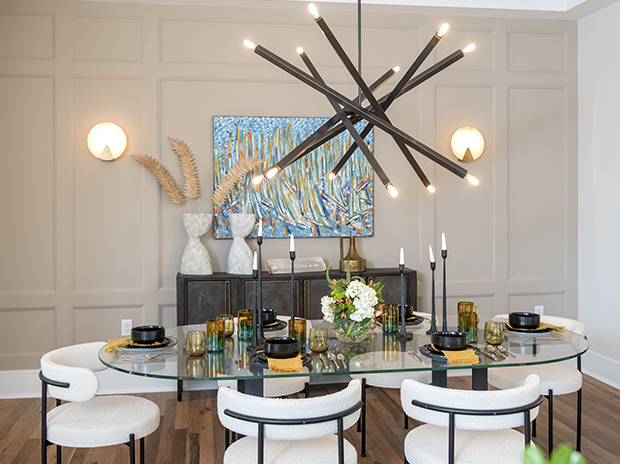 When Mark Schmidt first started his building career, he couldn't have imagined one of his homes being featured as part of an official, nationwide Southern Living Showcase Home tour. Coming a long way from flipping his first house more than 20 years ago, he shares the esteemed honor with his team, which he has humbly grown and transformed into a full-service custom home-building company.

The Southern Living Experience

The Southern Living Custom Home in the Airlie at Wrightsville Sound neighborhood demonstrates Schmidt's commitment to quality, comfort and an understanding of his clients' lifestyles on the coast of Wilmington. Schmidt partly attributes his success to growing up around builders and engineers, with a father who worked in his uncle's furniture store and obtained a degree in electrical engineering, a mechanically minded grandfather who restored cars, and two brothers in similar industries.

In 2010, Schmidt's talents were recognized as an approved Southern Living Custom Home builder, a title that, today, only 90 builders in 14 states share, recognizing what Southern Living dubs "authentic details, quality products and classic styling."

While Schmidt Custom Builders had been a Southern Living member for 13 years, they waited for the right time for their business to dive into their first showcase home. Schmidt exclusively works with individual homeowners to build their dream space, but a Southern Living showcase home has no predetermined buyer, and it must be open to the public. In many ways, this showcase home is more of Schmidt's masterpiece than any other build, as he and his team were the only eyes on the project before it was shared with the community.

Of course, to be part of the Southern Living Custom Home Showcase tour, builders must follow certain guidelines. For example, he and his design and build partner, Jo Howell of Ginger Interiors, had to select a floor plan from the list of Southern Living approved designs. For the lot at Airlie, they chose the Aiken Ridge floor plan, dubbing this house Aiken at Airlie.

Working within the Southern Living framework and their preferred vendor list challenged the team's creativity, with much-loved results. For example, every light fixture and pendant light in the home, including the mid-century-modernesque statement chandelier above the main dining table, is part of a Regina Anderson design collection.

"The creative challenge came with having to work with specified sponsored products," Schmidt explains.

And the product list was full of goodies. The kitchen and washroom include GE (another preferred vendor) state-of-the-art smart home appliances, including an impressive gas stove with gold tone knobs, which exquisitely suits the ceiling-high quartzite hood cover and countertops in the kitchen, a very intentional design choice made by Howell.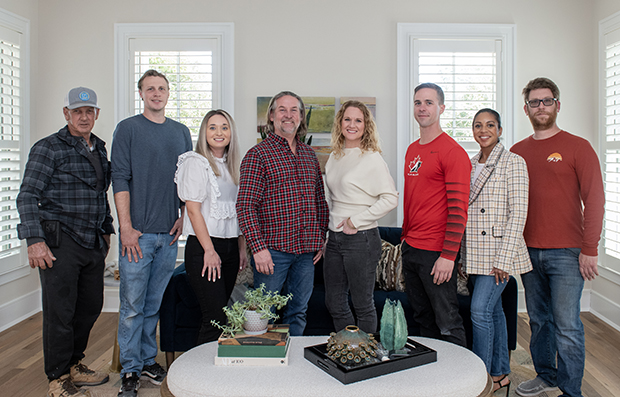 The Dream Design Team

Howell and Schmidt have been working partners for almost ten years. Unlike the more common design strategy, interior design expert Howell joins the custom build process from day one of floor plan design, instead of after the home is built. She's on board before the framers get to work.

"From a design perspective," Howell says, "we were able to uplift the floor plan, to bring it up to date and make it more modern for our area."

With allowable adjustments to the Aiken Ridge design, the duo made the kitchen bigger, rearranged the upstairs bath, adjusted the master bedroom and closet and, most notably, converted the sunroom into heated square footage, cozily divided by a see-through fireplace.

And, knowing the Wilmington climate and its tendency for moisture issues, Schmidt modified the crawl space concept into a concrete slab.

"That changed the position of the heat pumps, so we had to get creative," Schmidt says. "But with Jo, we can make those modifications on site. When I see those things structurally, I can work with Jo to do space planning."

In this case, a closet of an upstairs bedroom was added to incorporate the space for the heat pump. This prompted Howell to suggest the addition of a charming reading nook in between the two closets, which is amplified with a small accent wall painted in the Southern Living preferred vendor Sherwin Williams' 2023 color of the year: Redend Point.

"We tackle those things in the design stage instead of troubleshooting later," Howell adds. "We are a good team."

The trust Howell and Schmidt have in each other, both as on- and off-the-job partners, likely contributes to the lifelong connections they make with many of their clients. Since their working partnership has grown, Howell's luxury design firm, Ginger Interiors, found a home in the same office as Schmidt Custom Builders (at Arboretum West), making the partnership seamless and convenient for clients when they work together.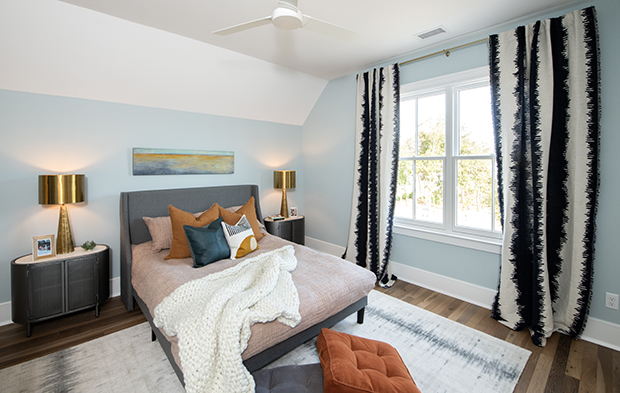 Creating a Mood

In addition to updating the floor plan to maximize the space, Howell worked to style each room individually, so that future homeowners had a space for every mood—yet, each with timeless pieces that bring it all together.

"Even the foyer," Schmidt says, "Jo designed so that you have to have a moment there, as if it's a room."

It's true, guest's first steps into the space are welcomed by herringbone floors, marble doorknobs and other important attention to details that make the space matter.

"I'm a very tactile, tangible person," Howell says. "Every surface matters. How many times will the homeowner touch that doorknob? It's not just a doorknob. It's another space to work with."

Howell's willingness to mix and match metals and patterns creates a warm, yet sophisticated mood that many visitors of the Southern Living Custom Home Showcase tour enjoyed during the house's public debut in December.

"The house lives larger than the square footage," Schmidt repeats as a note that the team heard frequently from public tourers about the 2,330-square-foot main house.

As is Howell's mindset, every surface, even the ceilings, serves purpose. Just off the dining and kitchen area, Howell designed a lounge, accessed through glass doors for that open-but-private look, with a stunning wallpapered ceiling. The lounge—perhaps the moodiest and most style-conscious of all the rooms—serves as an escape, maybe for working from home or for parties.

Nearby, the dining area accent wall features a custom trim work design that frames a dynamic abstract piece from New Elements Gallery, where all the artwork was sourced with the exception of vibrant Chris Frick photography in the sunroom, tipping a hat to the local waterways only a mile down the road.

The sunroom feeds into the large wrap-around front porch, where Howell and Schmidt imagined the homeowners rocking in chairs as their neighbors stroll the sidewalk of this new Charleston-style community.

"That was another benefit to having the concrete slab instead of the crawl space," Schmidt says. "It lowered the porch so that [the homeowner] could be sitting, connecting to their neighbors at eye level."

As they talk more about the space, Howell realizes that the theme of this home truly is "connection."

They even placed the kitchen island parallel with the stairs so that families and visitors could immediately connect at the bottom of one floor to the next. Everything functions and flows.

The back door of the main house opens to a fully equipped outdoor kitchen, with another stunning art feature of Christ Frick photography. The outdoor patio area connects the main house to a detached 2.5-car garage (fit for a perfect golf cart community) and an upstairs accessory dwelling space.

The additional 700-square-foot garage suite includes a full kitchen, bath and walk-in closet, currently staged with a dining table and complete living room furniture.

"The space is designed to be used however the homeowner wants—a mother-in-law suite, a yoga studio, an office, whatever," Schmidt explains.

Since its Southern Living Custom Home Showcase tour debut in December, the Aiken at Airlie awaits its perfect homeowner, one who will appreciate a strong foundation of warm, yet luxurious design carefully crafted by the Schmidt and Howell team. schmidtcustombuilders.com