Tarantelli's Ristorante
03 Mar 2018
Italian recipes are from the heart, rich in flavor and nostalgia
102 S. 2nd Street, Wilmington NC

910-763-3806
By BRIDGET CALLAHAN Photos by ERIN WHITTLE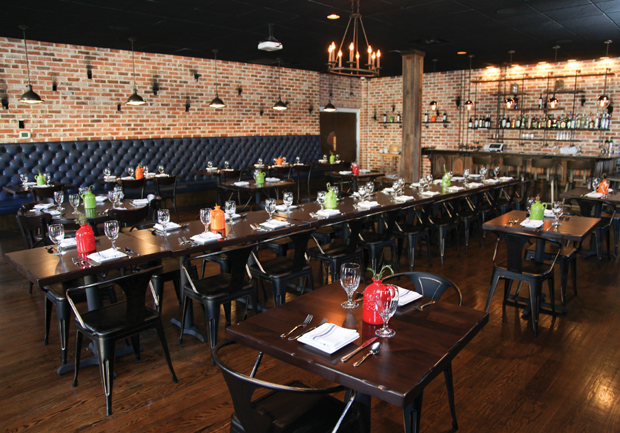 Spend five minutes talking to Ryan Morabito, one of the owners of Tarantelli's, and it becomes apparent immediately that the thing he really cares about, above all else, is family. The upscale Italian restaurant, which opened last year in the old Hotel Tarrymore space on 2nd Street, is the culmination of a long-standing dream he shared with his sister, Erika Morabito-Henderson. With Erika, her husband Jason, and Ryan's wife Kim, the family ownership group went all in on the dream together, opening the restaurant in November of 2016.
"I always joke with my customers, you hear two things: 'don't open a restaurant' and 'don't go into business with your family'," he says, laughing. "I've also heard a million times, 'don't work with your spouse.' I'm a rulebreaker." Morabito isn't concerned with sinister aphorisms. Not only is his relationship with Henderson still strong, Tarantelli's has proved to be a welcome addition to the Downtown nightlife, earning rave reviews from traditionally cagey downtown regulars. And, like so many other families who have followed the first Wilmington transplant, Morabito's parents recently left upstate New York and moved to Leland to be closer to their grandkids. Now the gang is all here in the Port City. The grandparents, along with their gaggle of grandkids, can often be found in their signature corner booth, what Morabito calls their "Godfather Booth."
"When you walk into Tarantelli's, there's a photo of my grandfather Tony Tarantelli in his World War II fatigues," Morabito says, "and there's a picture of my great-grandmother on the other side. It makes me think of what is part of this story. The legacy of how hard my grandparents worked."
"I remember my mom told me that on my grandfather's deathbed, he said, "I just always hope people don't forget about me." When I leave the restaurant, and you know how that world works, it's late, I'm tired, and I walk by that photo and smile. Nope, they haven't forgotten about you, and they won't, hopefully for months and years to come. That part has been unexpected, but humbling in every sense of the word for me," he adds.
Food has always been a sacred part of their family life. Morabito's mother, Candy, was the de facto family chef, and it is her beloved recipes that he and Erika have tried to replicate so carefully, as well as his grandmother Mabel Tarantelli's specialties, like her signature Pasta e Faglioli soup, filled with fresh pork and plump cannellini beans.
"It was some of the best memories, filled with the best conversations," Morabito says, "and it all happened around the dinner table. Food was the common element. Creating strong bonds around the family table is something we're trying to instill in our kids as well."
The menu carries the classics that anyone might know, like Candy's famous spaghetti and meatballs and woodfired pizza, but it's also full of gems you might not find elsewhere in town.
"With Italian food, it's funny. There's Northern, there's Southern. There, stood an opportunity for us; how to have something that can speak to a Southern palate, but also speak to people who grew up in the Northeast and were used to dishes tasting a certain way," Morabito says.
One dish in particular that gets strong reactions is the Sicilian Braciole. It's a thin beef tenderloin, stuffed with garlic, pine nuts, parmesan and prosciutto, and cooked for hours in their signature sauce.
"A lot of traditional Italian families know it, but its an entrée that you won't find in a lot of Italian restaurants," he says. "I remember, we were open for just two weeks, and I walked by this two-top where a gentleman was eating by himself. I came back from the dining room, and he had tears coming down from his eyes. I couldn't help myself, I said "Oh my gosh, sir, can I help you?" He said, "My mom passed away seven years ago, and I haven't had braciole or sauce that's come close to this, and it's bringing back all these memories." I remember walking away from that table, thinking about him, and the feeling of that sauce, and what that meant. We get that affirmation all the time."
Between Erika Morabito-Henderson's meticulous recipe work, and Executive Sous Chef and Pastry Chef, Geneva Dalton's hard work, Tarantelli's has a menu with plenty of favorites to fall in love with, right down to the homemade tiramisu. Guests can impress their dates with the flaming wheel of Parmesan served tableside, or keep the kids happy cutting their own pizza with scissors. Morabito says the one thing he always comes back to is his mom's spaghetti and meatballs. Now that Candy is living in town, does she approve of her children's attempt to replicate her classic?
"One day, before my parents moved, I think it was New Year's of last year, they came over," Morabito recalls. "Mom was staying at my sister's house, and she'd normally make all the preparations for the meal, but instead mom said, "Well, why don't you just go to the restaurant and get a dozen meatballs and sauce?" And that was pretty cool."
To get the true Tarantelli experience, stop by on Wednesdays for family-style dining, and support local charity at the same time. Morabito will probably be there, as he is almost every night, smiling and ready to welcome you into the fold.