Come for the food, games and the friendly nightlife

By RAY LINVILLE » Photos by BRANDON WILLIAMS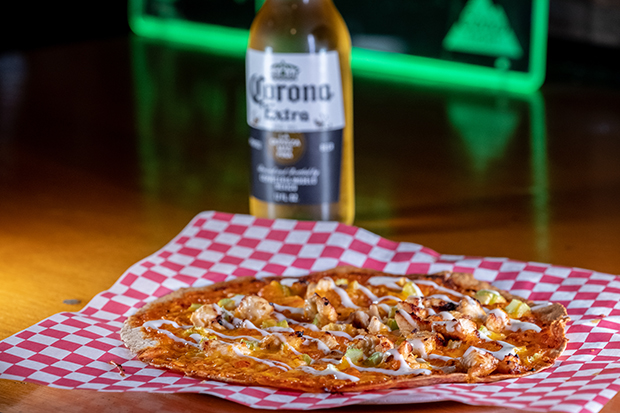 As Taverneers know best, everyone needs a little "Hell Yeah!" in their lives.

It's not surprising that Tavern 14 is the favorite of this magazine's readers for nightlife. It won first place in the pub/tavern category of our Best of the Best contest last year. With more than 20 flatscreen TVs and multiple pool tables, you'll be more than entertained as you enjoy superior pub food and beverages.

You can identify newcomers who unwittingly say, "Hello" as they enter. First pro tip: When you arrive, bark, "Hell Yeah!" and see the admiring looks that greet you.

Have you tried a zilla? Is it a pizza, a quesadilla, or something in between? Baked on a 10-inch tortilla, this Tavern 14 original has four options: the Buffalo and BBQ chicken zillas, taco zilla, and mozza zilla. The first features one of four house-made Buffalo sauces over grilled chicken and Cheddar Jack cheese. The second features grilled chicken with red onion, Cheddar and Monterey Jack cheese, and BBQ sauce. Spicy beef topped with salsa, Cheddar and Jack cheese, onions, tomatoes, black olives, and jalapenos make the perfect taco zilla. The mozza version is handcrafted with marinara, "garlicky 'shrooms," red onion, sausage and mozzarella, of course.

Although you can build your own burger at Tavern 14, the Carolina Burger has become a regional tradition with Cheddar cheese, homemade coleslaw, chili, onions, and mustard. The Tavern's shrimp po' boy will make you think that you are in New Orleans instead of on the Carolina coast. The best po' boy east of the Mississippi is served on a hoagie loaded with popcorn shrimp. Its homemade lime-mayo sauce sets the flavor with lettuce, tomato, and red onion.

On another visit dig into the heaping taco salad, loaded with your choice of grilled chicken or taco beef, served over lettuce, tomato, onion, jalapenos, black olives, and shredded cheese.

For an order of 8 chicken wings, choose your level of heat when you pick a sauce. Just be careful if you dare to order the "Hell Yeah!" hot sauce. Make sure you have your favorite beverage ready.

As Taverneers say, "Wanna talk s'mac? Grab a bowl and get fussili." In Tavern 14's three versions of mac and cheese made with Cheddar/Jack, the hard choice is to pick the signature ingredient: spicy beef, chipotle-spiced chicken with bacon, or Philly cheesesteak. Depending on this choice, each bowl also has other complements such as onions, tomatoes, black olives, and jalapenos.

If you don't have time for a full meal, stop in for a quick bite of tempting appetizers. Nachos, pretzels, chicken tenders, mozzarella sticks, and breaded mushrooms are popular, as are the gouda mac-n-cheese bites which are smoky, crunchy and just damn good. The pickles are hand-breaded with a bit of a kick in the seasoning, and definitely worth trying.

The menu includes weekday specials, their very own "Special Sumthin'" if you will, that change daily and are available until supplies run out. If it's the meatball parm hoagie or Tracy's homemade chicken salad pita, don't delay; run for sumthin' that good. Know about it in advance from posts on Facebook.

Tavern 14 is a place you might even want to yell "Hell Yeah!" again when you order your food. If you want a hot dog, you have to. The "Hell Yeah!" dawg, all beef and super juicy, is the best deal on the menu. Don't forget to order coleslaw with it; otherwise, Taverneers might think you are a foreigner.

In fact, the best side is the homemade coleslaw. Next pro tip: Order two servings.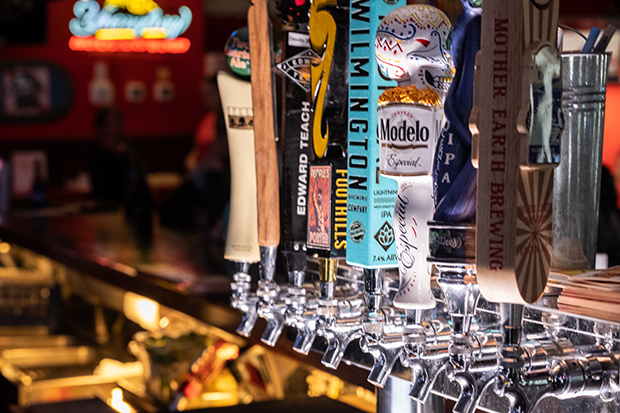 One more pro tip: Come thirsty. The 14 taps (coincidentally matching the tavern's name) and more than 100 beer and liquor choices make you want to linger for a few extra moments after you have eaten your food.

Don't be surprised to see serious pool players at Tavern 14. Several top players in two pool player associations play regularly there. After they compete in national tournaments in Las Vegas, they return home with huge trophies that they strut around the bar area. "Four teams with eight players each went there to play against the top amateurs last year, and one team finished 97th out of 1,200 teams," brags Christyne Nagaishi, the tavern's owner.

"We are a huge pool community with multiple leagues from beginners to professionals. We have teams playing five days a week, and we have in-house tournaments," she adds.

Darts, skeeball, Top Golf and Keno are also available however, billiards are overwhelmingly the popular choice.

Special events are also a regular at Tavern 14. Each month it sponsors a Makers Market on a Saturday from 11am to 4pm with live music in its back lot in a family-and-dog-friendly setting. More than 20 vendors set up with locally made goodies, and a raffle is also held for a nonprofit such as an animal sanctuary.

Come to celebrate St. Patrick's Day and expect to find Smithwick's, Guinness, and Jameson specials. Be there on April 7 to celebrate National Beer Day, and also make plans to attend its annual Halloween party usually held on the last Friday in October beginning at 7pm.

"Our Halloween parties are epic. The staff really gets into it, and the customers do too. We are really an adult playground," says Nagaishi, quite proudly of how Tavern 14 continues to build its customer base as it survives one challenge after another, including a forced relocation followed by devastating damages by Hurricane Florence. She considers Tavern 14 to be the "Phoenix of Taverns" based on how it has rebounded each time.

"We — and I mean from staff to customers — have put our hearts and souls into making this a refuge from the insanity of the world, and that's become even more precious since Covid," she adds.

Open daily for lunch and serving a late-night menu too, Tavern 14 is just the casual home away from home that you've been looking for. At least it has been for Nagaishi and her all-female crew led by Claire, general manager; Tracy, kitchen manager; and Tabitha, head bartender, who is ably assisted by the bar staff of Brandy, Holden, Kat, Ronni, and Sierra.

After Nagaishi moved to Wilmington, Tavern 14 was the first bar that she entered. She was smitten and never left. After buying it several years later, she and her staff have worked tirelessly to transition it from solely a bar to a full-service kitchen. And oh, how they have succeeded. tavern14.business.site