The 12 Excursions  of Christmas
04 Nov 2021
A spirited roundup of the city's most gleeful gatherings this holiday season

By Fanny Slater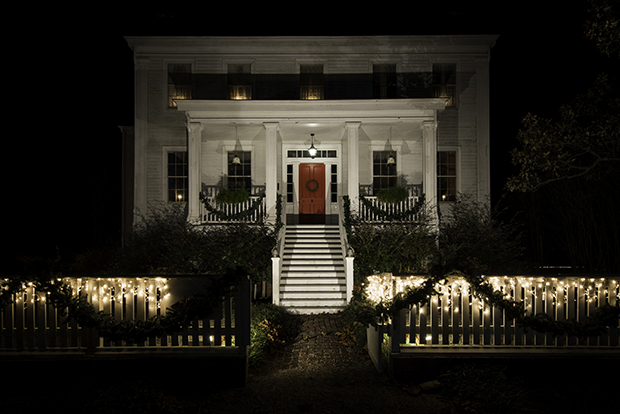 Hey, you. Yeah, you. Sitting there in your penguin pajama pants with your cinnamony PSL gazing out the window wondering what to do with your day. We get it. You've either been cramped under your own roof, socially distanced outside, or masked up like an extra on the set of Grey's Anatomy.

The early seasons, of course.

And though we're not fully in the clear from this pandemic just yet, the holidays have still reemerged and darn it all — we deserve to safely celebrate! Our beautiful waterfront city is optimal for getting out into the open air and as it turns out, folks around here really know how to turn on the festive charm. From family-friendly jaunts (like a trip to the Cameron Art Museum for hand-crafted lanterns or a Christmas-themed tour through a historic mansion) to downtown date-nights where you'll follow up tree lighting with linguine —we've got a rendezvous to gratify any group.

We tried to keep these treks as outdoor-friendly as possible because, well, you never know when a 70-degree day is going to hit around here — but if you happen to be inside, make sure to follow state mandates for masks.

So leave your inner Scrooge at home, but definitely bring the penguin pjs. We've got you covered with 12 of the merriest activities this city has to offer.

1. Otters, Hikes, and Oyster Hoagies

Otter Exhibit at the Aquarium
ncaquariums.com/fort-fisher-exhibits

If a smiling otter sliding down a log doesn't tug on your heart strings, you might want to get your pulse checked. The North Carolina Aquarium at Fort Fisher is a favorite for kids, but no matter your age, you'll find it impossible to not overflow with happiness at the otter exhibit. The tiniest of all their species, these Asian small-clawed otters (a family of four, to be exact) spend their days bobbing in an enclosed pool or bathing under a waterfall. Get the full aquarium experience while you're there and dig for fossils, pet a horseshoe crab, and get up close and personal with the sharks. Through the glass, of course.


Carolina Beach State Park Hike
ncparks.gov/carolina-beach-state-park/trails

Since you can catch the otters on habitat from 9 am - 3:45 pm daily, your expedition to Carolina Beach can be flexible and full of adventure. Start the day strong by taking on one of CB's gorgeous nature hikes. Kids will appreciate the easy half-a-mile Flytrap Trail where they can spot wildflowers and skip along on the wooden boardwalks.

Ocean Grill & Tiki Bar
oceangrilltiki.com

For the adults, nothing says happy holidays like a Mai Tai and some munchies. The Ocean Grill & Tiki Bar is just as celebrated for its sublime beachfront seating as it is for the cocktails and good eats. The velvety crab dip with sea salt flatbread crackers will tempt the whole table, but you'll want to keep the oyster roll (stacked with slaw and nestled into a fluffy hoagie roll) all to yourself.


2. Floats, Boats, and Burgers

North Carolina Holiday Flotilla
ncholidayflotilla.org

After taking a brief hiatus in 2020 (thanks again, Covid), our beloved after-dark Southern coastal holiday boat parade is officially back in business and set for Saturday, November 27th. The fun kicks off Friday with a free tree-lighting and launch party, and a "Door to Dock" decorating contest is also on deck this year. Gear heads will want to check out the antique car show starting around lunchtime on Saturday along with the Festival in the Park which highlights over 100 arts and crafts vendors and a play area for children. End the evening with a bang from the spectacular fireworks show.


Poe's Tavern
poestavern.com

You can find food on-site, but I'd also suggest a pop-in to Poe's Tavern while you're already in WB territory. This whimsical, poetry-inspired pub consistently tops our list for outdoor dining by virtue of their ever-bustling patio and hefty platters like Edgar's drunken chili nachos. Race your friends to get lit ahead of the boats. Just kidding, though Poe's does have quite the collection of local craft libations.


3. Garden Tours, Taters, and Tropical Lightnings

Enchanted Airlie
airliegardens.org/events/enchanted-airlie

NC natives adore Airlie Gardens any time of year, but we're always counting down the days until Enchanted Airlie returns. An essential excursion during Wrightsville Beach's chilly weather season, the self-guided ticketed tour is an hourlong stride through sparkling sights and cheerful holiday music.


David's Deli & Wilmington Brewing Company
davidsamericandeli.com
wilmingtonbrewingcompany.com

With this expedition falling around dinnertime, your hunger (and thirst) bell may be buzzing along the way. Luckily, you can purchase select snacks and beverages from David's Deli — known for cheesesteaks and stellar handmade potato chips — and Wilmington Brewing Company. I can't imagine anything more "Wilmington" than gripping a piney, pungent, locally-brewed west coast IPA (Tropical Lightning comes in hot at 7.4%) while viewing Christmas lights.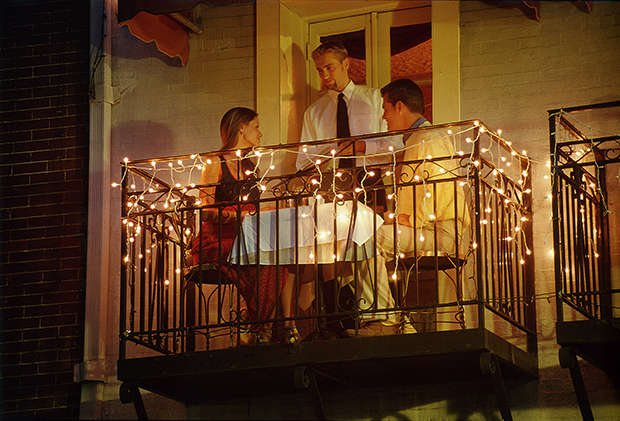 4. A Complimentary Countdown and Carb-Loading

Downtown Tree Lighting
coastalnc-wilmington.com/downtown-christmas-tree-lighting

There's no better place to be than the riverfront when 5:30 pm on November 29th comes around. Let your kids revel in a visit with Santa and Mrs. Clause while you boogie to the sound of live music. A herd of happy people (socially distanced, of course) counting down the lighting of a Christmas tree is a pretty fantastic way to dive headfirst into the holidays. Did we mention it doesn't cost a dime?

Floriana
florianarestaurant.com

If you opt to leave the kids at home (we're not judging—lots of 40-year-olds believe in Santa) or happen to make a date night out of this event, frolic over to Floriana once the party dies down. Smack dab on the corner of Market and Water, this northern Italian utopia boasts handmade pastas in a cozy atmosphere. You'll swoon for roasted mushroom and burrata ravioli on the two-person wrought-iron balconies.


5. Lanterns, Poblanos, and Wood-Fired Pies

Illumination Exhibit at CAM
cameronartmuseum.org

The Cameron Art Museum's annual exhibition of artist-made light sculptures is always a bright idea (pun intended) and this year's displays will rely on the concept of seeing our world with an acquired resilience. 2021 marks seven years in a row for the much-loved series, and as artists are encouraged to explore rebirth and renewal — the imaginative lanterns will be themed around finding hope and light in darkness.

As you make your way around through the captivating show, you're bound to get hungry. The museum's in-house dining (CAM Café) is always our first recommendation, but feel free to show other local spots some love by heading to the nearby Pointe at Barclay for a bite.


Zocalo Street Food
zocalostreetfood.com

Forget the Christmas lights; this modern Mexican eatery has a serrano-studded guacamole so flavorful it will spark your taste buds in a matter of seconds. No electricity required. Zocalo's generously packed enchiladas are a divine entrée, and I order the queso with thick-cut corn chips as an appetizer and dessert.


Food & Pizzeria Il Forno
pizzeria-ilforno.com

Delight in the bona fide flavors of a true Neapolitan-style Margherita pizza at Il Forno. The sunny courtyard is an idyllic setting for digging into one of their crackly wood-fired pies —impossibly thin, chewy, and soft with an airy, elastic crust.


6. Candlelight Tours and Coolers

Merry Little Christmas Festival
poplargrove.org/festivals

Long lines can be a damper during a joyful outing, but Poplar Grove's Merry Little Christmas Festival allows you to freely stroll the twinkling grounds. Visit craftpersons, bring a blanket to sit under the stars, and hold your loved ones close during the candlelit tour through the rooms in the Manor House. This historic museum, formerly a sweet potato and peanut plantation, has been restored and open to the public since 1980 and is listed on the National Register of Historic Places.


Bodega
thebodega.shop

If the thought of sweet potatoes and peanuts makes your stomach rumble, don't worry—food will be available on-site, and picnics are permissible as well. Poplar Grove is a bit of a hike from the heart of Wilmington, but there are plenty of specialty markets all over town (such as Bodega on South 3rd) where you can stock up on provisions like local goat cheese and a fresh baguette for your cooler. While you're there, grab some of Bodega's most delicious goodies for a thoughtful family present (and find more ideas for places to pick foodie-friendly gifts on page 48).


7. Antiques and Arepas

Holiday Flea Market at Brooklyn Arts Center
brooklynartsnc.com/event/holiday-flea-at-bac

This North 4th Street (lovingly dubbed NOFO by the natives) Friday, Saturday, and Sunday market has become recognized as the "ultimate vintage flea." Showcasing an epic assortment of retro, up-cycled, and artisan antique treasures from 40+ vendors, this five-dollar, three-day, long-standing tradition always arrives just in time for gift-giving season. Parking is free in the BAD (AKA Brooklyn Arts District — we like our acronyms around here), and you can count on some of Wilmington's best food trucks to make an appearance. A full-service bar and coffee shop inside will be serving up everything from matcha to margaritas.


Savorez
savorez.com

If sliding into a warm, cozy booth for a morning meal sounds more your speed while galivanting around for the holidays—scoot down the street to Savorez for their eclectic Sunday lineup. This colorful Latin American gem crushes the brunch game with their "Breakfast of Champions"—buttermilk fried chicken, a fluffy arepa, savory chorizo gravy, citrus slaw, and an over easy egg. Don't quote me on this, but if you walk around the flea market 87 times, you'll burn off half the calories of the breakfast.


Boombalatti's
boombalattis.com

Just looking for a delicious stop? Don't pass up the chance to get a winter chill on with the locally made ice cream, cold brew floats and a slice of Andes Mint ice cream pie at Boombalatti's.


8. Candlelight Tour

Old Wilmington by Candlelight Tour
lcfhs.org

Deemed as the Lower Cape Fear Historical Society's largest fund-raising event, the Old Wilmington by Candlelight Tour is a no-brainer when it comes to ushering in the holiday season with a side of history. Since 1973, this two-day celebration has presented a brilliant tour of downtown's enchanting private homes (like the Latimer House who's a staple of the tour), elegant churches, and historical sites.


Seabird
seabirdnc.com

Taking in all of that history is sure to work up an appetite, and if you opted to do the tour on the earlier side of the day—run, don't walk, to Seabird for the best fried chicken biscuit in town. Former chef and owner of Pinpoint, Dean Neff, is at the helm of this coastally-motivated hot spot and his simple, yet superb breakfast menu (with standouts like a grits and roasted potato bowl with sweet pepper sofrito and slow-poached kale) is on another level. While you wait for the tour to begin, indulge in the buttery brown sugar coffee cake, a seasonal latte, and a stroll on the Riverwalk.


9. Gnocchi and Nostalgia

A Christmas Stroll Through the Past
burgwinwrighthouse.com/christmas-stroll

As luminaries line the sidewalks of Market Street this time of year, the Burgwin-Wright House and Bellamy Mansion also suit up. Fully decked out in the colonial-revival style and brimming with holiday decorations like fresh greenery and fruit—the house takes visitors on a wonderous journey to earlier times. This "Christmas Stroll Through the Past" features a colonial era experience while the Bellamy Mansion presents an antebellum version. I don't know about you, but I always say yes to time-traveling when the opportunity arises.

The event is kid-friendly and offers activities like decorating ornaments and learning about colonial toys. Vibrant tunes fill the rooms while interpreters outfitted in period attire answer questions for the visitors.


Quanto Basta Italian Eatery & Wine Bar
quantobastanc.com

Christmas carolers often set up shop on the steps of St. James Episcopal Church, and you can bask in their beautiful voices as you head down 2nd Street for some of the best Sunday sauce you'll ever have. QB successfully nails the vibe of an Italian neighborhood bistro as you can enjoy your truffled fettucine fountain-side in the lush, private courtyard.


10. Decorated Trees and Deep-Fried Tortillas

Cape Fear Festival of Trees at the Aquarium
lifecare.org

Admission to the Fort Fisher aquarium is all you need to see this Kure Beach space transformed into a magical forest. Starting late November and running just into 2022, the Cape Fear Festival of Trees includes an array of glittering trees decorated by local businesses, organization, and artists throughout the wildlife and aquatic attractions.

It's a festive, foolproof way to spend the afternoon since you can wander as you please. Entertain out-of-towners or get tree-trimming ideas with the whole family.


Flaming Amy's Burrito Barn
flamingamysburritobarn.com

When you find your way out of the forest, zip over to Flaming's Amy's Carolina Beach location. It's the perfect place to keep the holiday spirit going strong as this funky Mexican joint is notorious for their outrageous Churkeychanga burrito offered from the beginning of November through Thanksgiving. The seasonal treat features fresh roasted turkey slathered in garlic-y mashed potatoes and cornbread stuffing swaddled in a flour tortilla and deep-fried until golden brown and crispy. Heavenly jalapeño cream gravy and a side of cranberry salsa finish the dish.


11. Spruce up your Spruce

There's no outing more Christmas-y than hand-selecting your very own tree. And while there are plenty of family-owned farms outside of the area to pick 'em live, we're focusing on the Wilmington-based retail shops known for carrying the best of the best.


Barr Evergreens
barrevergreens.com

It's a well-known fact that the most superior Christmas trees are grown in the mountains of Western North Carolina, and Barr Evergreens (situated in the Blue Ridge Mountains of Ashe County) has been growing and shipping the finest Fraser Firs, among other varieties, for over two generations. For those not feeling the trek to "choose and cut" in-person, Barr Evengreens' midtown retail shop is ideal for snagging one of their trees, wreaths, garland, or boughs.


Farmer's Supply
farmerssupplyco.com

I put my personal stamp of approval on this lawn-and-garden shop, as their seasonal lot is where I've always selected impeccably fluffy trees. The friendly staff will expertly get your preferred pine trimmed, wrapped, and ready to be strapped to the car roof in no time.


Bigger's Market
biggers-market.myshopify.com

Recently rebranded from Port City Produce to Bigger's, this fully-stocked market isn't just full of bounty in the summer months. When winter comes along, 'tis the season for the staff to set up the spruces and locally-made decorations. With the addition of their Backyard Bar, you can now sip a local pumpkin-spiced draft beer while you snap your selfie on Santa's Sleigh.

12. Ho-ho-holy Brunch

Waterman's Brewing Company
watermansbrewing.com

Though many restaurants adorn their menus with clove-scented pancakes and the like for a fall twist, we have a few kitchen-equipped breweries known for slinging some serious brunch items. Waterman's spotlights contemporary coastal fare and is heavy on incorporating in-house suds. And thanks to the extension of their glorious beer garden, guests can now dine al fresco. Nothing is more festive than a picnic table packed with your best friends, brunch, and local brews — and I guarantee that whatever seasonal specials head chef Drew Stanley creates this year will result in merriment galore.