The Anomaly of a Single Bullet
04 Jan 2022
Gun safety in North Carolina's film industry in the tragic fallout of the period western Rust

By Kevin Lewis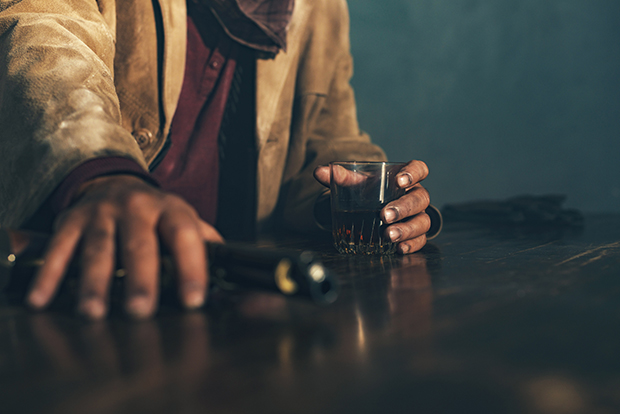 Alec Baldwin, after being informed that he had a cold gun without live rounds, shot and killed his
cinematographer Halyna Hutchins and wounded his director Joel Souza in October on the set of Rust in New Mexico. Upon investigation by the local sheriff, the gun had a live round in the gun chamber, discovered when the bullet was extracted from Souza. The film was shut down and the incident sent shock waves throughout the film industry. That single bullet exploded through several film industry unions and guilds: the Directors Guild of America, the crafts unions such as Local 600 (cinematographers), Local 44 (the armorers, set painters, electrical and sound crew and property masters) and SAG-AFTRA, forcing a reassessment of on-set procedures.

Baldwin was both lead actor and producer of the period western, and safety concerns had been raised on the film set before the tragedy, including a walkout of crew members to be replaced by reportedly non-union technicians. Conflicting stories regarding the persons handling the gun, whether it was the young, less experienced armorer Hannah Gutierrez Reed, the assistant director Dave Halls or Baldwin, plus the walkout or firing of union employment make the story a continuing headline. Baldwin now claims he never pulled the trigger and that it misfired. A police report has not been released. Whether the bullet was sabotage or negligence has not been determined.

How will this affect booming film production in North Carolina and the handling of firearms on set? Most of the film activity is centered around Wilmington and the situation is well under control, according to interviews with IASTE Local 491, the union which covers armorers, set painters, grips, gaffers, sound mixers and recorders among its roughly 84 job classifications. EUE/Screen Gems Studios is the main studio for film and television production. Wilmington Regional Film Commission, Inc., which is composed of business and elected officials, is the central source for helping filmmakers make their productions a reality. There is a state bureau, North Carolina Film Office, headed by Guy Gaster.

Johnny Griffin, Director of the Wilmington Regional Film Commission, Inc., and William Vassar, Executive Vice President, EUE/Screen Gems Studios, spoke about their involvement with Local 491. Griffin says that most of the film crews are guild or union members, unusual in a right-to-work state like North Carolina, and that a majority of non-union members join unions. Vassar is proud that the major studios such as Paramount and Disney are shooting movies at the Wilmington studio, which has been rivaling Hollywood as a production base. "I have five productions coming in," Vassar said in December.

The 50-acre, full-service studio lot with 10 stages and 150,000 square feet of column-free shooting space is basically a rental operation for outside productions. The original studio was built by Italian-American film producer Dino De Laurentiis in the early 1980s as Laurentiis Entertainment Group. Over the years, because of fluctuating fortunes, it was resold to Carolco and now is EUE/Screen Gems.

Darla McGlamercy, business agent for Local 491 and a member for 12 years, claims that there are approximately 1190 members in its jurisdiction, which covers Savannah, Georgia, North Carolina, and South Carolina. Approximately 700 of those are residing in the Wilmington area. Movie production, streaming and television is booming not only in the Carolinas but in New York, Los Angeles, and other cities. The lack of post-production facilities outside New York and Los Angeles has hampered the completion of films in the Carolinas but that may soon change with the technological advances in digital technology and the portability of equipment. "Over the last 18 months we are extremely busy with content creation," she explains, with more trained directors, producers and technicians able to realize production. Based on the quality of life offered in the Wilmington area, McGlamercy says, "Professional film technicians have chosen this jurisdiction to work in."

"We are leading the country in safety training for all of our members," she says with four classifications ranging from sexual harassment training to COVID-19 procedures. COVID-19 safety standards are rigidly followed with working production people being tested at least two times a week and sometimes three times a week. All on-set and office personnel are required to wear masks at work.

Gun Safety class was initiated by Charley Coleman and Mark Cayton, who is now retired. The 35-year-old Coleman, a Wilmington native and who like McGlamercy is a first-generation member of IASTE, is the senior armorer in Local 491. He takes pride in his safety record based on transparency and strict adherence to union regulations in his 15 years as an armorer, nine of them as an IASTE member on over 30 productions. When asked if the Rust accident was an anomaly, he replied without hesitation, "It wasn't just an anomaly, it was THE anomaly of everything not to do." Guild procedures were not followed regarding access to the gun and transparency.

Coleman explains that the armorer, property master and 1st assistant director examine the gun chamber to be fired in a scene for live rounds, dummy rounds (no powder) and blanks (powder). Each of these people check each other's work. Coleman recalls one incident involving a shot to be fired in a crowd scene when at least 50 people examined the gun chamber to allay the fears of concerned extras before filming began.

"The industry is more safety oriented [now]," he says, remembering the notorious production tragedies of the death of Brandon Lee by gunshot on The Crow and the deaths of Vic Morrow and two children on The Twilight Zone movie by helicopter. As details of the fatal shooting on Rust continue to unfold, Wilmington's professional pool of talent continues to forge ahead as crew for a bustling production center that continues to gain steam.

Kevin Lewis was a reporter for two decades successively for the Directors Guild of America and IASTE Local 700 The Motion Picture Editors Guild.