From Field to Vase
04 Jan 2022
The Slow Flower Movement Comes to Southeastern North Carolina

By Crissy Neville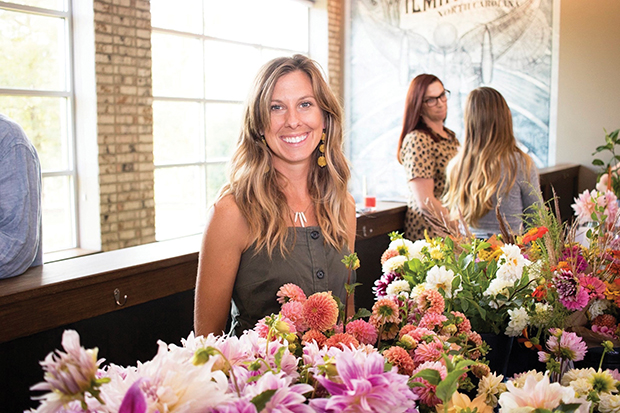 If you can get your favorite music, magazines, beauty and cleaning supplies in a monthly subscription, why not flowers? This question and brainstorm prompted fifth-generation farmer Ashley Johnson of Buies Creek to take a leap of faith and start Foxhound Flowers in 2018. The flower subscription business has since blossomed in two locations – Harnett and New Hanover counties – and has grown to include business collaborations, seasonal workshops, pop-up markets, and custom and wholesale orders.

A Happy Accident

After graduating from UNC-Wilmington with a degree in creative writing, the now 30-year-old developed her passion for flowers after a short stint in her first career, journalism, working for the Wilmington-based magazine, Wilma. Unhappy behind a desk, she yearned to get outside, travel and try new things. She calls learning floral design while employed part-time with a Wilmington florist – a "happy accident." Moves to Key West and Alaska fueled her flower fetish; she worked at a large peony farm in the 49th state and helped coordinate the Certified American Grown Field to Vase event there.

While nearly spontaneous opportunities led Johnson to discover her creative talent for working with blooms and passion for them, her skill as a grower and penchant for hard work is as organic as the flowers she grows and the family she comes from. Her lineage includes males who farmed themselves or devoted land for agriculture, including her great-grandfather, Caswell "Cack" Johnson, the foxhunter for who the farm is named. She is proud to be the first family female to work the earth for
a profession.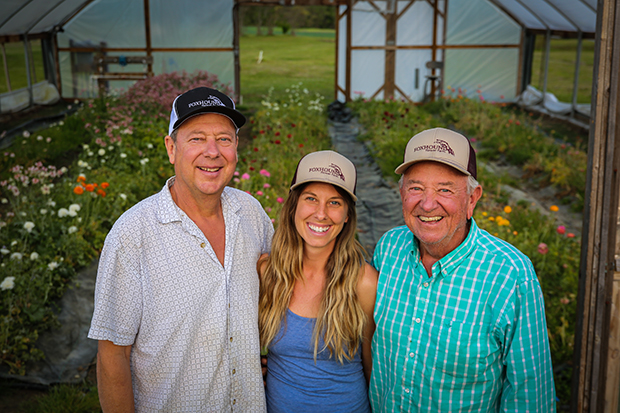 A Family Tradition

Foxhound Flowers operates on Johnson family land in Harnett County, previously a row crop and livestock enterprise and now, Johnson's startup. While much of the track is still leased to outside farmers, Johnson uses nearly two acres for her plantings and equipment and converted her great-grandparents' home into a
farm Airbnb.

Johnson has fond memories of growing up on the farm, where there were always foxhound puppies to pet, fresh vegetables to eat and horses to ride.

"Growing up in a small town," she shared, "I admit I wanted to leave, but then when I left, I missed being out in nature, having space and the quiet and starry nights. I love my family and Harnett County. Most young people have moved and left. I felt the itch to go back."

Growing a Startup

So, Johnson moved home, garnered her grandparents' and parents' approval and support and dug in.

Not only in "let's get to work" fashion but literally, she dug in – planting thousands of seeds, bulbs, corms and tubers that first fall and every autumn since then. Some in the ground, others in the high tunnel greenhouses and many started each winter in her basement via seed plugs, grow lights and heat mats. From fall planting to overwintering to spring and summer harvesting, flower farming is full-time, year-round work. Big planting weeks are usually the week of Halloween and then again in Thanksgiving and lastly in February.

Perennials, annuals – you name it. Sow. Cut. Repeat.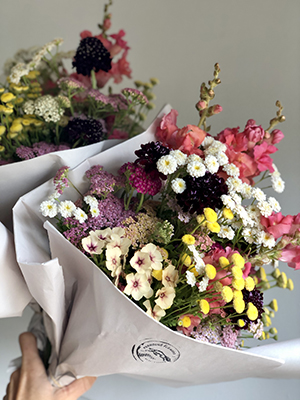 Business in a Bucket

Johnson's platform provides unique, specialty flowers to the local community and Wilmington primarily through the Community Supported Agriculture (CSA) model made popular in recent years as a way for urban dwellers and non-growers to get fresh, local organically grown produce through weekly box deliveries.

Like veggie buyers, flower subscribers pick up their fresh-cut bloom buckets at designated locations once a week for four or eight weeks in the spring, summer or both. She deliveries to homes in Harnett County on her subscriber list and makes pick-up available in the Wilmington area at Big Sky Design on Oleander and Beanie + Cecil in Lumina Station. Going out of town one of the weeks? No problem. Just gift that week to a friend or postpone for another time.

Always on the lookout to add new pick-up locations and expand and scale her business, Johnson also sells in Wilmington at pop-up markets like the Wilmington Farmer's Market at Tidal Creek and the Palate Bottle Shop & Garden. Additionally, she often supplies flowers for weddings and events by selling directly to florists like her best friend Ally Favory of Wilmington's Blossom Bay Design. Add to the menu Johnson's seasonal workshops at various locations, including wreath-making, Ikebana, naturalistic tabletop design, flower arranging and more. The popular sessions, which include sips, bites and a take-home creation, usually sell out. To stay abreast of the offerings, go to foxhoundflowers.com.

Why Buy Local

If not for locally grown flowers, she explained, flowers would always be sourced from far-away places like Columbia, Ecuador and Mexico, increasing the environmental footprint in every way from the chemicals and packaging used to the water and transport required, not to mention the unethical working conditions and unfair wages common for third-world farmworkers.

Add to this the fact that local, sold in-season flowers provide more fragrance and smell, last longer in a vase and offer a true seasonal awareness of what is in bloom right now. They look better, too; many sought-after blooms do not ship well. For all these reasons and more, the "slow flower" movement, similar to the slow food and slow fashion trends, has increased in popularity in recent years.

"You have to wait for them," said Johnson of her blooms.

Bountiful Blooms

And worth the wait they are. A spring bucket from Foxhound Flowers might include tulips, Dutch iris, ranunculus, feverfew, specialty daffodils, snapdragons and campanula and a summer container full of hybrid zinnia, celosia, lisianthus, dahlias and more. Each bucket is a surprise package to delight the senses and feed the soul. Coming soon will be peonies reminiscent of Johnson's Alaskan tenure, a perennial flower that puts the "s" in the slow flower mantra.

Find out more about peonies and all of Johnson's other flower favorites and the farm by visiting foxhoundflowers.com. Sign up for weekly newsletters and also connect with Foxhound Flowers on Instagram and Facebook.