319 N. Front Street, Wilmington
910-343-1050
thebasicswilmington.com
By JESSICA MAURER » Photos by KELLY STARBUCK PHOTOGRAPHY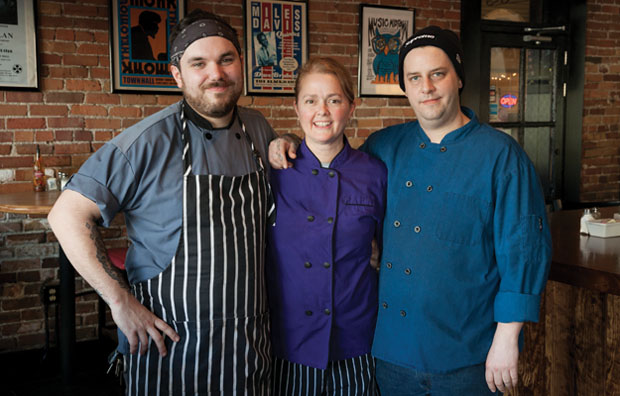 Figuring out what to name a restaurant is a big deal. It's the first thing that will spark the customer's imagination, and also the first thing they will judge.
For chef and restaurant owner Mary Long, the answer was as simple as the name itself, The Basics.
When Long moved to Wilmington from Athens, Georgia over a decade ago, she had her sights set on a cozy downtown location to open a southern style bistro. The exposed brick walls and wood floors at 319 N. Front St. were exactly what she had in mind.
Back in Athens, Long had worked her way through the culinary ranks. She worked both the front and the back of the house, honed her skills, refined her palate, and built a repertoire of recipes.
"For years I've been working on developing recipes reflective of southern cuisine and culture, and that was what I was considering when I came up with the name," Long said. "What are the basics of Southern cuisine?"
Long says The Basics combines what she feels are the basic components of any fine dining menu, along with the basics of southern cuisine. Any fine dining menu must have a filet, a pork dish, lamb chops, she says. Any southern themed menu must incorporate smoked meats, shrimp and grits, hoppin' John, biscuits, collards.
Long aspires to keep southern cooking true to its roots, while at the same time making adjustments to traditional recipes which accommodate the modern palate. She adds orange zest to her hoppin' John for example, to brighten the flavors and bring a bit of acidity to the dish. She says the modern palate is less tolerant of the heavy, fat laden preparations of the past, so she is challenged to present them in more healthful ways while maintaining their authenticity.
"It's important to me to keep the connections to the past, yet put a new twist on things at the same time," Long said. "With certain dishes such as shrimp and grits for example, there are as many versions out there as there are chefs. And that can be said for dishes like hoppin' John as well. Each chef has their own interpretation."
This year The Basics will celebrate a milestone of ten years in business. Long credits much of her success to a reliable and talented staff. She has taken the time to build solid relationships with her employees. As a single mother, she simply cannot handle everything herself. She must rely on her staff to maintain quality and consistency in the kitchen, and exemplary service in the dining room.
She has one employee that has been with her from the start, and several others who have worked for her for over five years. She has invested a lot in building her team, in gaining the trust of the individuals who represent her on every level.
One of the key components of that is making sure her staff has the tools to execute their jobs efficiently. She wants them to enjoy coming to work, to take pride in the food they're putting out, the service they deliver. She wants them to be invested in their work and have a sense of pride about the experience they're creating.
Long says she has seen a lot of restaurants fold early on. Not because they didn't have good concepts, but because they failed to focus on making sure the food was of the highest quality, every single time it's served.
As a child, Long enjoyed large family gatherings where food was always present and plentiful. She grew up on the southern classics, many prepared by her grandmothers, whom she credits as her main culinary inspirations.
Her grandmothers cooked for the family, they cooked for the church, they cooked for the neighbors. They prepared simple dishes like deviled eggs and chicken salad, biscuits and cornbread. They cooked from the heart.
Long remembers there always being a multitude of side dishes; the collards, the hoppin' John and chow chow, the cole slaw and mashed potatoes, all of which are present on her menu.
One of her most nostalgic dishes, The Southern Canape, is her version of a sampler plate with deviled eggs, spiced pecans and celery stuffed with pimento cheese. But she says it's The Bird, a smoked half chicken rubbed with sugar and spice and served with hoppin' John, collards and a biscuit that best represents The Basics.
"It has all the components of what we do," Long said. "A true taste of southern deliciousness."
The Basics serves breakfast, lunch and dinner as well as brunch on the weekends. Many of the breakfast and lunch items have been on the menu since the start. They receive fresh seafood daily, often oysters from Little Washington and scallops from the Outer Banks. Three entrée specials are created daily, one always featuring fresh seafood, as well as a daily appetizer and desert. Lunchtime brings daily burger and salad specials.
The dinner menu is updated every few months in order to reflect the seasons, with filet, the pork and the lamb chops all changing somewhat to incorporate seasonal flavors. Current winter dishes include fresh fettucine with butternut squash, pork belly, arugula, golden tomatoes, fresh sage, pinenuts and parmesan; shepherd's pie prepared with filet mignon and venison and topped with sweet potatoes, and a winter risotto with cranberries, walnuts, leeks, goat cheese and beets.
Long says that while the farm to table movement has become very popular of late in almost every genre of restaurants, it is something that has always been a part of southern cooking.
"Traditionally, people of this region prepared what was available to them," Long said. "The collards were grown nearby, the sweet potatoes, the blueberries. People used what was accessible, what was in season."
After nine years of service, The Basics kitchen recently underwent a few updates, including the installation of some much needed additional refrigeration space, new flooring and a new smoker. The front of the house received a new bar, the heart pine floors that are original to the building have been refinished.
"It's important that our customers see that we strive to maintain consistency, not only in terms of our food, but in the comfort of our dining room as well," Long said.
Afterall, just because something is basic doesn't mean it shouldn't be top notch.