The Bodensee of Germany
01 Jul 2022
Around Lake Constance, known as Bodensee in German, you can revel in gardens, explore medieval towns, shop posh boutiques, and dine in three countries.

By Katie McElveen » Photos by Achim Mende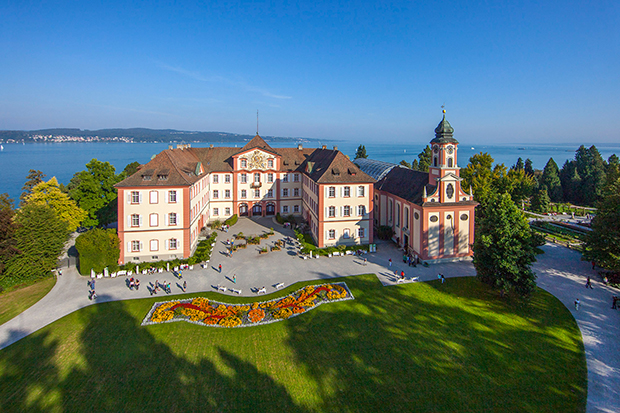 On a sparkling Saturday morning in Konstanz, Germany on a waterfront promenade filled with walkers, joggers, sun bathers, picnickers and casual cyclists like me, I'm wondering why more Americans haven't discovered this surprisingly diverse destination. Lake Constance is not only one of the largest lakes in Europe, but one of the most accessible: land in Zurich, hop onto a train at the airport and you can be sipping a spritz within the hour. Even better, since the lake's 125-mile shoreline also touches Switzerland and Austria, you can have breakfast in one country, lunch in another and dinner in a third. It's a value, too: prices for meals and hotel rooms are less than in many other parts of Europe.

Set on a peninsula that marks the point where the Rhine expands into the lake before continuing its journey to the North Sea, Konstanz is the largest city on the lake. It's beautiful, and, thanks to a sneaky microclimate, temperate all year long.

I'd started my visit in Salem, which might have been an unremarkable town were it not for a group of Cistercian monks who settled there in 1134 and built, as was required by their order, an austere cathedral. Over the next 700 years, Gothic, Baroque and Rococo enhancements transformed the once simple church, cloister and other buildings into a remarkable castle complex complete with perfectly manicured gardens, richly decorated rooms and an 18th-century stable house adorned with hand-painted murals of horses and carved wood partitions. All that grandeur, though, is tempered by the fact that the castle is also the site of the Schule Schloss Salem boarding school, an academic institution that boasts Prince Philip, Duke of Edinburg as a graduate. Far from marring my visit, the evidence of teens – soccer balls, sneakers and cast-off jackets showed up in the most random spots – gave the compound a wonderfully lived-in quality.

My next stop was Meersburg, an atmospheric medieval village set on a terraced bluff that's been occupied since 5,000 BC. Our guide explained that if we looked closely, we could find symbols hidden within the beam placement of the town's wealth of half-timbered houses. Those crossed like an X commemorate Saint Andrew, who was nailed to a slanted cross; when set over a diamond, that same sign signified wealth. Mirror images of a capital K symbolized the mythic Wild Man, who roamed the forest and were a sign of physical strength. Wine has been produced here for so long that there's a museum devoted to it; appropriately, there are lots of places to taste the local varieties.

Lake Constance appears almost like magic in Meersburg: one moment I was wandering through the town's warren of pretty cobbled streets; the next, I was standing on a terrace gazing at the lake and, in the distance, the Swiss Alps. From there, it was a quick ferry ride across the lake to Konstanz, which is so close to Switzerland that the Allies avoided bombing it during World War II. As a result, Konstanz's old town, with its 11th-century Romanesque Cathedral and 14th-century Council House (which was the site of the Council of Constance, which elected Pope Martin V in 1417), is one of the best-preserved in Germany. Today, the Council House is home to a restaurant with a sunny outdoor café overlooking the harbor. Ironically, the chamber that held the conclave is now available for rentals, making it the only place in the world where you can throw a party in a room where a pope was elected.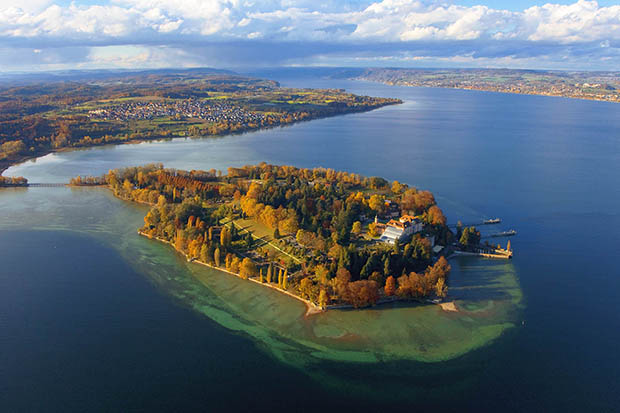 But there's more to Konstanz than ancient history. As I poked along ancient streets and alleys, I came across outdoor cafes, designer boutiques and public art ranging from 16th-century murals to contemporary sculptures.

Then there's Mainau Island, which has a fascinating origin story that spans centuries and involves a cast of characters that includes Teutonic Knights, Hungarian royalty and a count who gave up his Swedish title for love. The draw, though, is not history (even if there is a castle on the property) but the staggering beauty of the island's 96 acres of gardens, some of which date back to the 19th century.

Throughout the island, walking paths wind through drifts of fragrant peonies, lilacs and roses, into deep cedar forests across and meadows buzzing with bees. Though there is clearly an educational element here – exhibits abound – broad expanses of shady green grass dotted with chaise lounges give Mainau a relaxing vibe that's more park than botanical garden.

Mainau wasn't the only pleasant surprise I discovered in Konstanz. Another was the food, which leaned more toward jewel-toned salads, hand-rolled pastas like spaetzel and citrusy lake perch than the heavy traditional dishes I'd expected. But that's not to say that schnitzel lovers were out of luck. The plate-sized disks were works of art, pounded to an almost surreal evenness and fried to a golden crunch. We delved into local specialties as well, including meat-filled dumplings called maultaschen; flammkuchen, a bacon and cheese-topped flatbread and, of course, apple strudel, which is made with razor-thin layers of dough that stretch rather than shatter, binding the sweet filling in an almost creamy layer of sweetness. Light and easy to drink, local wines – mostly white Muller Thurgau and pinot noir and pinot noir
rose – were perfect accompaniments.

On our last morning in Konstanz I was up so early that I would have to miss breakfast. As I joined a friend at the empty bar at our hotel, 47 Degrees, to wait for our ride, a passing employee silently took note of us and returned a moment later with croissants fresh from the oven and cups of piping hot coffee. Another surprise, and one for which we were particularly grateful.