The Future is Bright at Brunswick Community College
03 Mar 2020
Student success rates, brand-new programs, and advanced technologies are thriving under the leadership of President Dr. Gene Smith

By TERESA A. McLAMB
Growing up in a family of farmers and educators, Dr. Gene Smith seemed destined to follow suit. President of Brunswick Community College since January 2019, Smith came from Wayne Community College where he began teaching after earning his master's degree in biology from East Carolina University. His daughter's recent graduation from the school makes her a third generation Pirate.

Smith's father was a teacher and coach. His mother worked in computer technology, but she also held administrative assistant jobs at the schools where his father taught. When Smith enrolled at ECU, she took a job there as well. His brother Scott teaches biology and earth science, and his brother Jon teaches marketing and is the baseball coach and athletic director.

In high school, Smith played football, basketball and baseball. "I enjoyed high school and made good friends I still talk to today," says Smith. His high school biology teacher Donnie Parker "really helped me to develop a passion for biology," Smith says. "I knew I was going to major in it, because I had a love of science."

It was at ECU, where he taught freshman biology labs in addition to his course load, that he realized he really enjoyed teaching.

Almost on a fluke, Smith applied for an instructor job at Wayne CC. He was hired in less than a week.

He packed up his family and moved to Goldsboro where he taught while preparing to defend his thesis on the distribution of insects in Sandy Creek and Swift Creek. "Water quality can be predicted by such study," he explains. "If you don't have clean water, those organisms can't survive." Two years after he completed his work, it was used by others to establish a baseline for the effect of land development along the creek.

In those early years at WCC, Smith paid close attention to the more experienced instructors. "There were five other members of that department who were twenty years older than me and had the experience, and they encouraged me and gave me insight into what needed to be done," Smith says. In exchange, Smith brought technology to the department. "They were teaching with chalk boards; I brought in Power Point. In two years, all but one were teaching with Power Point," says Smith.

He credits former WCC president Dr. Kay Albertson with giving him assignments that pushed him. "She provided me with leadership opportunities that allowed me to grow and develop. Her assignments to me as a vice president helped me to further my knowledge and experience in a community college more than I could have otherwise," says Smith.

Having responsibility for academic programs, student programs and work force development, Smith gained an understanding of how a successful college should operate.

Just fourteen months into his position as president of Brunswick Community College, Smith is looking forward to two momentous occasions this spring: the arrival of the school's mobile training vehicle and dedication of the new Health Sciences building.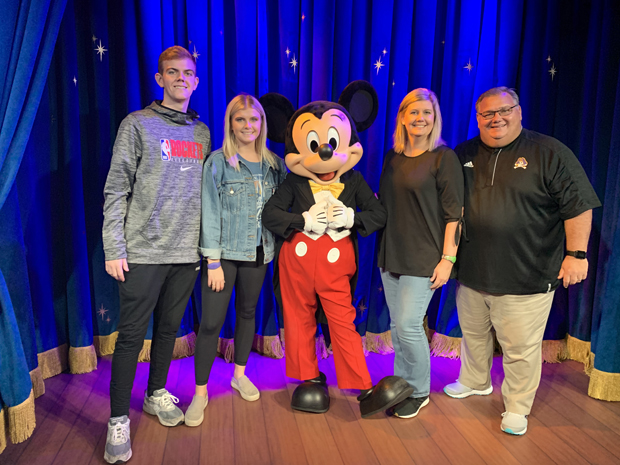 They're the tip pf the iceberg, however.

Since arriving, Smith has signed co-enrollment agreements allowing BCC students to move directly into four-year colleges without going through the standard admission process. These agreements, with UNCW, Fayetteville State, Pembroke University, University of Mount Olive, East Carolina and Western Governor's University, also come with increased campus visits by university advisors. "The more they're in front of our students, the more our students will know about these opportunities," Smith says. The programs are so new they're hard to measure, but he is aware of several students who selected UNCW because of the agreement.

He's equally excited about the school's enhanced trades program and partnership with National Coalition of Certification Centers to offer industry recognized certifications. A $400,000 government grant pays tuition, books, certification fees and transportation for students. A private donation of $200,000 made the eagerly awaited Mobile Certification and Enrollment Center vehicle possible; the donation also purchased equipment from Snap-On Tools, EM Safety, Greenlee Electrical, Starret Precision Measurement and Lincoln Welding. "We're doing some of the certification classes already," Smith says. He's looking forward to a ribbon cutting for the vehicle and an award ceremony for the first certifications.

One of Smith's first ceremonies after taking the helm was the groundbreaking for the Health Sciences building, a project which had been under way for some time when he arrived. Expected to be complete in April, the 25,910sf building will open for classes this fall for associate degree nursing, licensed nursing, medical assisting, phlebotomy, certified nursing assistant and patient care technician. The more than $6 million renovation/new build was funded by the Connect NC bond and Brunswick County.

Brunswick County continues to fund the Brunswick Guarantee for student tuition and books. Smith credits the initiative for the school's increased enrollment – up 10% this spring over last. For the 2019-20 school year, 118 students received the funding.

The school received a $200,000 BlueCross BlueShield of NC opioid crisis grant. "We're using the money to provide professional development for existing Brunswick County paramedics and first responders," Smith says. "It will also help kick off our new emergency medical sciences program, which will help existing paramedics obtain their associates degree, which is a new state requirement." Smith tested state-of-the-art equipment purchased for the program, a Microsoft product called HoloLens. Worn like glasses, it provides students with simulated experiences. "When you look through the lens, it places you in a virtual space where you can then react to certain situations. There are holograms that you can touch, grasp and move. I've used one that is a simulated person lying on our boardroom table going through an opioid event. It looks like there's actually someone there," says Smith. Pending approval by SACSCOC (Southern Association of Colleges and Schools Commission on Colleges) the program will start in the fall.

Approval is also pending and expected for a two-year public safety administration program which will lead to jobs in the correction services, emergency management and law enforcement.

Brunswick Interagency Program has been recognized nationally for its innovative approach to education for intellectually challenged adults; the school is awaiting final results on that competition.

New stackable credentials have been developed in information technology, allowing students to earn several certifications as they study toward a degree in the program.

Known for his attendance at BCC's athletic events, Smith quoted a recent economic impact study of the school's athletic program, which showed a fall semester impact of $495,000 by the 99 student athletes who live and play games here. They worked 1365 community service hours volunteering in schools and other areas while also carrying an average 3.088 GPA.

When he arrived at BCC, Smith said he was pleasantly surprised by the depth of community engagement on the campus, but he continues to look for new and innovative ideas to promote the school's mission.

Smith joined a local Rotary Club and speaks to any gathering of people who will invite him.

When he took the reins last year, Smith said he intended to continue to focus on student success and the school's many partnerships. "We will continue to nurture the partnerships we have in place and find new ones. We will review both the workforce and curriculum pathways to be sure they meet local needs and lead to jobs and transfer options. We also need to provide opportunities for professional development and recognition for our faculty and staff," Smith says.

Perhaps these are tall orders, but Smith points out that growing up on a farm instilled a work ethic that has carried forward. He expects no less of himself and his school.