The Golden Years
07 Jul 2018
Wilmington offers superior care for active, senior living lifestyles


By JOHANNA COLBURN HAMILTON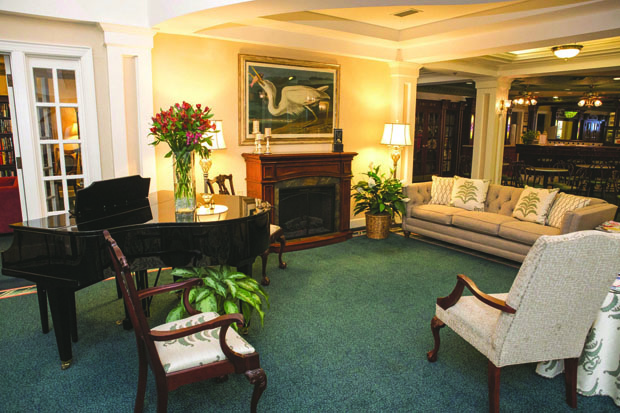 When considering retirement, one should always choose a community with a continuum of care so they can be prepared for any need as they age. Brightmore of Wilmington and Carolina Bay at Autumn Hall are Continuing Care Retirement Communities featuring luxury options for active senior living. Proven industry leaders, they are locally operated and owned communities offering full service independent living. Both fall under Liberty Healthcare, established in North Carolina more than 25 years ago by brothers John and Ben McNeill, and now managed by the fourth generation of the McNeill family.

Backed by a family heritage of more than 125 years in the pharmacy business and a more recent venture in pharmaceutical product development, brothers Sandy and Ronnie McNeill decided to bring the new "assisted living" concept so well received in the Triangle area, to their native part of the state. This endeavor would focus positively on the abilities and interests of mature adults and provide them quality care and lifestyle options. This was to be the very first venture into the acute care field for Liberty Healthcare, a company guided by the core values of quality, honesty and integrity.

In early 1989, the McNeill's broke ground on a conveniently-located, 14-acre tract of land in the heart of Wilmington on 41st Street for the first phase of what eventually evolved into Brightmore of Wilmington, a continuum of senior lifestyle choices. The Commons at Brightmore opened in October 1989, as Southeastern North Carolina's very first assisted living center with a licensed special care area for memory impairment. Brightmore Independent Living opened in May 1997 and The Kempton at Brightmore Assisted Living soon followed, by completing the Brightmore campus.

Brightmore is centrally located near medical, shopping, and cultural opportunities. Brightmore now features 137 independent living apartments at Brightmore Independent Living, 67 private assisted living apartments at The Kempton at Brightmore, and private and companion suites at The Commons at Brightmore Personal and Memory Care - all are fully-licensed. The campus also includes an aquatic and fitness center with a salt water pool, cardio workout rooms, a full-service rehabilitation gym, and a walking trail. They also feature convenient services including meals, transportation and 24-hour assistance with activities of daily living.

In coastal North Carolina, Brightmore of Wilmington presents upscale, yet affordable senior living in the heart of the city and shines in both amenities and resident satisfaction. From thoughtful landscaping to understated elegance, Brightmore makes residents feel welcomed and valued in a thriving retirement community. Explore each day with activities that transport you from historic adventures to modern shopping centers, ending the day with a sunset stroll on the beach. Brightmore also offers one of the Southeast's most inviting retirement locations along the Cape Fear Coast, famed for creating magic on movie screens, in memories and in the hearts of those who call it home.

At Brightmore Independent Living, one meal per day is included in every resident's monthly fee, with the option to add a second daily meal. The Carolina Cape Dining Room offers fabulous meals at lunch and dinner, in an elegant setting with a uniquely casual atmosphere. Each day, residents and their guests may enjoy their choice of entrees, fruits and vegetables, salads, soups, breads and desserts. The best part? No cooking or dishes, and an exceptional dining staff to serve you. In addition to the main dining room, Brightmore Independent Living also provides coffee and hot teas 24 hours-a-day and a morning continental breakfast offering in The Parlor. Entertaining options are offered in The Coastline Dining Room, a handsome private dining space that residents may reserve to host family and friends in style. The Campus Director of Dining Services and Executive Chef will gladly assist in planning and preparing a very special menu for private parties of residents, or they may select from the daily menu.

The Brightmore campus has extremely well maintained and managed grounds and buildings. They have the area's only independent living apartments available in almost 30 unique floor plans, with many including one of the largest porches of any senior living community. Brightmore also has the area's only assisted living with private apartments for those who wish to remain independent in some activities of daily living, but may need assistance with certain other functions of daily living.

Brightmore has the area's only personal care and secure memory care community, providing a family type atmosphere with hands on, one-on-one attention or secure memory care in a therapeutic, architecturally-designed environment with the "friend's approach" programming which enhances individuals' feelings of autonomy and independence. Continuum, a part of all three senior living communities, is known for their excellent programming, offering wellness assessments, person-centered planning, and a stringent schedule of optional activities and events available for participation by residents and families, enhancing the quality of life. Brightmore of Wilmington is the only senior living community offering a continuum of senior lifestyle choices.

In 2015, the first phase of Carolina Bay at Autumn Hall opened and includes 124 independent living apartments, four dining venues, a wellness center with a salt water pool and fitness center. The opening of Bradley Creek Health Center at Carolina Bay followed in the Summer of 2016, featuring 100 beds for assisted living, memory support, and skilled nursing and rehabilitation. Many convenient services are included to simplify life such as a full service, fully licensed assisted living with memory support, skilled nursing, and in-patient and out-patient rehabilitation services.

Carolina Bay is a continuing care retirement community designed especially for active residents who want to live their life to the fullest, and on their own terms. Residents are offered so many choices, from various options for floor plans and styles, to a large array of activities and amenities, to customizable services and onsite health care services. The property offers new flexible dining options in multiple dining venues including casual, fine, and pub dining.

The property is tucked into the sought-after neighborhood of Autumn Hall. Residents become part of a heavily wooded, beautifully planned, mixed-use community, with a series of walking and biking paths, convenient sidewalks and handsome homes to families of all ages. It's a charming, easy-going lifestyle at Carolina Bay at Autumn Hall, with an enviable location near Wrightsville Beach, Mayfaire, Landfall, the Forum and Lumina Station shopping.

At Carolina Bay, the goal is to make your day-to-day living relaxing and effortless, so you have the time and energy to do the things you most enjoy. At this time in life, you have the freedom to do what you want, when you prefer, with the people whose company you enjoy the most. You may have redefined what you require in a home, as well. Perhaps you'd prefer less square footage, but with the quality construction and aesthetic details you expect in a well-appointed home. Plus, the convenience of having so many things you enjoy at your doorstep. Living at Carolina Bay also affords you priceless personal freedoms to enjoy your life, as well as the immeasurable time savings of no longer having to handle home or yard maintenance on your own.

"Our communities offer multiple lifestyle opportunities that allow residents to take advantage of the amenities and services they need, at different stages in the aging process," states Marianna Stacy, Community Outreach Coordinator at Brightmore of Wilmington. "Through the years, our company has learned how to do this and help seniors live their lives to the fullest".

As continuum of care communities, both Brightmore and Carolina Bay at Autumn Hall provide a secure and comfortable environment and special level of care for residents to prepare for their needs at any age. Industry-wide research supports the belief that no matter what our age, everyone wants to live a life filled with purpose. During retirement, it's time to pursue areas that truly spark one's interest. Lifelong learning keeps retirees challenged, sharp, and relevant. It also keeps retirees socially engaged, enabling them to take part in stimulating experiences and connect with fascinating new people. The best part is that it's an individual choice in what one decides to pursue and also solves one of the biggest challenges of retirement – how to stay busy with newly found free time. No matter what course is chosen, new-found knowledge is something anyone can be proud of. Whether it's joining an exercise class or volunteering, lifelong learning has wonderful benefits for seniors of all ages.

One of the best examples of premier lifelong learning for people age 50-plus in Wilmington, is the Brightmore University Series. "We welcome our residents and any 50-plus community member to participate in our programs," explains Stacy. "Our goal is to educate, inform and entertain. The whole idea behind our University Series is that we never want to stop learning, no matter what our age. Communities like Brightmore are proud to offer these programs." Brightmore of Wilmington and Liberty Senior Living's newest property, Carolina Bay at Autumn Hall, are committed to providing quality learning opportunities that intellectually and socially stimulate each participant. Brightmore offers Spring, Summer and Fall semester sessions, with nine classes/events during each. Their Spring semester features a "Salute to the Troops Big Band Concert, Dinner & Dance", which raises support funds for the local Parkinson's Support Group. The Fall semester features "BBQ & Bluegrass" and a fundraiser for Dementia North Carolina, formerly Alzheimer's North Carolina which raised more than $7,000 last year.

To schedule a lunch and tour, call or visit: 910-350-1980, brightmoreofwilmington.com or 910-769-7500, carolinabayatautumnhall.com.
---
Rheumatology Treatment You Can Trust

Arthritis symptoms can come on so slowly, that you may not even realize you have the condition. You simply feel a little more sore or tired than normal. Once you start feeling pain and swelling in your joints, it's important to see a doctor. Sometimes arthritis is difficult to diagnose and an appointment with a specialist is a great place to start. Rheumatologists are specialists in arthritis and diseases that involve bones, muscles and joints.

Established in 1991, Carolina Arthritis Associates (CAA) have been leading the way in the diagnosis and treatment of arthritis, musculoskeletal disorders, connective tissue diseases, autoimmune illnesses and osteoporosis to patients in the greater Wilmington area. CAA offers rheumatology diagnosis and treatment options that reduce pain and restore function to patients. With five physicians board-certified in rheumatology, CAA is one the largest independent rheumatology practices in the Southeast.

The cause of RA is not yet fully understood, although doctors do know there are some ways to help manage symptoms and promote overall health. CAA's mission is to provide excellent clinical care while seeking to better understand the causes, treatments, and best treatment approaches for arthritis and other autoimmune diseases.

CAA's medical services include bone densitometry, infusions, laboratory, musculoskeletal ultrasound, clinical research and x-rays. They treat rheumatoid arthritis, osteoporosis, vasculitis, psoriatic arthritis, gout, scleroderma, sjogren's syndrome, systemic lupus, and erythematosus.

The team at CAA make every effort to customize their facility to the individual needs of each patient. This is done through a comfortable and efficient infusion therapy suite and laboratory, as well as X-ray capability and state-of-the-art bone density testing for osteoporosis. Numerous on-site services allow them to assess a patient's condition quickly and minimize visits to other sites for testing.

CAA's office is staffed by a dedicated group of nurses, assistants, technologists, receptionists and insurance and billing clerks who have many years of experience working with patients who have arthritis. Their goal is to make patient visits with them as easy and pleasurable as possible.

Their 10,000 square-foot care center allows their team to assess a patient's condition as thoroughly and efficiently as possible. Patients always receive high-quality care, delivered by professionals with one goal in mind: improving a patient's quality of life. 910-762-1182, carolinaarthritis.com