The Greater Good
09 Jun 2013
Mayor Bill Saffo digresses about his passion for the community
By JENNIFER GLATT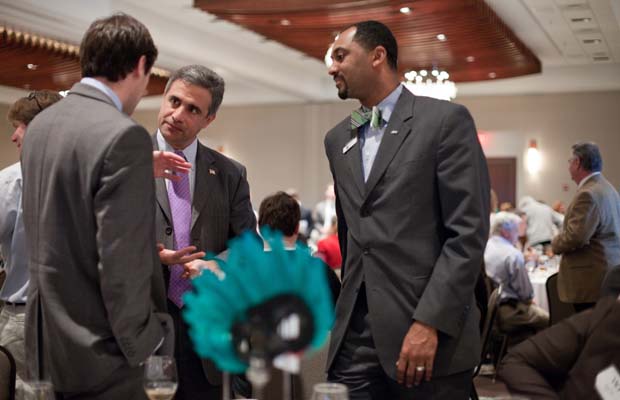 AS TO-DO-LISTS GO, MOST PALE IN COMPARISON TO MAYOR BILL SAFFO'S. Balance Wilmington's budget. Encourage economic development. Improve public facilities. Enhance the city's infrastructure. Better public safety. Tackle transportation issues. And really, it's not as if these items can be checked off the list. They're perennially present, affected by the changing tides of the economy, the needs of the community, and even public opinion. (Perhaps especially public opinion.) On an early spring afternoon in March, I ask what compels him to persist with public service, despite this never-ending list. His answer is surprisingly simple.
"Giving back," he says with conviction. His usual affability is replaced with an earnestness in his voice. "Having the opportunity to make good, positive decisions that affect and improve people's quality of life." He says it's also a family value that was passed down from his parents, who are first-generation Greek immigrants. "This community has been good to my family," Saffo continues. In turn, buoyed by the belief that everyone has a passion and talents that can be used for the greater good, Saffo strives to be good to his community.
Saffo, born Vassilios Avgerinos Saffo, is a native Wilmingtonian, graduating from Hoggard High School and then UNC-Wilmington with a Bachelor of Arts degree in political science. Saffo stayed local following graduation, and had a hand in helping shape the local housing market through Hanover Realty, a land development and home real estate company originally opened in 1965 by his father Doky Saffo. The company merged with Coldwell Banker Sea Coast Realty in 2010, but the market experience only solidified Saffo's unique perspective on the city he helps manage—he's still charmed by his hometown.
"Wilmington is the sweet spot" in the state of North Carolina, he declared. "I really do believe that it has a little bit of everything. It has a rich cultural scene, with the theater and visual and performing arts. It has natural beauty—the ocean, the river, and the Intracoastal Waterway. It's laid back with Southern charm but it's a city, too." He also remarks that the city's residents are kind and helpful, inviting and hospitable—"just sweet, good people," he notes. And he is enthusiastic about the direction in which Wilmington is headed.
Looking Ahead
"The city has good momentum," Saffo remarks. "Like all communities in the state and country, we have gone through tough times. But as we're coming out of an economic downturn, the city council has taken bold steps, making critically important decisions and major investments." Identified in his January 2013 State of the City address, just a few of these include:
» A balanced budget, with money in our savings account for a rainy day (or a hurricane);
» Appropriating $41 million dollars to fund a 5-year infrastructure plan to include paving streets and sidewalks, shoring up our Riverwalk, and repairing public facilities;
» Increasing tourism through support of the local film industry, events that draw spectators, participants, vacationers and visitors, and encouraging development like the new convention center and associated projects.
Citing tourism as Wilmington's mainstay industry, Saffo notes that tourism in Wilmington enables employment of over 5,000 people and has had an economic impact of over $425 million dollars. He regards the early success of the convention center—with more than 135 events already on the books for the year—as an impetus to increase tourism and boost the local economy. He is eager to see multiple downtown projects come to fruition, such as Cape Fear Community College's Humanities and Fine Arts Center (slated to break ground in 2013), Union Station, streetscape improvements on Third Street, hotels that will be built both on Second and Grace streets and adjoining the convention center, as well as a 200-slip marina, and construction on one of the few remaining sections of the Riverwalk, extending it from bridge to bridge. Add spectacular beaches, historical gems, a thriving culinary scene and more ways to play outdoors than can be listed, and it's easy to see why this city is such a draw.
And, as the "Hollywood of the East," Saffo notes that Wilmington continues to lead the state in overall film production. "Of the $376 million dollars that was spent in the state last year, $240 million dollars was spent right here in our community, creating hundreds of jobs, putting money back into our local economy and bringing us national recognition." Multiple film and television projects are slated for the year, which Saffo affirmed is a testament to the quality of crews and professionals that are based in Wilmington.
Pathway of Progress
Progress is often difficult to measure, but Saffo points to one project that is "very important" to him and of which he is particularly proud: the Gary Shell Cross-City Trail. According to the City of Wilmington's website, this primarily off-road, multi-use trail traverses the city and reaches Wade Park, Halyburton Park, and Empie Park to the Heide-Trask Drawbridge at the Intracoastal Waterway. It provides bicycle and pedestrian access to numerous recreational, cultural and educational destinations in Wilmington.
"I saw personally the challenges people faced" regarding safe transit throughout the city, he says. "The city saw a need for it, and with the help of many others we were able to complete this project." He reported in his address that the entire 15-mile trail is now fully funded, with just a 1.2-mile long stretch left to complete. He mentions this goal could not have been met without support from numerous sources: the federal government, the North Carolina Department of Transportation, Blue Cross/Blue Shield of North Carolina, taxpayers of the city, and others.
Saffo acknowledges that even in light of the positive opportunities the city possesses, "the issues and challenges facing our city are many." In fact, those challenges could be the very same items on Saffo's to-do list: balancing the budget, encouraging economic development, improving public facilities, enhance the city's infrastructure, bettering public safety, tackling transportation issues. Yet Saffo says these challenges create opportunities where city council must look for ways to make government more efficient and responsive to the needs of citizens. "I see nothing but good things for the community. We will continue to see growth," he says confidently.
"People continue to want to come here for the quality of life," Saffo continues, and if you live here, or have spent any time here at all, you understand what he means. The landscape is changing as the city grows in the push-me-pull-me fashion for which social change is known, but Saffo returns to giving back to the community as the benchmark for all citizens.
Public Service, Private Commitment
"As Mayor I have the honor and opportunity to see so many people volunteer—there's an organization here for everyone. So many positive things are happening and I get to witness that day in and day out." The privilege of witnessing public service from the citizens-at-large is one aspect of his job that Saffo relishes. In fact, his own civic involvement includes the Community Boys and Girls Club and the Rotary West Club. As a public servant, Saffo seeks to encourage everyone to get involved. "Even a little bit of your time makes a big difference in changing the face of your community." ■