The Lure of Savannah
03 May 2022
An undercurrent of nonconformity echoes bewitchingly through the culturally diverse 18th century riverside city

By Katie McElveen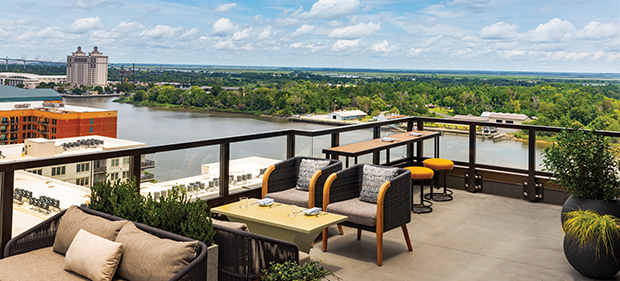 My brother lives in Savannah; during a recent trip I was delighted to discover that he would be able to join me for a drink while I was in town. Though my plan was to meet him at the sleek lobby bar at my hotel, The Thompson Savannah, it was a pretty evening so I texted him and suggested we meet at Bar Julian, which occupies the hotel's sprawling 13th-floor rooftop. "I'm already here," he texted back. "It's fabulous."

He was right. Located just outside Savannah's historic district, The Thompson isn't bound by the height restrictions that keep the city's other rooftop bars at low levels. Instead, Bar Julian offers an unobstructed 360 degree view that can be enjoyed from the bar itself or one of the outdoor patios that surround the spacious aerie. The food is amazing as well, particularly the Collaborative Pizza, a creative pie developed in partnership each month with a different local chef. Proceeds go to a local charity.

After the sun had slipped behind the skyline, I headed downstairs for dinner at Fleeting, which opened in September under the direction of Chef Rob Newton, an Arkansas native who honed his skills in New York and Nashville. At Fleeting, Newton has found a way to combine flavors and textures in such a way that every element adds to the dish without losing what made it special in the first place. My grilled duck breast, fragrant with warm spices, was delicious on its own, as were the accompanying red cabbage, trumpet mushrooms and sunchokes. Together, though, their flavors – sweet, sharp, earthy and bright – raised the dish to a different level. Even my simple salad – greens dressed with oil, lemon and salt – caught the zing of the lemon and the depth of the greens' flavor.

The Thompson anchors Savannah's Eastern Wharf, a mixed-use project near the foot of Broughton Street on the eastern edge of the city. Though it seems a bit far from the action, it's really not: I hopped onto one of the hotel's free bikes and was at Oglethorpe Square in five minutes. There's a free shuttle, too, which runs until early evening. Open since July 2021, the mid-century-styled hotel has 193 rooms, all of which have curvy, low-slung furniture and super comfy beds. There's also a stunning pool and bar area.

Savannah is often compared to Charleston and it's easy to see why: less than 100 miles separates this pair of riverside city's which are both draped in Spanish moss, criss-crossed with cobbled streets and known for their Southern charm. Jonathan Stalcup, who leads architecture and history tours through Savannah says that the similarities end there. "Savannah was laid out by James Oglethorpe, who was an Army general and it shows," he explains. "The long, straight streets and alleys provide excellent sight lines."

But Oglethorpe was also a bit of a utopian. Arriving in 1733 with just 120 settlers, he set out to create an egalitarian society where lawyers, slavery, rum and Catholics were all banned. The cities famous squares, which are each surrounded by a specific number of public and private buildings, were set aside as public spaces, a luxury only available to royalty in 18th-century England.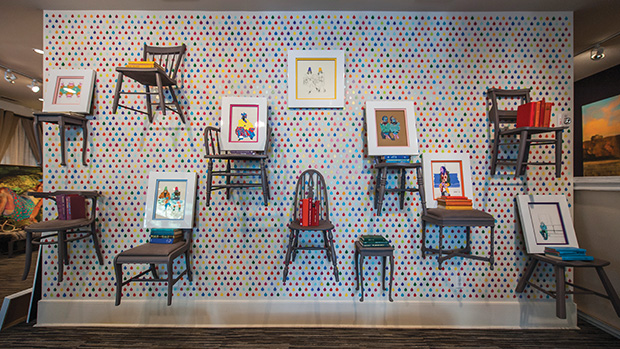 Although Oglethorpe's dream didn't last long, a distinct undercurrent of nonconformity echoes through Savannah today: amid the bakeries and elegant boutiques (nearly all of which are independent and locally owned) are salons that offer tarot card readings, true dive bars and old-school antique markets where treasures hide under layers of dust. Don't miss Shop SCAD, where paintings, sculpture, jewelry and other items have all been created by students and faculty members of the Savannah College of Art and Design.

The best way to see Savannah is to walk the city, from elegant Forsyth Park, where roller skaters practice intricate routines to booming soul oldies, as toddlers run through the plush grass into outstretched arms, to Oglethorpe Square, where you'll find the Owens-Thomas House. Constructed in 1819, the Regency structure is filled with fine furnishings and artwork as well as the original working cellar. Out back, a formal garden leads to the quarters of the enslaved men and women who lived and worked on the property. Guides do a remarkable and thoughtful job sharing the stories of all of the historic home's residents.

Savannah's restaurant scene is both lively and creative. Located in a historic (and gorgeously renovated) 1897 mansion, Common Thread, opened in early 2021 to rave reviews. Like many restaurants in the region, Common Thread sources much of what it serves locally; unlike many, its menu takes a deep dive into global cuisine. Steak tartare, for example, arrives scented with five-spice and tasting of soy and spicy chili; kale kimchi adds a cheeky bite to the round flavors of an aromatic short rib and shrimp dish. Then there's The Collins Quarter, which is known for its all-day brunch, you'll find everything from biscuits and gravy and bananas foster French toast to coconut chia pudding and other vegan delights. The elevated bistro fare that appears on the table at dinner is well worth the time it takes to make a reservation. A cone from the century-old Leopold's Ice Cream, which opened in 1919, is a perfect walking dessert, and thanks to Savannah's open container law, you can also stroll with a cocktail, beer or glass of wine. James Oglethorpe wouldn't approve, but it sure is fun.
visitsavannah.com; thompsonhotels.com