For cancer patients and women with thinning hair, the Salon Beyond Basics Day Spa is a lifesaver with their top quality wigs and hair pieces
By CECE NUNN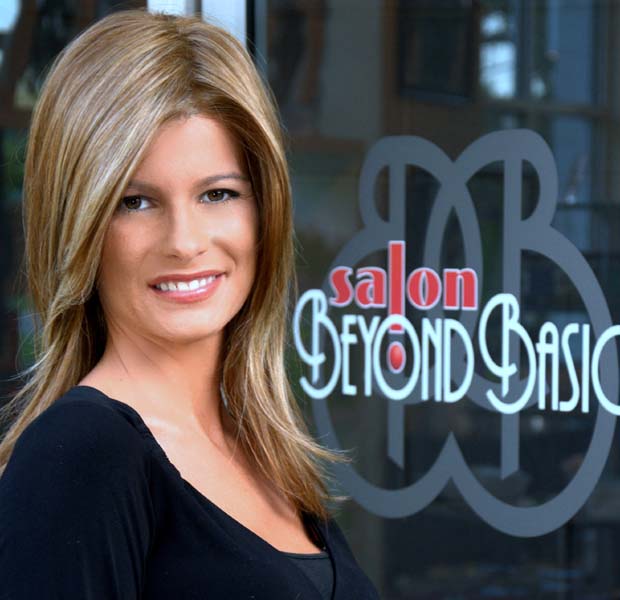 Amanda Perry discovered the lump in her breast by accident. She was 27 years old when doctors diagnosed her with an aggressive Stage 2 cancer, and they treated her with chemo and radiation to attack it. Most new cancer cases occur in women 40 and older, according to the American Cancer Society, making Perry's case uncommon.
"I was going through a traumatic time. It was hard for me to make decisions about what was best for me," Perry, now 28, said. "I couldn't make up my mind about anything I wanted to do."
One of those decisions involved how she would handle the loss of her long hair, a side effect of cancer treatment. While considering her options, she visited Salon Beyond Basics Day Spa on Floral Parkway and met owner Kendall Fuqua. "I didn't even know he sold wigs," Perry said. "I started talking to him about them. And he just made me feel so comfortable and so happy to be there, that I felt like it was the right place for me. It was nice at the time not to second-guess anything going on, and I definitely haven't had any regrets since."
At first, she decided on a wig with bangs, thinking her eyebrows and eyelashes would fall out right away. When she changed her mind, deciding bangs weren't her style, Kendall and Tracy helped her find a dark bob that she's still wearing as her hair grows back. Her chemotherapy ended in June.
Fuqua and his partner Terry Allgood, having battled cancer himself, have made helping cancer patients more of a mission for the salon this year. They started the Beyond Hair Program in January and plan to donate 10 percent of the proceeds from the sale of all wigs, and the Top Secret hair pieces to the New Hanover Regional Medical Center Foundation to help support the hospital's Zimmer Cancer Center. Giving to the foundation is nothing new – through the years, the salon and spa has served as a sponsor for a myriad of events and donations for auctions and other fundraising efforts. The foundation is proud, according to Aline Lasseter, the foundation's vice president of development and executive director, of its association with Salon Beyond Basics Day Spa.
Fuqua said he plans to present the first of many Beyond Hair Program checks to the foundation this October.
Meanwhile, the salon continues to help cancer patients in its two private suites located in the spa, making a point to cater to their needs even if it's outside business hours. He said he hopes that the Beyond Hair Program will eventually be able to offer wigs at no charge to patients who can't otherwise afford them. The collection of Jon Renau wigs Beyond Basics carries range in cost from $100 to $2,400, depending on the design, length of hair and type of hair. "We have something for everyone's needs and budget. Hair should be the least of someone's worries when going through this," added Fuqua.
"I do not ask about the cancer. I actually let them lead and I follow, and then I try to make this the fun part of their journey," Fuqua said. "We want to offer the same experience to a woman wearing a wig that any other woman would have in our salon."
Perry appreciated that.
"It was nice because he was able to relate but at the same time not make me feel like I was going through something so bad," Perry said.
While the wigs meet the needs of cancer patients, Fuqua also has an extensive inventory of hair pieces to help women with thinning hair. The salon, he said, is one of the only businesses in North Carolina that carries the Top Secret brand of hair pieces, hand-tied with human hair, made with a light mesh and secured to a client's head with four clips.
Rise Amos, a client of Fuqua's for more than 20 years, owns three Top Secret pieces she adds to her dark locks. An injection that she has to use to treat a health condition makes her own hair very brittle, making it difficult to grow her hair into the style she desires. The pieces don't budge, she said, even during the former professional ballerina's exercise routines and dance classes. She can style the pieces with a curling iron and a hair brush with ease. "It makes me feel like a whole person—You can't tell the difference," Amos said.
All of Fuqua's efforts, from helping cancer patients, thinning hair clients, to educating other stylists, can be trimmed down to the same principle.
"I've always been taught since I was a child that true beauty comes from within," he said. "When I'm working with a cancer patient, with a client who has thin hair, or any client for that matter, my job is to bring their inner beauty to the surface for the world to see." 910-452-0072, salonbeyondbasics.com