Walk on the Wild Side
03 Mar 2020
The Azalea Garden Tour's first ever Certified Wildlife Habitat

By JUDY ROYAL » Photos by KELLY STARBUCK PHOTOGRAPHY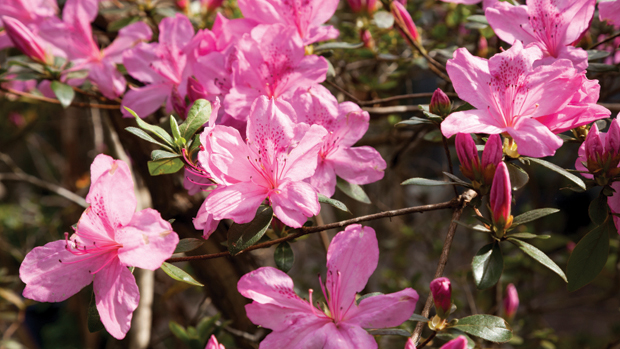 While the 67th annual Cape Fear Garden Club Azalea Garden Tour will have plenty of the usual meticulously cultivated blooming properties that have always attracted crowds, this year's event also gives attendees a chance to walk on the wild side.

Garden #1 is a Certified Wildlife Habitat, the first ever to be featured on the tour. The 3.67-acre space is located in the Hewletts Creek area off Greenville Loop Road at the home of environmentalists James and Frances Parnell, who have lived there since 1966. To become certified through the National Wildlife Federation, the Parnells' garden had to meet requirements related to food, water, cover, places to raise young, and sustainable practices. More information about the process is available at nwf.org/Garden-for-Wildlife/Certify.

"It's not what you expect on the tour," said Barbara Downing, publicity co-chair for this year's event. "There are going to be flowers to look at, but it's not going to be formally designated, say, around a path or in a formal garden-type setting. You don't water it and don't have to do a lot of fertilizing and things like that. Most of it is just whatever Mother Nature provides for you there."

Organizers hope the Certified Wildlife Habitat will get people interested in preservation and conservation during a time when natural habitats are quickly dwindling due to development.

"The Cape Fear Garden Club sees the Parnells' garden as a model of how to protect and enhance our environment and how to preserve local wildlife in a Wilmington that is quickly being paved over," said Nina Brown, publicity co-chair for this year's tour. "How each of us, on a small scale, can modify our gardens or pots on our balcony to move beyond something just pretty to something profound."

Frances Parnell said she wants to educate the public not just about the process and purpose, but also about the feasibility of creating Certified Wildlife Habitats in a variety of places.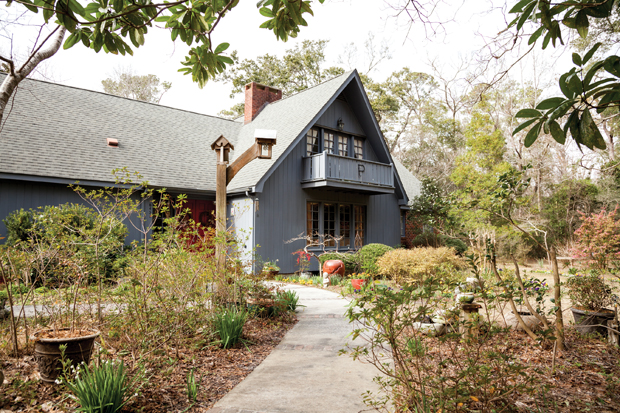 "You can do it on your porch or your patio or a balcony," she said. "It takes very little space if you plan wisely and follow the precepts of the program. You do not have to have a large space, and that's one of the things that excites me, because Wilmington is getting so many apartments. While apartment dwellers don't usually have very much space outdoors to participate in actively serving wildlife, the small spaces give them an opportunity, so it's something anybody can do. Even people who work in office buildings create wildlife habitats and have them certified."

The Parnells have kept the majority of their property looking just as it did over 50 years ago, because they accepted what nature had provided and did not feel a need to alter the landscape.

"When we first moved here and people would come visit, they would say, 'Oh, you will have a nice place here when you get your landscaping done,'" Frances Parnell said. "My husband and I were smiling inside, because we knew our landscaping was primarily completed. We bought the property because we loved the land."

This is the first time the Parnells have opened their garden to the public, but they are grateful for the opportunity to support the Cape Fear Garden Club and share their passion for conservation and the environment.

"We never, ever expected to be on the garden tour, and were shocked when we were asked, because it's natural, and we have always felt like garden tours showed properties that have been made beautiful with a great many plants that you bring in," Frances Parnell said. "So we were highly encouraged, because the thing for Cape Fear Garden Club is stewardship, and they particularly wanted a garden this year that was a natural landscape. Cape Fear Garden Club does a lot for the community, and so we could hardly refuse to help in their endeavor."

The tour kicks off with a ribbon-cutting ceremony at 10am April 3 in a private garden open only during this time with musical entertainment, the queen and her court, homemade cookies and lemonade as well as the annual parade of Azalea Belles.

The other gardens will be open
10am–5pm April 3-5 unless otherwise noted. Two of the gardens, including the Parnells' Certified Wildlife Habitat, are only accessible via a free bus included with the tour.

Tickets are $35 and available online at capefeargardenclub.org/azalea-garden-tour-preview or in person at several local vendors listed on the website. Admission is good for all three days, and children under 12 can go free with a paying adult. Organizers encourage the public to buy tickets early, as they are limited.

First held in 1953 and now an official associated Azalea Festival event, the tour is organized and run by Cape Fear Garden Club's nearly 400 volunteer members. The club is a nonprofit organization that has provided over $1.2 million to the community.