Walking thru History
04 Mar 2021
Charge your step-counting devices and head to Williamsburg, VA for a safe break from the monotony

Text and photos by TERESA McLAMB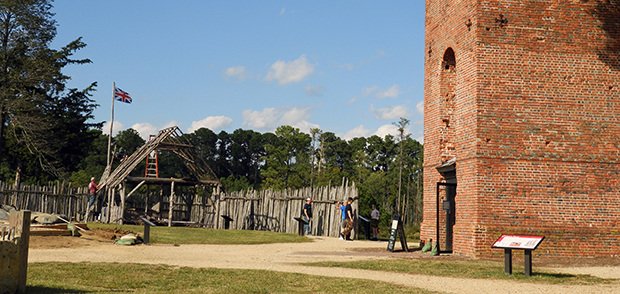 Williamsburg is synonymous with American history, but the famous Virginia village is rapidly becoming known for its natural beauty. Miles of walking and bicycling paths through ancient forests and historic battlefields make this an ideal spot for an active, safe outdoor vacation. Everywhere we went people were wearing masks – even bicyclists and runners – and observing distancing. With topography and climate similar to our own, and the drive no more than five hours, it's an easy getaway to cure cabin fever.

Starting with perhaps the best-known site in the region, head for Duke of Gloucester Street where you can find ample free parking near Historic Williamsburg. From Richmond Street there's easy access through the pedestrian friendly retail and restaurant area into the town where almost all of the gravel streets are free to visitors. You can purchase tickets to visit houses and see presentations, but if you're just looking for a beautiful space to breathe fresh air, this is ideal.

When you've exhausted the historic area, return to Richmond Street which borders the College of William & Mary. The charter signed February 8, 1693 by King William III and Queen Mary II of England called for a "perpetual College of Divinity, Philosophy, Languages, and other good Arts and Sciences" to be founded in the colony. It is the nation's 2nd oldest institute of higher learning (with Harvard) voted into existence in 1636 by the Massachusetts Bay Colony.

Near the Wren Building, the oldest on campus, is a map of public walkways. Its delightful plantings, including mature tea olive trees which smell heavenly in bloom, blend well with the symmetry of its colonial architecture. Even the modern buildings complement the three centuries old structures. The internal loop of the original campus can be easily walked at a slow sightseeing pace in an hour.

Between the college and historic areas, our trio got in 12,172 steps despite stopping for cappuccino, talking to costumed gardeners and making a rather expensive stop in a jewelry and costume shop.

The campus, although not all of the buildings, is open to visitors, unlike Hampton University, a historically black school in nearby Hampton, which closed to the public in spring of 2020 due to COVID. When it reopens, many buildings from the 1800s are worth visiting, as are the town's waterfront and NASA museum. Near the entrance to campus is an ancient oak under which was the first Southern reading of President Lincoln's Emancipation Proclamation, according to the school's website.

While there, cross the Booker T. Washington Bridge (named for Hampton's distinguished alum) toward Fort Monroe, the country's largest fort on a 565-acre tract. Encircled by a moat, its historic area is inside and outside of the fortification. The self-guided walking tour has numbered sites and includes a small lighthouse, fishing pier, 3.9-mile seawall trail, eight miles of sandy beach and a historic hotel now used as a retirement home. Held by Union forces throughout the Civil War, the fort housed President Lincoln in Quarters One. Our walk there was 10,941 steps.

On your way out, stop at the Deadrise Fish House at Old Point Comfort Marina for outstanding food and drink, quaint charm and good service. Expect quirky seasonal décor, such as a skeleton riding a shrimp at Halloween.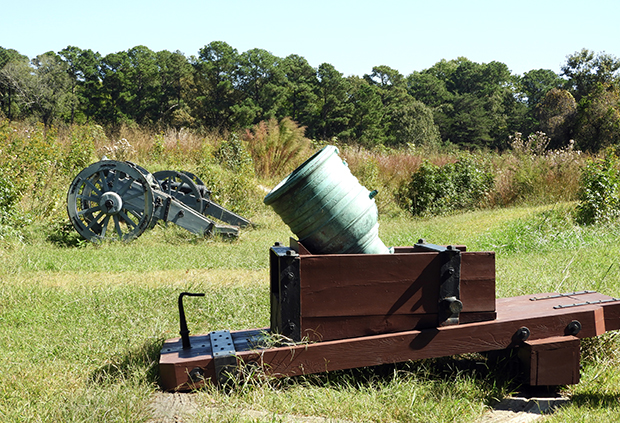 When it's time to get outside again, head for Waller Mill Park, 901 Airport Road, Williamsburg.

Situated on 2705 acres of forest are a 360-acre lake and park featuring 6 ¼ miles of wooded trail. Along the trails are unusual fungi and many varieties of hardwoods including a walnut towering hundreds of feet. A lookout platform has been erected along one trail, which provides a breathtaking view of the reservoir. Pedal boats and canoes are available to rent. There's a launch for small private boats and fishing. Also, $2 parking!

On the mile-long Bay Trail are plant identification tags to assist budding arborists. Grills, playground, and dog park offer a full day of family adventure. Wear sturdy shoes and beware of tree roots. Our morning walk accomplished 14,234 steps.

Near Jamestowne Settlement is Greensprings Interpretive Trail and Powhatan Creek Trail. Parking and the trailhead are directly behind Jamestown High School where maps are available. I first hiked this trail on a family trip nine years ago. Since then, housing around the trail has increased and there are forts and camps and children in the woods. Greensprings' main loop is 2.12 miles wrapped around a beaver pond and wetlands. Loop 2 heads back toward the parking lot and is 1.31 miles. Both connect to the Powhaten Creek Trail's 2.05 miles, which goes past the Mainland Farm, the oldest continuously operating farm in the country. Interpretive signage explains the farm and some of the equipment that has been left in the woods. According to a local resident who talked with us for quite a time, many deer live in the woods.

Bicyclists will also love this site as the Virginia Capital Trail (51.2 miles from Williamsburg to Richmond) intersects with it at several points.

Since we were so close, we opted to take in the ride/walk tour of Jamestowne Settlement. The historic site on Island Drive is open ($12), but no National Park Service rangers are inside due to COVID-19. Archeology and maintenance continue, and we were curious to watch excavation at the sea wall as well as the ongoing cemetery and tombstone restoration project. The site is quite large and has many trails.

At the advice of a ranger, we drove the larger 9-mile loop through several sites including an early homesite and family graveyard, and a Civil War burying ground. At each site are interpretive markers and space to walk. At one spot, we walked to the waterfront where the maritime forest thrives. An eagle soared overhead and perched on a tree long enough for us to get several good photos and bragging rights. All told, the day's walking total was 17,289 steps.

While there's little walking involved, a great way to top off a trip to the area is a sail on the Alliance. Built in 1995, the triple masted schooner sails out of Water Street in Yorktown with the battlefield and waterfront shops in the background. Take your camera and watch for dolphins. After sails are hoisted by crew (Rudy and Sam) and tourists, we sailed under the George C. Coleman Memorial Bridge, the only double span swing bridge in the US and second in the world. It was prefabricated and placed onto the original footings in only seventeen days in 1995 in order to lessen traffic disruption. At more than 200 feet of vertical clearance, it serves multiple military installations.

Yorktown was the site of the last major land battle in our fight for independence, although it was not technically a win until the Treaty of Versailles was signed. The monument to Victory, erected by National Society Daughters of the American Revolution, sits high on the hill above the estuary and can be reached by a footpath from the wharf. Despite our sail, we totaled 9,032 steps that day.

Grab your sneakers. Williamsburg is only five hours away by the back roads.