Wilmington NC Event Calendar Nov-Dec 2023
15 Nov 2023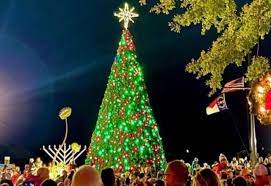 Downtown Wilmington Holiday Tree Lighting Nov 24
Join the family-friendly fun during Downtown Wilmington's Christmas Tree Lighting. The holiday joy kicks off with entertainment at 5:30 p.m., followed by the festive countdown, usually commencing at 6:25 p.m., leading to the actual tree lighting. Following this, everyone is treated to a special visit from Santa. Get into the spirit and stroll among the shops and restaurants to kick off the holiday season coastal style.
---
MUSIC + SHOWS
The Wilson Center at CFCC
Wilsoncentertickets.com
John Brown Big Band, Nov 4;
Celtic Thunder, Nov 5;
John Proctor is the Villain, Nov 9-11, 16-17;
Beijing Dance Theater, Nov 9;
Project 1989, Nov 11;
Pretty Woman, Nov 17-18;
Millionar Dollar Quartet Christmas, Nov 21;
Mannheim Seamroller, Nov 29;
Mean Girls, Dec 1-2;
Holiday Pops, Dec 3;
Navidad: A Mexican American Christmas, Dec 6;
The Nutcracker, Dec 9-10;
The Illusionists, Dec 12-13;
The Nutcracker ft. Dara Holmes, Dec 16-17.
Brooklyn Arts Center + The Annex
brooklynartsnc.com
Opera House Theater Company's Very Merry Holiday Show, Nov 23-26;
Flea Market at BAC, Dec 1-3;
The Mid Atlantic Holiday Revue Benefit Concert, Dec 15.
Cameron Arts Museum (CAM)
cameronartmuseum.org
Handcrafted Holiday Market, Nov 4;
Author Talk with David Gessner, Nov 5;
Monument Member Preview Day, Nov 9;
USCT Descendants Homecoming, Nov 11-12;
The Art of Food, Nov 16;
Solito with Dr. Miguel Rojas Sotelo, Nov 18;
Illumination 2023 Opening Party, Dec 1;
Clyde's Holiday by the Sea, Dec 2;
Ten Ways to Hear Snow, Dec 7;
Jazz at CAM, Dec 7;
American Sign Language Tour, Dec 9.
---
Trask Family Farms Fall Corn Maze Ends Nov 5
Come one, come all, and get lost at Trask Family Farms! Explore the corn maze with over 4 miles of trails. Wander the pumpkin patch, pick fresh flowers, and even enjoy homemade ice cream. There's no better way to spend the season. Weekend ticket prices include complimentary hayrides. See you at the farm!
Festival Latino Nov 6
Come and enjoy a vibrant multi-cultural weekend celebration as Festival Latino returns, filled with family fun, music, and delicious food. The Kids Fiesta Area will keep the young ones entertained for hours, a food courtyard will be serving delectable dishes from all over Latin America, live Latin music and dance lessons, an array of exhibitors selling various products, and more.
Battleship Yoga Nov 6
Join Yoga Village for an all-levels practice featuring a stunning backdrop of the storied Wilmington skyline as the sun sets on the deck of the historic Battleship NORTH CAROLINA! This individually ticketed drop-in Yoga Series offers a unique place to practice with a view you'll never forget. Experience zen like never before.
Graham Nash: Sixty Years of Songs & Stories Nov 10
Spend an unforgettable evening with the legendary Graham Nash, founder of both the Hollies and Crosby, Stills and Nash. He's a two-time Songwriter and Rock and Roll Hall of Fame inductee who had a front-row seat as rock history unfolded from the launch of the British Invasion to the birth of the Laurel Canyon Movement. Enjoy sixty years of songs and stories, from classics like "Stop Stop Stop" and "On A Carousel" to hits like "Marrakesh Express," "Teach Your Children," and "Our House," as well as his recently released "Now." These are songs and stories unlike any other.
Firepower! Big Bang Tour Nov 11
Come aboard to explore the gun batteries that made the Battleship NORTH CAROLINA a formidable foe! Spend three hours learning the steps to fire the 16 and 5-inch guns, from target identification/acquisition in the Combat Information Center to the fire control solution. The tour will also include a visit to the powder magazines and projectile handling space needed for the big bang. Please note that this tour requires navigating several narrow ladders (stairs) and is not recommended for younger children or those with mobility issues.
Ira Glass at UNCW Nov 11
Spend a fascinating evening with Pulitzer-winning journalist Ira Glass, one of the nation's most compelling storytellers. He uses audio, music, and video to share life lessons from his storied career. As the host and creator of This American Life, a weekly broadcast heard by over five million listeners, he has also been awarded seven Peabody Awards.
Battleship Half Marathon, 10k & 5k Nov 12
Get ready for a scenic run through historic downtown Wilmington with a Half Marathon, 10K, or 5K. The Battleship Half Marathon, started in 1998, is one of the oldest USTA certified Half Marathons in the South. Runners will traverse charming historic downtown, circle around the Battleship NORTH CAROLINA, cross two bridges, and pass through picturesque Greenfield Park before ending on Wilmington's storied Riverwalk. Join the run or cheer on the racers as they traverse some spectacular scenery; this is a race, party, and destination you'll always remember.
Kure Beach Holiday Market Nov 18
Enjoy the closest holiday market to the Atlantic Ocean. Get a jump-start on your holiday shopping while supporting local artisans at the Kure Beach Holiday Market. You can enjoy the beautiful ocean view as you browse through items handcrafted by talented artists, artisans, and crafters, as well as enjoy a DJ and plenty of food trucks to choose from. Who wouldn't want to shop oceanfront?
Tidewater Camellia Club Fall Show & Sale Nov 18
View exquisite, award-winning camellia blooms and learn about the care and protection of these beautiful plants at the Tidewater Camellia Club Fall Show & Sale. The event features a display of members' camellia blooms, a popular camellia sale, fun family activities, and many educational exhibits. Talk with experts, attend educational seminars about the planting and care of camellias, or join a guided tour of the Arboretum Camellia Garden.
Early Bird & Handcrafted Holiday Markets Nov 19
Find your next great holiday gift at the restored Coca Cola Bottleworks Building in the Soda Pop District, just a short walk from historic downtown. These climate-controlled markets held in the expansive communal section feature eclectic vendors, rotating food trucks, mocktails or zero-proof cocktails, music, and more.
Wrightsville Beach Turkey Trot Nov 23
Burn off those pre-Thanksgiving calories with the Wrightsville Beach Turkey Trot. Come dressed in your finest Turkey costume while enjoying a timed 5K or one-mile run/walk on the beautiful Wrightsville Beach Loop. There will be prizes and fun for everyone this Thanksgiving Day! Please see the website for registration and some pictures from previous Turkey Trots.
All is Bright at Poplar Grove Nov 24–Dec
Join the holiday festivities as historic Poplar Grove Plantation's beautiful grounds shimmer with a magical light display. Surrounded by thousands of twinkling lights, get in the Christmas spirit with the barn bustling with arts, crafts, and gift vendors, a libations tent, and more. Children (both naughty and nice) can spend time on Thursday, Friday, and Saturday with Santa, as well as cozy around fire pits with marshmallow roasting. Bring the whole family to savor the sparkling spirit of the season!
Enchanted Airlie Nov 24–Dec
Stroll through Airlie Gardens and enjoy millions of festive lights, holiday flowers, and musical entertainment with the whole family. This beloved Wilmington event continues to enchant visitors year after year. Online tickets must be purchased in advance.
40th Annual NC Holiday Flotilla at Wrightsville Beach Nov 25
Celebrate the holidays coastal-style at the 40th Annual NC Holiday Flotilla. A local tradition since 1983, the celebration kicks off Friday night with the Tree Lighting ceremony that is open to the public. The fun continues on Saturday with the Festival in the Park featuring over 100 arts and craft vendors, an antique car show, a large play area for children with several inflatables, festival food, and more. The Flotilla (lighted boat parade) begins on Saturday at 6:00 pm and is followed by a spectacular fireworks show. Don't forget to vote via text for both the "People's Choice" and "Crowd Favorite" awards once the parade starts.
Carolina Beach Holiday Market Dec 2
Just in time for the holiday season, the Carolina Beach Farmer's Market helps you solve all your shopping dilemmas with many gifts that are sure to suit all ages on your list. This fun island-style market is filled with vendors who will have something for everyone, from shark's teeth to soaps, yard art to fine art, and everything in between. Enjoy this perfect opportunity to shop local and get amazing holiday gifts to put under the tree (or keep). Over 100 vendors of handmade arts and crafts and artisans will be at Carolina Beach Lake Park.
Island of Lights Christmas Flotilla Dec 2
Fishing boats and pleasure crafts decorated with thousands of lights present a spectacular display on the Intracoastal Waterway at the annual Island of Lights Christmas Flotilla. Watercraft will cruise from Snows Cut to the Carolina Beach Boat Basin and back, competing for prizes and adding to the wonderful holiday spirit. A panel of judges will be on hand to choose the winners. Bring the family and enjoy a colorful evening.
Polar Express Holiday Show Dec 2–17
Immerse yourself in holiday cheer with the reading of the wonderful holiday classic, Polar Express, with each child receiving a gold train ticket punched by their conductor. Afterwards, visit with Santa and enjoy cookies and sip some hot cocoa. The Wilmington Railroad Museum's popular family show is a great celebration for the season, featuring on-air personalities from a local television channel.
Holiday Marketplace, Landfall Dec 5
Happening at the Country Club of Landfall, you'll find jewelry, home and holiday decor, children's gifts, men's gifts, clothing, and much more! A fun shopping experience for all your holiday needs while enjoying complimentary hors d'oeuvres and cash bar. Wine Pull tickets are available online.
Traditional Menorah Lighting Dec 7
Join the holiday celebration with the traditional Menorah lighting on the first night of Hanukkah (Chanukah), the Jewish Festival of Lights. Come to the Riverwalk at the foot of Market Street and Water Street at sundown for this inspiring annual event that is free and open to the public.
Kure Beach Holiday Whoobie Whatty Dec 15
Don your best Whoville attire and join in a Grinch-themed outdoor holiday celebration. The evening will start with a viewing of the 2000 version of "How the Grinch Stole Christmas." While the film is playing, everyone can visit different stations set up throughout the park for face painting, Grinch crafts, cookie decorating, and photos with the Grinch.
Island of Lights New Year's Eve Celebration Dec 31
Come celebrate New Year's Eve at the beach with the Island of Lights New Year's Eve Celebration. This free family-friendly event will feature a DJ and dancing with refreshments available for purchase. This is the perfect way to welcome 2024! Don't miss the giant beach ball drop at midnight followed by an epic fireworks display.