Chic and Charming for the Holidays 
01 Nov 2023
Get ready for the season with top picks from Wilmington's local boutiques
Special thanks to C.W. WORTH HOUSE BED & BREAKFAST, recently named "Best Bed & Breakfast in America" by USA Today! This 1893 Queen Ann style home in Wilmington's historic downtown is the perfect romantic getaway or staycation (16+). In addition to its luxurious rooms, experience home-cooked gourmet breakfasts and happy hour at "Jay's Pub" for complimentary wine each evening. Our models enjoyed the elegant common areas in and around this unique, sophisticated setting. It's no surprise people around the country love it so much. To book, visit worthhouse.com or call 910-762-8562.
Photography: DARIA AMATO
Stylist: DANIELLE HARRIS (The Modified Style)
Hair: Hollie Goodwin (Wilmington Makeup Artist Team)
Models: Jess Brown, Maecy Croom, Alivia Novello
Child Models: Aubrey Hall, Levi and Ryder Sheppard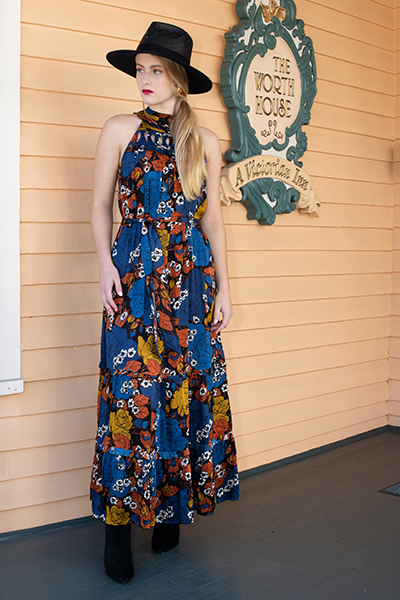 Kasa Mercantile
kasamercantile.com
Cleobella Camille Maxi Dress $298; The Freya Brand Cedar Hat $340.
---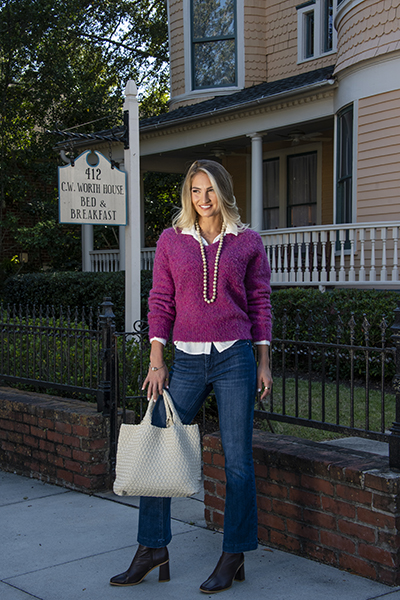 CoolSweats at the Beach
coolsweatsatthebeach.com
MAC Dream Boot Jeans $190; FifteenTwenty V-Neck Sweater $164; Bella Dahl Cream Blouse $234; ahdorned Beige Neoprene Purse $130; Streets Ahead Snakeskin Belt $148; Beaded Necklace $100; Free People Sienna Ankle Boot at Island Passage $198.
---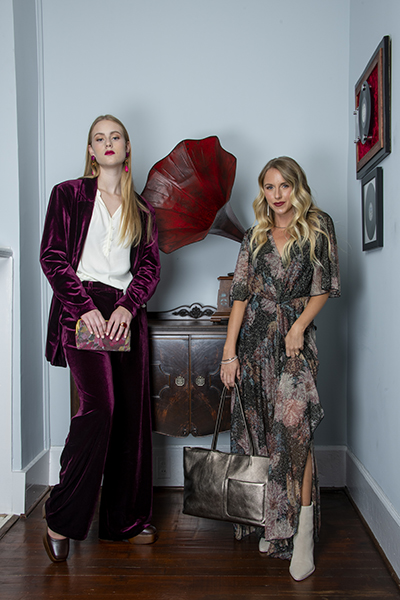 Island Passage/Lumina Passage
islandpassageclothing.com
Sanctuary Faye Velvet Trouser in Sugar Plum, $98; Sanctuary Bridget Blazer in Sugar Plum, $128; Velvet Heart Kevin Top in Cloud, $86; Julie Sion Drop Jewel Earrings, $12; Plaza Ring, $278; HOBO Abstract Foliage Lauren Clutch, $168; Free People Gwen Platform Mary Jane in Pecan, $168.
Bishop + Young Harper Cutout Dress- Enchanted Print, $128; Matisse Caty Bootie, $188; Dainty Herringbone Silver Bracelet, $38; Dainty Herringbone Silver Necklace, $38; Silver Tennis Bracelet, $46; BO Nougat Longues Earrings, $78; HOBO Pewter Tripp E/W Tote, $328.
---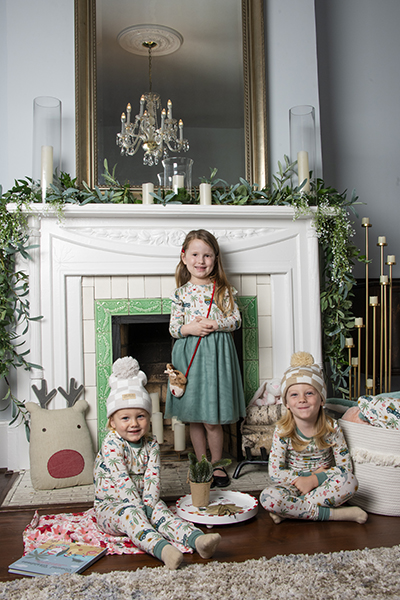 Little Locals Clothing Co.
littlelocalsclothingco.com
Emerson & Friends Coastal Christmas Bamboo Pajama Set, $41 and Coastal Christmas Bamboo Dress $42; Rad Tod Checkered Pom Beanies, $26; Coastal Christmas Board Book, $14.99
My Sister's Cottage
shopmysisterscottage.com
Light-up Holiday Purse, $17.95; Candy Cane Hair Clip, $12.95; Reindeer Pillow, $32.95; Treats for Santa Light-Up plate, $39.95; Bunny Lovey Blanket, $26.95; Poinsettia Swaddle (comes with red headband), $28.95; Greenery in Paper Pot, $9.95; 5" Gold Star Ornament, $8.95.
---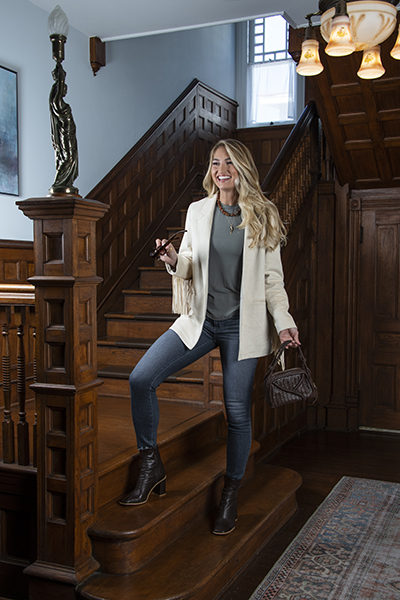 Kasa Mercantile
kasamercantile.com
Show Me Your Mumu Sierra Fringe Jacket, $228; Splendid High Neck Tank (in Olive), $58; Paige Hoxton High Rise Ankle Skinny Jean, $219; Cleobella Kiran Handbag (in Chocolate), $298; Jane Win Protect JW Large Tusc Pendant Necklace, $198; Jane Win Wood & Gold Statement Beaded Necklace, $148; Freyers Eyewear Noa Unisex Fashion Sunglasses, $65; Free People Sienna Ankle Boot from Island Passage, $198.
---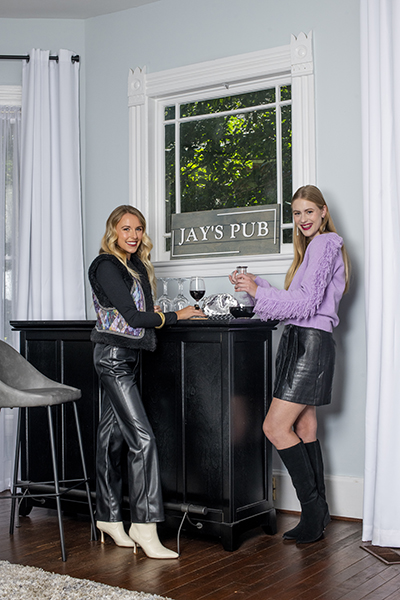 Blended Shoes + Apparel
shopblended.com
Pistola Lennon High Rise Crop Boot State Black Leather Pants, $158; Pistola Bailey Crewneck Bodysuit, $98; Allison Quilted Faux Fur Vest, $230; Classic Mini Me Black Ring, $30; Double Slide On Bracelets, $67; Sam Edelman Moe Stiletto Bootie, $200.
Milly Crewneck Fringe Sleeve Pullover, $325; Allison Candice Skirt, $168; Woven Cloud Clutch (in Metallic Silver), $80; Marc Fisher Challi Pointy Toe Boot, $249.