Wine, Women & Shoes
29 Mar 2014
The third annual Wine, Women & Shoes party at the Burney Center Ballroom at UNCW
By JASON FRYE Photos by BROWNIE HARRIS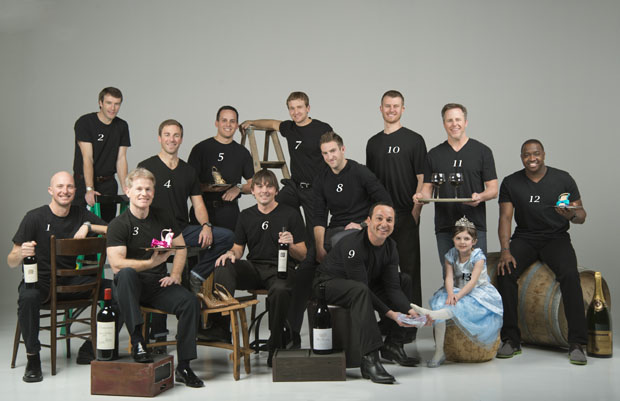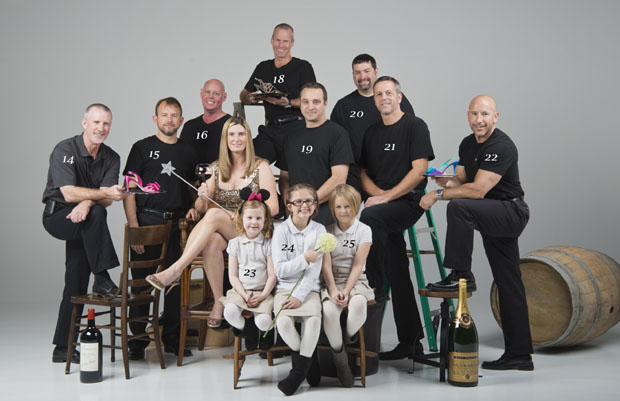 Women of Wilmington, are you ready to spend the evening enjoying a glass of wine and some fine, upscale shopping? What if we added a couple-dozen of Wilmington's most charming men to serve up shoes & accessories on a silver platter? What if we added in a fashion show and the chance to take home some of the haute couture yourself? And what if we topped it all off with the chance to help make the wishes and dreams of some area children come true? If this sounds good to you, then you need to block April 3 off on your calendar and get your ticket today.
"The Third-Annual Wine, Women and Shoes is a night that you don't want to miss," says Janis Netherland, Director of Philanthropy for the Wilmington Area's Make-A-Wish Eastern North Carolina chapter. "It's a fashion-focused event that combines glamour and fun, all while helping us raise funds to support our mission of granting wishes. These wishes are granted to children from Eastern North Carolina who, like Brieanna, Jazzmin, Solara and Baylee, have life-threatening medical conditions."
At Wine, Women & Shoes, guests will have the chance to take a look at the season's hottest fashions and newest trends, sample wines from some of the top winemakers in the country, shop for their favorite fashions in the marketplace, and take part in an auction and raffle to benefit Make-A-Wish's mission. All while being served drinks, hors d'oeuvres, and glimpses of silver trays laden with stunning shoes by the Shoe Guys, area men who've given their time, effort and charm to Make-A-Wish for the night to help ensure the guests get the most out of their evening.
"Why do we do it? We do it because when we look at the good that Make-A-Wish does for these kids, what else could we do but help? Not everyone can give money, but everyone can give some time. All of us in this room, we are all giving our time to help raise the money Make-A-Wish needs to grant more wishes," says Chip Baker, owner of Middle Sound Landscaping and one of nearly two-dozen Shoe Guys at the Third Annual Wine, Women & Shoes.
Ask any of the men and you'll hear the same answer: I support their mission and I'll show my support by helping with this event.
Tony Atkins, an Associate Professor of English at UNCW, says their role goes beyond simply showing up for the event and helping out there. "We're all responsible for raising money to benefit Make-A-Wish. At the end of the night, they'll announce the 'King of Sole,' the Shoe Guy who raised the most money."
While the event is fun on the surface, the goal is quite serious. Make-A-Wish will use all of the proceeds from the night to help them grant wishes to kids with life-threatening medical conditions. Kids like three little girls from Brunswick County who are suffering from a pancreatic condition. Sisters Brieanna, Solara and Jazzmin will all have wishes granted by Make-A-Wish, and in March, the first of their trips – Brienna's family getaway to Disney World – will take place; the other trips will follow soon after. Another young life touched by Make-A-Wish, Baylee, who is dealing with a brain tumor, went to Disney in 2013, and she and her mother Tracie were so appreciative of Make-A-Wish and the Shoe Guys, that at the photo shoot for this story, they were almost speechless.
As Brownie Harris shot the groups of Shoe Guys with the girls, Baylee, in her princess dress, fusses a little with her hair and wears a shy smile that only endears her to everyone in the room. Between shots, someone runs in, fixes a curl and hairsprays it in place. "Why are you doing her hair, she's already the prettiest one here," quips one Shoe Guy. Baylee blushes and everyone has a laugh. And that's what it's like here, everyone – from the Shoe Guys to the photographer to the writer – feels both the gravity of the situation and the joy that comes with being able to do something to benefit a sick child.
Wine, Women & Shoes wouldn't be possible without sponsors, chief among them Dr. Rosalyn George of Wilmington Dermatology Center. This magazine came onboard as a media partner, and the founder and publisher, Robert Sweeney, was happy to join the likes of PPD, Lanier Property Group, National Home Finance and Event Shuttle Services to pull the event together and spread the word. Netherland says that in addition to the great presenting, supporting and media partners, the event wouldn't be possible without four other groups: the wine partners; the culinary partners, an army of fashionistas, boutiques and chic shops; the Shoe Guys; and all the women in attendance.
Perhaps Wendy McCoy, Shoe Guy and Loan Officer for Wells Fargo, says it best, "It's a great evening supporting a great cause. Us Shoe Guys, we'll have fun, because what's better than being one of a handful of men in a room of beautiful women?"
Want to go?
Make-A-Wish Eastern North Carolina's annual Wine, Women & Shoes wine tasting and fashion show
Thursday, April 3, 2014
6:30-10:30p.m.
UNC Wilmington's Burney Center
Tickets: starting at $85
www.winewomenandshoes.com/wilmington
910-399-1375
Who's Who
Photo #1 - Cinderella photo
1. Sam Shelby – Organic Lifestyle Apparel 2. Henry Cherry – BB&T 3. Todd Rodzik – Bain & Rodzik 4. Adam Keen - Associate Director of Athletics for Major Gifts at UNC Wilmington 5. Russel Galvan – Edward Jones Financial Advisor 6. Mike Degenhart - Zoe's Kitchen 7. Randall Heath - Carolina Farmin 8. Ben Long – CEO, Carolina Farmin 9. Daniel Seamans - WWAY 10. Johnathan Stump – Coldwell Banker Seacoast Advantage 11. David Lee – D.R. Horton Company 12. James Beatty – Carolina Farmin' 13. Baylee Adkins – Wish Kid
Photo #2 - Presenting Sponsor/Three Wish Kids photo
14. Wendy McCoy – Wells Fargo Home Mortgage 15. Chip Baker – Middle Sound Landscaping 16. Anthony Atkins – Professor, UNC Wilmington 17. Presenting Sponsor – Dr. Rosalyn George, Wilmington Dermatology Center 18. Bobby Brandon – Intracoastal Realty 19. Damon Surratt - Wells Fargo Home Mortgage 20. J.D. Terry - Wells Fargo Home Mortgage 21. Stacy Wester – Hawk Commercial Properties 22. Brian Mitchell – Gateway Mortgage 23. Brieanna Lowery – Wish Kid 24.Jazzmin Olinger – Wish Kid 25. Solara Olinger – Wish Kid