Winter's Triumphant Beauty
04 Nov 2021
The Mystique and Lore of the Hellebore

Story and Photos by Christine Hall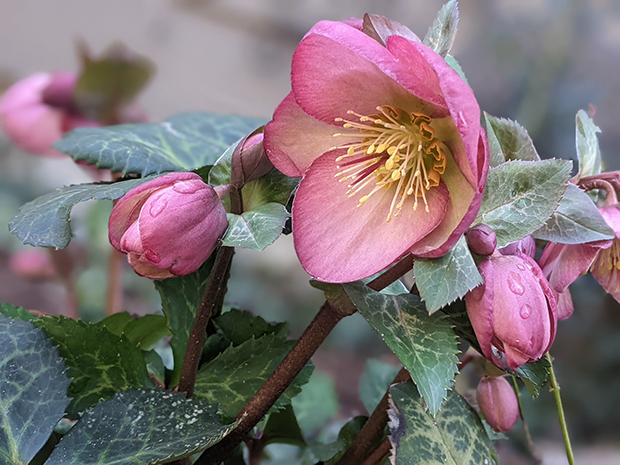 I have always had an eye for tenacity. In fact, I was raised to believe that perseverance was a great element of success and to always keep my head up. Over time as I grew older, I began to understand what Hellen Keller meant of sunflowers when she said, "keep your face to the sunshine and you cannot see a shadow." But I digress. Let's put it this way: If "spirit flower" were a thing, mine would be this. There is something tenaciously charming about a bloom produced in the depths of winter by a Hellebore. And at a time when the whole world seems to sleep, the dutiful Hellebore raises its head.

Hellebore, or Lenten rose, is a shade-loving and salt-tolerating perennial in the buttercup family that thrives in winter. For those who miss the thrill and frill of summer's bloom, the Hellebore produces petaled faces that will emerge from glossy green leaves in even the chilliest winters.

While there are approximately 20 recognized species of Hellebores, one thing they share in common is their ability to handle salt and wind, of particular benefit for coastal gardeners. Hellebores come in a variety of bloom color, including shades of white, rose, green, or purple, and feature leathery, serrated leaves. Hellebores can also have picotee (dark-edged petals), spotting, or dark-colored centers. These plants are seen blooming in zones 6 to 9 up through early spring, often during the religious Lent season, which is how it gets its alternate name.

Perhaps not surprisingly, Hellebores provide strong tribute to endurance – a welcomed characteristic when powering through less-than-perfect soil conditions. While the Hellebore is resilient, it does prefer moist soil with compost and good drainage. Adding organic matter to sandy plots can assist in achieving the preferred soil alkalinity. Once established, Hellebores can withstand some dry spells. Side note: It is said that a morsel of fish, blood, and bone added to the soil in the spring can help any plants struggling to take hold.

History

Hellebores are native to Greece and Turkey and were named when German growers began breeding them in the mid-19th century. Interest in the genus spiked in American horticulture in the 1960s. My interest spiked when perusing dusky rose hybrids at Pender Pines Garden Center in Hampstead. In fact, buying at nurseries in winter or early spring while they are blooming is the best way to ensure you get the color and look you want. Exotic hybrids offer single and double blooms and spotted or un-spotted sepals that either are nodding or upright. I recommend upright varieties because they proudly display their color.

Another interesting attribute is its resistance to rabbits and deer, as the leaves and flowers are toxic. Animals naturally steer clear because of the bitter smell and taste. It is said that Hellebores contain one of the four classic poisons, along with nightshade, hemlock, and aconite. In fact, the name comes from the Greek "elein" meaning to injure, and "bora" meaning food. I suppose we all have our vices.

Vegetative nutrition is not lost on all, however. There is a benefit to native pollinators. During warm winters, Hellebores provide both pollen and nectar for local scout bees.

Mystic and Lore

Medicinal or "witchcraft" use of Hellebore dates back to 1400 BCE, when it was used as a purgative to "cleanse the mind." It is also found in writings from the ancient Greeks through the Middle Ages when it was used by herbalists. Hellebore has also been employed for animal illnesses, or to keep them from evil spirits. It's even written in one superstition that it can be used to make yourself invisible if scattered in the air. Ha!

While it likely won't make you disappear in the melancholy of winter, if you need a reminder that spring will in fact return, look no further than this triumphant beauty.

Gardening Tips

Plant Hellebores in mass, or places they can be easily appreciated, such as along borders, in rock gardens, or under the shade of an arch.

Plant nodding bloom varieties in raised areas or rocky hillsides for idyllic
flowering views.

Shade companions, including hostas, herbaceous perennials, or ornamental grasses can complement a Hellebores' strong visual presence.

Hellebores are sensitive to "wet feet" and will not tolerate boggy conditions.

Float blooms face up in a bowl or glass and place indoors to enjoy on a windowsill, tabletop, or counter!

To view the Hellebores selection available at Pender Pines Garden Center, visit penderpines.com.