A Coastal Chic Cottage in Landfall's Battery Park
05 Nov 2020
The perfect look for a community by the sea

By CHRISTINE HENNESSEY » Photos by G. Frank Hart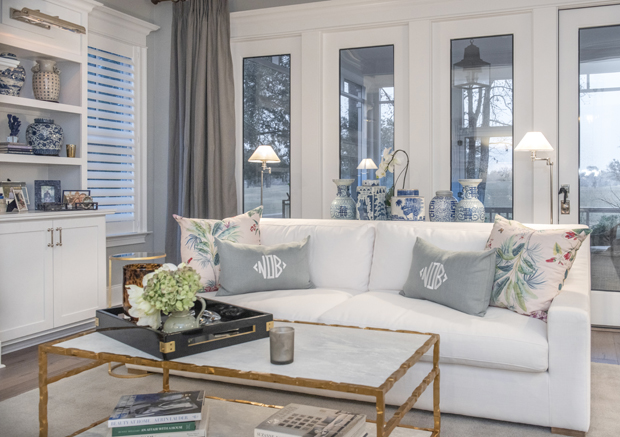 It was the long, cold winters that first got Nancy Durden thinking about moving to a southern city, preferably on the coast. She'd been living in the north for 15 years, ever since her career led her to Chicago, and was ready to start planning for a warmer retirement. "My sister and husband live in Raleigh," she says. "I'd vacationed on Bald Head Island and visited Wilmington, and I always liked the area." She had just begun browsing real estate sites when her financial advisor, who coincidentally had been born and raised in Wilmington, recommended that she look at Landfall.

Durden visited Landfall to see if it was as good a fit as her financial advisor claimed. As she explored the neighborhood, she appreciated its proximity to the ocean and its built-in community. Then she came across Battery Park, a new project of 24 homes in Landfall, designed and built by John Lancaster of Venture Homes. After touring the model home, Durden knew she'd found her future.

"I just loved the way it looked," she says. "Coastal style, custom woodwork, great quality, and the scope and size were what I wanted." There were things that needed to be tweaked to fit her lifestyle, but before they could start designing a custom home, she needed a lot to build it on. With the help of her realtor, she quickly found one.

"I ended up with a gorgeous golf course lot that has spectacular views," she says. "The moment I walked onto it I was like, 'This is it.'" She purchased the lot, less than 24 hours after arriving in Wilmington, in what she describes as a whirlwind. "It just felt good, very instinctive."

Lot secured, it was time for the next phase of Durden's plan—meeting with John Lancaster to design her dream home.

A Strong Foundation

John Lancaster founded Venture Homes over 15 years ago. He began his land development and residential construction career in the Raleigh area in 1997, and later became active in the Wilmington commercial construction scene. In 2000, he completed a number of spec homes throughout Wilmington, including over 50 residences in the Landfall community. Lancaster primarily builds high-end homes, and he's not known for a specific look or style—he can create whatever the client wants or the community calls for.

"The Battery Park project is one I'd been looking at for several years," he says. "I ended up going in on it with a partner and we bought the property." When they first started planning, he had a different idea for the look and feel of the neighborhood, but something was off. "My wife told me, 'You don't want to do this, you want to change it.' It took a year to figure out what direction to go in, but thank god my wife stopped me when she did."

After finally settling on a new concept (wife-approved, of course) Lancaster worked with local home designer John Croom of Cornerstone Residential Design to create the look and feel of the homes in Battery Park. "Coastal cottage houses, metal roofs, gas columns up front, weather vanes and cupola on top," Lancaster says. It proved to be the perfect look for a community by the sea—and for Nancy Durden.

A Collaborative Process

Because Lancaster builds for individuals, his process is collaborative and conversational. He begins by meeting with clients and talking about their needs—how many bedrooms and bathrooms they need, what square footage feels right, what custom features they love. The house also has to fit the lot, which can provide both challenges and opportunities. Durden's lot didn't offer too many challenges—it is, Lancaster notes, special for the area. Durden agrees, and enjoyed the opportunity to collaborate on the design.

"John took what I liked about the model and the basics of the floor plan, and then he and John Croom took that plan and kept massaging it," she says. The changes included extending the house a few feet in the back to take advantage of having a master suite on the ground level, adding custom woodwork throughout the home, including a courtyard garage, and customizing the kitchen.

"The kitchen is my favorite room of the house—I love to cook," Durden says. Because of this, she was willing to go the extra mile to make the kitchen truly unique and beautiful. She enlisted the services of Laborie and Sons Custom Woodworks, a father and son duo who crafted cabinetry based on inspiration photos supplied by Durden. The cabinetry was built in Pennsylvania by the senior Laborie, then installed locally by the son, Dave.

As the house took shape and neared completion, Durden turned her focus to the interior. She chose to enlist the help of Debby Gomulka Designs, a regional and national boutique luxury interior design firm based in Wilmington that specializes in global style, timeless elegance, and comfortable luxury for the interior design.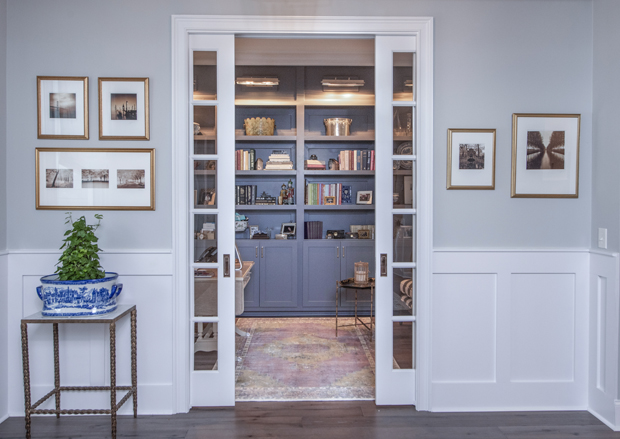 A Unique Experience

Gomulka, ASID Allied Member, founded the award-winning Debby Gomulka Designs in 2000 after spending five years in the furniture and design industry. "We offer an experience where the client gets involved in their own design process," Gomulka says. Like Lancaster, this helps her create designs that are a true collaboration, drawing on the lives and experiences of the client and incorporating things like their travels, favorite colors, and lifestyle into a unique, one-of-a-kind design. "Each project is different," Gomulka says, "They can range from historic preservation to coastal farmhouse, but they always result in a timeless design. It just depends on the client." She also collaborates with the area's leading builders, architects and developers to deliver the
client's vision.

When working with a new client, Gomulka begins with a thorough interview session. "We'll meet so I can discover more about them—their hobbies, interests, lifestyle, how they live in their space and the places they've traveled." She then looks at the space through a designer's eye, absorbing it like a sponge. "It doesn't matter if it's new construction, a whole house renovation or interior design services, we always involve the client in the beginning with fabric selection, the paint color palette, and simply observing what they're drawn to."

Observing and listening to the client are integral parts of Gomulka's process, and that includes the client's personal style. "How they're dressed actually says a lot about them," she says. "Fashion is a bridge to interior design, and it's something you can pick up on right away."

Durden appreciated Gomulka's approach and willingness to listen. She also found it helpful to work with a local firm, someone she trusted who could connect her with the best resources and contractors in Wilmington. "I knew what I wanted but I didn't have the sources," she explains. "I gave Debby my vision and showed her pictures, and she listened and came with lots of ideas. It was fun for me. I wanted to be very much a part of the process, and we had a good, easy relationship."

What Durden ultimately wanted was an interior look that leaned coastal, with a soothing color palette of grays, greens, whites, and blues to complement the light wood floors. "I wanted a really pretty house," Durden says, "and I wanted it to be more transitional, a little on the fun side." At the same time, she wanted to incorporate some of the older, more traditional pieces from her Chicago home. Gomulka was up for the challenge.

"That's one of the things that makes our work unique," Gomulka says. "We can blend different styles successfully, using color, texture, and a little drama."

A New Beginning

Gomulka created a design theme that flows throughout the entire home, to blend with the architectural details. She describes the final look of the home as "uptown chic coastal." "It's coastal farmhouse on the outside, but inside we added a twist of elegance, luxury and some really nice sophisticated pieces that make it truly special. She has a lot of pieces from her grandmother she was close to from Paris, so we were able to use some French accents which was really nice."

"It's a much lighter, brighter palette than I've ever had before," Durden says. "High ceilings, lots of woodwork, white linen to get that coastal look, and still a lot of traditional artwork."

Her new home also gives her an opportunity to display some of the sentimental pieces she's collected over the years. "I've traveled all over the world for my career and have a large collection of Asian pottery, and all that blue and white fits so well here," she says. "For the first time I can actually display it, so it's all over the house alongside orchids and flowers."

The best part of her new life in Wilmington, however, will soon be right next door. When Durden purchased her lot that first weekend in Wilmington, she also bought the lot next to it, just in case.

"Once I got this house finished and my sister and her husband visited a few times, they realized how much they loved the house and the area. We started talking about different possibilities eight months ago, and then they came to me and said they'd like to buy the lot, build a house, and move to Wilmington permanently." Durden's "just in case" came in handy.

The project is coming full circle—Lancaster is building their house, based on a design by Croom and an interior by Gomulka, and it should be finished by spring, just as the azaleas are beginning to bloom. The perfect end to this story, and the perfect way to begin a new one.

Debby Gomulka Designs, 910-352-7339, debbygomulkadesigns.com