A Festive Table to Gather Round
04 Nov 2021
Setting the table is all about setting the stage for the holidays

By Elizabeth Sugg » Photos by G. Frank Hart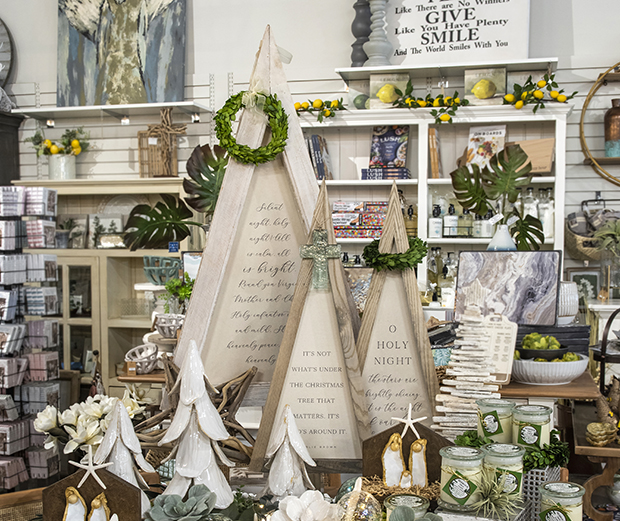 Setting a holiday table is more than just a fork-knife-spoon at a place setting. It's about creating a mood of joyfulness for a celebratory meal enjoyed as a family and with friends.

There are five components of a beautiful table: 1) the centerpiece; 2) glassware; 3) flatware; 4) linens; 5) and the serving plates – bread and butter dishes, salad plates, dessert plates, and possibly soup bowls for a first course. As our thoughts turn towards gathering to celebrate Thanksgiving, Hanukkah, Christmas and New Year's, and in our family a December and January birthday as well, it's fun to begin seasonal decorating with the dining room table. This is the time to browse Pinterest and your local retailers to figure out ways to switch out the different components for your holiday table to update its festivity, colors and themes for the five-week stretch from Thanksgiving to the raised glass as 2022 rings in.

Though setting a table is a common task, it takes on grand proportions at holiday time, and it's wonderful to have a variety of locally owned businesses to source something new to add to your mix of dining room décor to keep the merriment rolling along.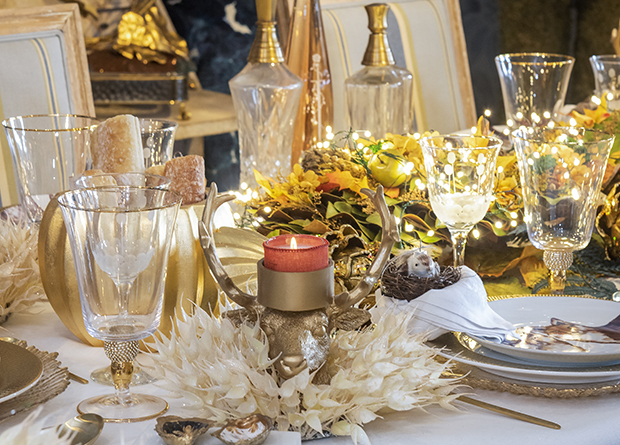 Port City Peddler
6213 Market St, Wilmington
portcitypeddler.com

Gold & Silver Elegance

The merrymakers at Port City Peddler chose a simple gold and silver setting that can take the dining room from Thanksgiving through New Year's Eve. With a few simple changes to the centerpiece such as removing the gilded pumpkins, perfect at Thanksgiving, and in their place, miniature poinsettias or paperwhites at Christmas, and at New Year's, confetti and a silver bucket filled with horns to blow at midnight, this tablescape is a go-to for the entire holiday season. A fabulous mix of local goods, antiques, and handmade specialty items, Port City Peddler features a room exclusively for shopping a selection of gifts and Dixie Belle Paints, while the rest houses local vendors in an open marketplace selling everything from handmade furniture to vintage jewelry.

Featured items include: Reindeer Napkin Rings, $6; Plates & Bowls $12 and $10 respectfully; Large Silver Reindeer, $23; Gold Reindeer, $20; Champagne Flutes, $5; Flatware, $20 per
place setting.


Nest Fine Gifts and Interiors
1125 Military Cutoff Rd, Wilmington
nestfinegifts.com

Waterside Inspiration

The revelers at Nest Fine Gifts and Interiors decided to take their festive table outside to a handsome porch with a peaceful water view – what a fitting setting in the Cape Fear region to enjoy an al fresco feast. Faux magnolia and paperwhites add a fresh, natural look to an outdoor farm table while the woven green placemats and holiday napkins pulled through pinecone napkin rings add texture, color and interest. The salad and dinner plates hint to the delicious courses to come and the goblets to the wine to be poured. Hurricanes with chunky red and white candles anchor the eye and stud the greenery with distinction. Creating an atmosphere is what an interior design and gift store does best; items that are worth collecting and living with are curated with customers in mind, with an understanding of their well-being and enjoyment of home.

Featured items include: Hurricanes, $48; Candles, $16; Napkins, $28 each; Napkin rings, $36 each; Placemats, Set of 4 $105; Faux magnolia garland, $325; Faux Paperwhites, $32; Wine goblets, $24 each; Dinner ($35) and Salad ($30) plates. The table and chairs are available through
special order.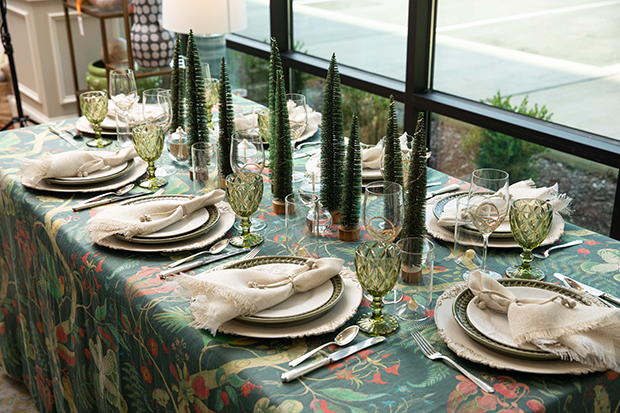 Paysage Home
1908 Eastwood Rd, Wilmington
paysage.com

The Charm of a Golden Woodland

The soft lights beckon the eye to the table suffused in golden allure. Magnolia leaves provide the natural base for a centerpiece studded with dried hydrangea, fern, feathers and more, a look that can take you from Thanksgiving through Christmas and beyond. And who might join the feast? Two golden deer who serve as clever votive holders, and owls, fox and more deer painted in pairs on the handsome salad plates, a gold-rimmed dinner plate and charger providing each place setting's base, a nesting bird tucked into each napkin. The golden pumpkins become clever holders for baguettes, while gold-topped decanters await the festive beverages to come. Distinctive wine goblets and water glasses add more interest to the table, one filled with texture and variety while the soft golden hues relax the tempo for the sumptuous meal to come. Paysage means "landscape" in French, so it's no wonder that the interior design and gift store would bring natural elements to the holiday table. With stores in both Raleigh and Wilmington, Gigi Sireyjol-Horsley, the owner and lead designer of Paysage, has an eye for local art and sculpture creating an atmosphere for their home goods that may very well fit your landscape.


niche. Décor & Gifts
3501 Oleander Dr, Wilmington
nichebycustomhome.com/

Inspired by Nature and Light

There is a light, airy freshness to the elements on niche. Décor & Gifts' tablescape – beautiful glossy white scalloped trees that will add subtle elegance to any space; repurposed wood message "trees" that contribute naturalness, authenticity, and height to a setting; and the focal point for the season, one-of-a-kind oyster nativities by Mason. While these distinctive items can set off a holiday table, most can be used in different ways year-round, their versatility, well, a "niche" of niche as an informative source for modern home décor. Throughout the exclusive Bramble furniture store are accessories and gifts that when browsing will leave you feeling inspired and nurtured. Collectively, the combination creates an appealing and inviting tablescape to celebrate
the season.

Featured items include: Bedrock Soy Candles with actual fir needles, $26.95; Repurposed Wooden Trees and Greenery, various prices; niche's popular Crackle Balls bring light to this beautiful assortment of goodies and can be used year round, $26.95; Oyster Nativities by Mason, $48.95.


Big Sky Design
5815 Oleander Dr, Wilmington
bigskydesignonline.com

Highgarden Holiday

The inspiration behind the Big Sky's design is an elegant, British-inspired holiday gathering with a Southern twist. Nods to North Carolina can be found in the rich, botanical print tablecloth, green and cream hues, and linen napkins; while the elegance comes out in the golden trimmed stemware, gleaming antique flatware, and gold threading in the linen napkins. This focus on texture, color and functional items that tell a story is indicative of an interior design business that also has a compelling retail component.

Featured items include: Newton Paisley Tablecloth, Leaf Embossed Baroque Charger, Botanic Dinner Plate, Foresta Salad Plate, Golden Globe Highball Glass, Golden Swirl Wine Glass, Green Cruise Wine Glass,Venice Fringe Napkin, and a Porto Napkin Ring.


DeBruhl's of Wilmington
225 Pine Grove Dr, Wilmington
facebook.com/debruhls

Holiday Whimsy

If you go to DeBruhl's for whimsical yet functional holiday items sprinkled throughout the white distressed furniture the store's owner is known for transforming, you may find yourself lingering over the resident pig, dog and chickens, all adding to the adventure of shopping at this blissful retail mix of useful, affordable fun. Featured on the small dining table available for sale are holiday pillows, one featuring five little chicks that has a summery version with the chicks in bikinis, a frog towel holder, rooster Christmas ornaments, and a green truck that is actually a birdhouse. The signs have holiday messages perfect for your own porch or a good friend's – "It's the Most Wonderful Time of the Year" because "Santa Claus is Coming to Town" – though one of the most popular is the laundry room sign hanging just behind the table. Notice the silver metal awning that adds dimension to the gift store's display. Available in 3-and-4-foot lengths, this touch above a window has become popular with people who have she-sheds. Whatever your wish list may hold, DeBruhl's may have the furnishings and the accessories to help give it shape in the friendliest way possible.