A Dash of Glam at Sundown
04 Nov 2021
Versatile styles that drape and move in stylish comfort for an evening out, with shoes and accessories to complete each look.
Photographer: KELLY STARBUCK PHOTOGRAPHY
Photo Assistant: Sheila Corcoran
Models: Miller Otto, Directions USA & Matthew Angell
Hair and Make-up: Kristen Casselberry, Bridal Styles with Kristen
Location: Thalian Hall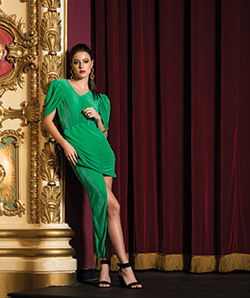 Fitted asymmetrical Green Goddess Dress, $138, Gold hoops, $58, Gold bracelet $54; all at Lula Balou.
---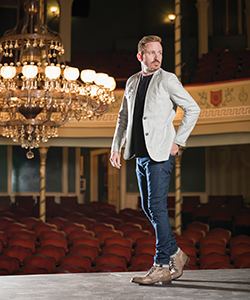 Blazer from Civil Society, $165, TShirt from Ace Rivington, $38, Denim from Ace Rivington, $188, Boots from Bed Stu, $325; all at bloke. Apparel & Supply.
---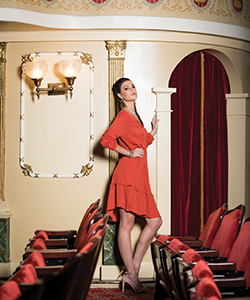 Rustic Tunic dress, $38.95, Evil Eye teardrop earrings, $45.95, Gemstone cross necklace, $24.95, Gold bead bracelets, $18.95, Pearl necklace, $38.95. All at Ikan Island at Blue Moon.
---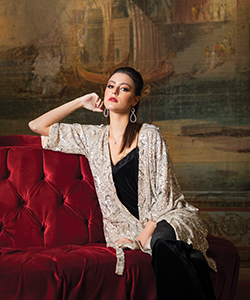 Sequin Champagne Duster, $78, Black velvet pant, $48, Black velvet cami, $32; all available at edet by Island Passage.
---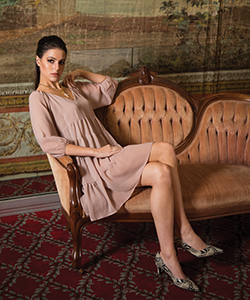 Puff-sleeve nude dress, $52, Brenda Zaro snakeskin heels, $110, Vegan clutch, $35, White Gold cross necklace, $39. All at Palermi's at Blue Moon.
---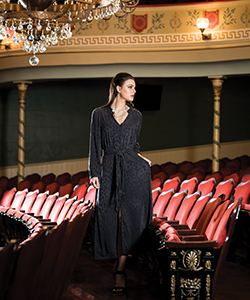 Bella Dahl keyhole midi dress in charcoal, $230, Sea Lily pearl necklace, $82; all at CoolSweats at the Beach.