A Good Book Makes a Great Gift!
07 Nov 2018
If you have a voracious reader on your holiday gift list this year, there can never be enough books on their shelves, electronic or otherwise. Consider these titles with wide-ranging appeal for your gift giving.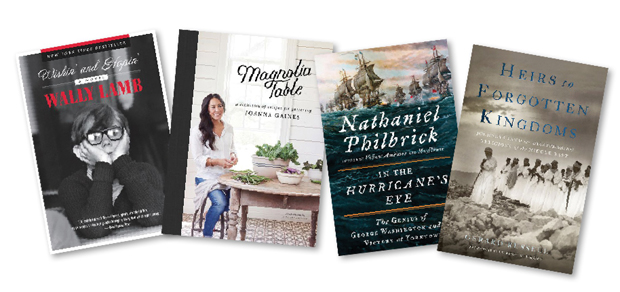 Wally Lamb, Wishin' and Hopin'
The holidays are the perfect time to give your favorite people a book that will make them feel as cozy in their brains as they do in their sweaters. One great book for this feeling is Wally Lamb's mini masterpiece "Wishin' and Hopin'." It's about a young man in the 1950s who is preparing for his school's Christmas play while his dysfunctional family keeps their diner afloat, and his teacher tries to reign in his new classmate. Lamb's warmth gives the prose all the warmth of a schoolboy's optimism without getting overly sappy, and the cameo of a famous cousin at the end makes for a surprisingly sweet performance. Fans of The Best Christmas Pageant Ever will love this!
—Melanie Griffin
---
Joanna Gaines, Magnolia Table: A Collection of Recipes for Gathering
The famous home improvement guru extraordinaire Joanna Gaines now has a cookbook, called "Magnolia Table: A Collection of Recipes for Gathering." This cookbook will be a perfect gift for fans of her show and anyone looking to feed their family quickly. Gaines offers timesavers and leaves room for substitutions, so the cook can make their own unique dishes. Unlike other celebrity cookbooks, you can be sure that this author has actually gathered her family around her table to eat the food described. As Gaines explains in the introduction, her growing family is what prompted her to focus on cooking at home, using nourishing ingredients with minimal prep time. This book is not designed for those with dietary restrictions. Gaines lists essential pantry ingredients and tools for the kitchen. From Syrian donuts and her mom's bulgogi to chocolate-dipped shortbread cookies, she provides background to the dishes. Interspersed are family pictures, which show family is at the heart of her cooking.
—Lisa Gieskes
---
Nathaniel Philbrick, In the Hurricane's Eye: The Genius of George Washington and the Victory at Yorktown
Looking for a book for the history lover on your list? Historian Nathaniel Philbrick's latest delves into how George Washington helped win the Revolutionary War by masterminding the Battle of the Chesapeake without using a single American ship. This book will appeal to American and naval history buffs as well as those who enjoy dramatic and riveting nonfiction. Philbrick's previous books include "Mayflower: A Story of Courage, Community, and War" and the National Book Award winner, "In the Heart of the Sea: The Tragedy of the Whaleship Essex."
—Megan Mathis
---
Gerard Russell, Heirs to Forgotten Kingdoms: Journeys into the Disappearing Religions of the Middle East
This title is a fascinating and infinitely readable collection of ancient religions still alive in the Middle East. Some of these religions mentioned, such as the fabled good Samaritans and the persecuted Yazidis who are currently in the news, are known perhaps only in name. Others, such as the fire worshipping Zoroastrians and the Coptic Christians of Egypt may not be so familiar to people in the United States. This book gives you a historical introduction to these religions and then a view into their lives today. Each religion is given its own chapter, so it's simple to follow and easy to set down and pick back up again. By examining these religions along and how they have survived to our modern times for so long, and in an unstable region, gives insight on how different people can peacefully live together in tolerance. A fascinating and timely read that any layperson can enjoy!
—Crystal Sharpe