Wilmington Found Its niche
07 Nov 2018
It's more than a store; it's a personalized shopping experience
By JUDY ROYAL Photos by KELLY STARBUCK PHOTOGRAPHY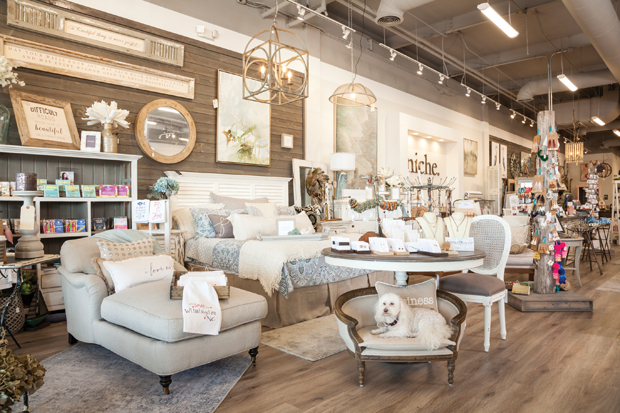 Chris Gray and DeDe Bennett decided to turn their 14-year friendship into a business partnership when they both found themselves at a crossroads in life. Gray had recently retired from a lengthy career of teaching with New Hanover County Schools, and Bennett had been a longtime stay-at-home mom and previously a psychology teacher/counselor.
"I think we both realized that I was not very good at retirement and DeDe was not doing good at being an empty-nester, so we just kind of came up with the idea of a store that was more than a store," Gray said. "It would be an experience."
Plans started to take shape in late 2017, and by the middle of this year, just before Mother's Day, niche. (with a deliberate lowercase "n" and period at the end) was up and running in The Shops at Hanover Center, 3501 Oleander Drive in Wilmington.
"Hanover Center was a very prime, targeted area for us," Bennett said. "It's centrally located and has some history. There was an opportunity to design a space that was in line with our vision for niche."
Gray and Bennett have worked hard to create a shop that is inviting to all. It's hard to pin them down on who their "typical" customer is because they see women, men, young, old, tourists, locals, those looking for gifts and those who want to decorate a home with Bramble furniture, select upholstery lines and more.
"We have all prices in this store," Gray said. "We have something that everybody can afford. Because we have all price points, I think our typical customer is everybody."
Bennett added, "I love hearing our customers' stories. They are eager to share why they're getting a particular item oftentimes."
Because the customer base is so diverse and also to keep things fresh for regulars, Gray and Bennett are constantly looking for new items and brands to stock. They are especially interested in carrying charitable lines.
"We are really trying to find companies that give back," Gray said. " We have a lot of products that are tied to different charities. That's very important to us. We not only love the stories of customers, but we love the stories of companies we are buying from."
The women of niche. go out of their way to create a welcoming environment for all who enter.
"Every customer who comes in is greeted and warmly received and feels important because they are," Bennett said.
There are always free cookies from the new Love, Lydia Bakery & Café, a lavender-infused variety dipped in chocolate that was developed especially for the shop.
"DeDe and I love lavender, because it's just so calming, so we asked Lydia to create a cookie that was infused with lavender," Gray said. "She made the cookie just for niche."
Then there is the free gift wrapping for every purchase. There is also a Hero Book, a wish list registry where customers can keep track of the items they want as gifts from their friends and family, and a community message board where people can leave thoughts, quotes, prayer requests or anything else they want to share.
And finally, there are special events throughout the year, including a recent post-storm gathering and a men's night in December, that not only offer personalized shopping opportunities, but also conversation and caring.
"There is a lot to see in this store, but during special events they will stay and linger and talk to each other," Gray said. "We're seeing the store become more than a store. It truly has become an experience."
Gray and Bennett both say the quick growth of niche. has been unexpected and pleasantly surprising. They give much of the credit for their success to their staff.
"When we started this store, I don't think that we realized how fast it would grow so we've had to bring on lots of women to help and they're amazing," Gray said. "We could not do this without them. We did have growing pains, but fortunately we found amazing women who understand our vision."
As for their friendship, Gray and Bennett admit it has taken a bit of a back burner to their business partnership, but they're figuring out how to do both.
"I think trust is the main foundation," Bennett said. "I know I can trust Chris with everything. I think it's been a little challenging for us to spend time as friends because the business has been really demanding, but we're making it work." 910-769-8839, nichebycustomhome.com