A home is what we make it, and Phil and Jennie Barker create uniqueness with their home using repurposed wood and other treasured memory items
By DAVID HOWELL » Photos by G. FRANK HART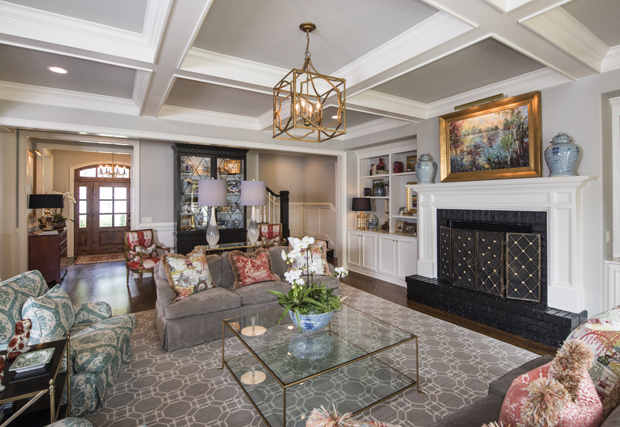 Wrightsville Avenue is the only road in Wilmington that leads all the way from the downtown, due east, to the Atlantic Ocean. It was called "Shell Road" in 1884, and it was relocated and expanded in the twentieth century to accommodate more traffic.
But, the original "Shell Road" is still there. It's a modest, thin, two-lane road that even today invites bikers to use a whole lane. The road provides a boarder to Arlie Gardens, a treasure to our town that was originally purchased by Pembroke and Sarah Jones in 1884. Today we call it Airlie Road.
It's home to old live oaks, azaleas and more local flora and fauna than this article can name. After leisurely strolling you through the woods, it also opens up onto the Intracoastal waterway (or ICW) and Harbor Island with Wrightsville Beach further eastward. As you drive down Airlie, slowly along the water, you suddenly find yourself in what could be called a unique village all to itself, with dockside bars, great restaurants, boats and boat slips of all shapes and sizes, and the bridge to the beach itself.
It's here too, at the foot of Airlie, that you see and don't see some of Wilmington's most beautiful homes. Off of Airlie's beaten path you'll find hidden neighborhoods privately hosting properties you'd never know were there, and they're all unique.
Only a short bike-ride from the water and east into the woods sits the Barker home, located on the private street of Bel Arbor Place, built by Barker & Canady Custom Homes, homebuilders on the coast for 14 years. Phil Barker, the homeowner, started custom-building homes in Raleigh 22 years ago. Since opening shop in Wilmington, Barker & Canady has constructed close to 300 homes in some of the most sought after neighborhoods and communities across the region, such as Brunswick Forest and St. James in Brunswick county, as well as Landfall and Wrightsville Beach in New Hanover county.
As a company, Barker & Canady deliver quality construction with what Director of Sales, Jennifer Kelly, calls a "No Surprise" approach to building. From initial planning to handing the keys over to the owner, the company guides clients along a 7-month process hand in hand so clients have homes as unique as they are. "A lot of the quality craftsmen I worked with in Raleigh came to Wilmington with me," says Barker, "so our clients get a team that's been together for decades." In other words, they work not only with a sense of purpose, but also with a storied past wherein everyone involved has a connection to each other… much like the communities they build in. Their work is, to say the least, impressive.
Of course, the same attention to precision and quality went into Barker's own Bel Arbor home. When I arrived to tour the Barker family's home, I was welcomed by Phil on the front porch, an expansive and welcoming space with a rugged brick surface, outdoor furnishings and a color palate that blends in with the neighborhood's wooded surroundings. It's worth noting that those natural surroundings have been maintained among the entire neighborhood to keep a balance between each house and the forest they've been built into. There is a sense of harmony to the street.
After brief introductions, I learned that Barker is an avid outdoorsman. He first showed me what he calls his trophy room. Different than most of the other rooms in the house―the trophy room holds more than hunting trophies and various mounts and rugs―it holds the world travels of a skilled hunter as well as a master builder's treasury of old repurposed wood from North Carolina and stone brought down from the mountains of Tennessee by Nina Brown's local company, the Stone Garden.
The room, in fact, is a world unto itself, complete with it's own front entry-way in case Barker and his buddies want to get straight to the game on Saturday or Sunday afternoon. Still, behind the camaraderie and brotherhood that no doubt ensues when friends are gathered in this part of the house, there is a deep and elemental history to the space.
As Barker detailed certain mounts, such as the grizzly bear from Alaska and a gazelle from Africa, he also told me that when he and local architect John Croom were working on this particular part of the house, they wanted the room to be designed to feature different places Barker had traveled, and the many different woods that had been harvested to give it the cabin-like feel it has.
"All the wood in the floor and the wainscoting and all the trim is river wood that had been in the Cape Fear River over a hundred years." Barker said. "All the mantle pieces and beams above came out of our farm on the Outer Banks, and all of that is Cypress that had been hand-cut before the civil war."
When I asked Barker about the cypress and its age, he told me that the farm's original house was torn down about sixty years ago, and the wood from the home had been put in a barn on the property. After restoring the 165 year-old wood, Barker decided to use it specifically for this space with its historical feel, complete with a large wood-burning fireplace. Even the bar in the room is made of repurposed wood from that same farm.
Directly out back is a covered porch where similar wood and stone is also used over a large, wood-burning fireplace where the family spends a lot of time in fall and winter.
All of this is pleasantly contrasted with the home's white brick exterior. "When we designed the house, my wife, Jennie, wanted that white painted brick traditional look," and the rest of the homes' living space is a testament to what you might see in older Southern homes. The large, natural-lit living area is inviting and designed for conversation as well as entertainment. The kitchen, directly off of the living room has large marble countertops, and a pot-filler faucet over the stove… a kitchen made for great cooking.
In the dining room, furnished with an older wood dining table with matched wood chairs and sideboard, Jennie explained that much of the furniture she keeps because she grew up with it. While several of the pieces around the home aren't "worth a fortune," she says, "they have special meaning to me." That sentiment is precisely why traditional furnishings and design elements like the kitchen's white back-splash or the pot-filler faucet make the Barker's residence more than a house—they make it a home.
That's what a home is… something that has special meaning to you, something that's unique to you and your past, your tastes, your travels; it's something that echoes your personal history and the traditions that you come from. Like the homes Barker & Canady continually craft for their clients, Phil and Jennie's own home is a reflection of who they are as people and as a family (Oh, the kids travel and hunt with Dad too, and many of those mounts in the trophy room belong to them).
Nearing the end of our visit, Barker notes that the lots in Bel Arbor aren't that big, "but they're also only a short walk from dinner on the water, or a ride on your boat if you have one, or a bike ride to the beach or the Wrightsville Beach loop." They're only a short walk from Airlie Road, and a short walk down the timeline to when it was called "Shell Road." No matter what road you take, the path always leads to what is unique and culturally valuable in our coastal city – the people who live here, the homes they live in and, in Barker's case, the homes they help build for others.