A new model for selling homes faster and for more money is a proven technique at Custom Home Staging and Design
By CHRISTINE HENNESSEY Photos by KELLY STARBUCK PHOTOGRAPHY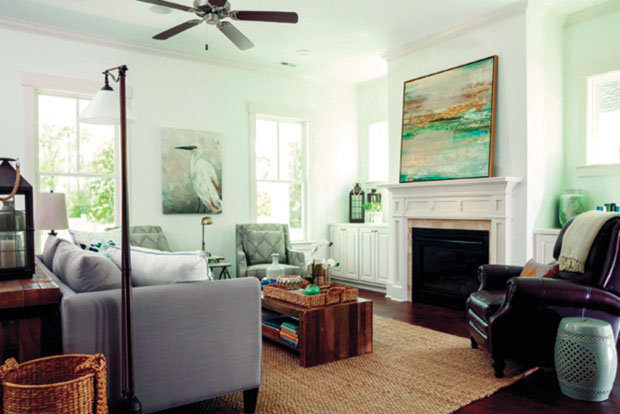 It's every homeowner's worst nightmare: a perfectly good house that just won't sell. Month after month it sits on the market, empty, bare, and increasingly expensive. Potential buyers walk through the rooms, but no one falls in love.
Mary Hannah Giebel, Director of Operations at Custom Home Staging and Design, has seen this scenario play out again and again, and she understands the problem. "It's hard to get a sense of a place when it's empty," she explains. "Furniture answers the questions every buyer has when they walk into a new space. It helps them understand how the home lives."
This idea—that staging a home is the fastest way to sell it—was the impetus for Giebel's business, which is also a sister company of Custom Home Furniture Galleries. After designing and selling furniture in Wilmington for the last fifteen years, the owners noticed they were getting more and more requests from realtors and builders looking for furniture to help sell their homes. They saw a need they could fill and hired Giebel to launch the new venture. "We started in January with the website and getting things going, then officially launched in March," Giebel says. "Since then the business has taken off—it's been amazing."
Striking a Balance
Staging a home isn't just about filling the space. A good designer has to strike a delicate balance—the home has to be neutral enough for mass appeal, but not so bland that it doesn't spark interest or excitement. Giebel explains that the right furniture can also distract from a home's flaws, turn a problem area into a unique and flattering feature, and make the house seem bigger by providing a reference point.
When working with a new client, Giebel begins the conversation with a one-hour consultation, during which she likes to walk through the home and get a feel for the neighborhood. "I'm very hands on with my clients," Giebel says. "I want to give them a clear idea of what I'm going to do." She then researches the pricing demographic of the home and others near it to ensure the furniture and accessories she chooses will reflect the quality of the home while increasing its value. "I like to take it a step further and give them a little 'wow' factor," she says. The process of actually staging the home is fairly quick. "We normally get it done in a day. If it's a full model or larger home it can take a little longer—maybe a day and a half."
Part of the reason Giebel is able to work so quickly is because of her connection to Custom Home Furniture Galleries. "We have an amazing selection of accessories and great quality of furniture at our fingertips," she explains. This allows her to stage homes at lower price points as well as in more upscale neighborhoods. "Nothing we use is second hand," she says, "and everything is either designed by Custom Home Furniture Galleries or ordered directly from our vendors."
The depth and breath of her resources also allows Giebel to design and stage homes in a variety of styles and trends. "We can go traditional, coastal, or modern, and we have a lot of transitional collections that can fit with multiple styles. Nothing is ever repeated, it's always fresh." They also offer de-cluttering and rearranging services, and can stage anything from a single room to a whole house. "Whatever will help sell the home, we'll do."
And the homes do sell. This is apparent when you look at Custom Home Staging and Design's record. Giebel says the homes she stages usually sell in less than a month, and for 6% more on average. "We staged a home in an upscale neighborhood that had been on the market for 7 months, and sold it in 19 days." For homeowners trying to sell their house, numbers like these are a dream come true.
A New Model
If you live anywhere in Wilmington, Leland, Southport, or Jacksonville, you're bound to notice the uptick in new construction and planned communities. In order to sell these homes and remain competitive in the marketplace, builders are also turning to Custom Home Staging and Design for help. Giebel says that when working with national builders, the process is similar. "I meet with builders ahead of time to ask questions, listen as they describe their ideal buyer, and talk about what people are asking for. We need to make sure we're catering to their target market."
Giebel recently staged a number of homes in Brunswick Forest, a beach community in Leland, North Carolina. Some of the homes were move-in ready, while others serve as models. Giebel's goals were the same in both situations. "We wanted to add value to the home and sell them as quickly as possible," she says.
The first step was capturing the imaginations of potential homebuyers. With so many choices available to them, Giebel knew hooking them early was key. This is why she places an interesting piece of furniture or a striking painting near the front door. "You see it as soon as you enter the home," she says. "It becomes an unfolding curiosity that draws people in."
Once inside, buyers are greeted with a clean, comfortable, and uncluttered space, one that feels full of possibility. "We designed the Brunswick Forest homes with a focus on making buyers feel welcomed and comfortable," she says. "Most of our homes have a little of that Pottery Barn feel, which people love." She achieved this look through neutral yet appealing furniture, with plenty of accessories for color. "We can go a little crazier with pillows, throws, rugs, and place settings," Giebel says. "Those pieces give us an opportunity to infuse the home with some life." Since Brunswick Forest is a beach community, Giebel focused on coastal colors, including navy, aqua, and turquoise. "Because of the area we live in, those colors are a safe yet fun choice."
Designing the Future
As Custom Home Staging and Design grows, they're looking beyond the home to other events and moments important in people's lives. "Recently we've begun working with wedding and event planners who need to rent furniture for their events. We've staged lounge areas, bridal suites, cigar lounges, and receptions," Giebel says. "It's a matter of creating a destination, whether it's indoors or outside. We recently did a bridal mixer at Wrightsville Manor with Wilmington Weddings, and people raved about what they saw."
It's easy to see why people are excited about Custom Home Staging and Design's services and skills. Giebel and her staff are proud to offer the people of Wilmington something they need—especially when it makes the selling and buying process a little less painful and a lot more beautiful.
"I love design and I love helping people, so this is the perfect job for me," Giebel says. "Each house is a fresh canvas." 910-399-4017, customhomestaginganddesign.com