A Hidden Gem No More 
04 Jul 2023
The Sorrow Drowner is an immersive tiki-noir bar experience you can't miss
By Carin Hall » Photos G. Frank Hart
I finally got the chance to visit a place that's been on my bucket list since moving here last fall, and it did not disappoint. Since that night, I've asked nearly everyone I come across if they've been, yet received nothing but comments like "Come again?" or "Where is this place?" I posted a video to social media and received a few comments that read something like, "How have I lived here this long and not known about this place?" Believe me when I say I'm very disappointed to have to refer to it as "a hidden gem."
Perhaps the fact that it's on the corner of 10th and Dock Street, slightly off the overly trodden path of the downtown bar scene, has something to do with it. It's also faced some unique challenges since opening in 2019, from inconsistent crowds to difficulty finding suitable acts as performers for its stage shows and, of course, the pandemic.
"That's been unusual and challenging, but everyone who comes in loves it and leaves happy," says owner Alfred Brian Wheatley. "And that's made me very proud of it."
Even though tiki bars usually do well in other parts of the country, the Wilmington market has been harder to predict. Wheatley originally considered opening in another location, but ultimately decided to do it where he and his brother, Brandon, grew up—"somewhere that we love."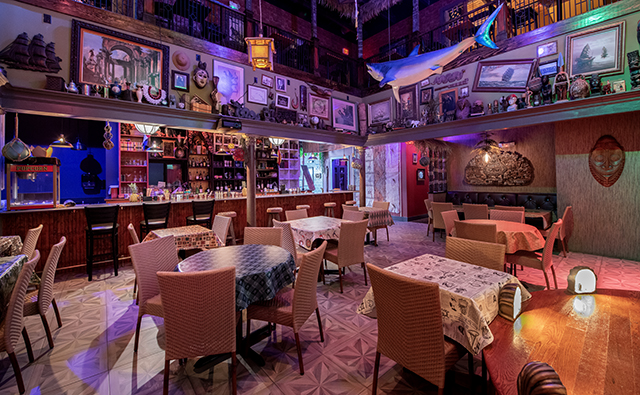 The inspiration behind it all stemmed from the brothers' desire to create a space that captured the spirit of adventure and enchantment. A nod to places like the Adventurers Club at Walt Disney World Resort and the Jekyll and Hyde Club in New York, they embarked on an ambitious endeavor to bring their concept to life. With the help of a generous offer from a family friend and designed by former Disney Imagineer Brandon Kleyla (aka Trader Brandon), they were able to realize their dream.
Upon entry, patrons are invited to get lost in the story, and walk the two levels to discover old paintings, books and artifacts (including a shrunken head or two). Expect some quirky musings from the wait staff, acting out the tale of a secretive history of their explorers' club, The Lemurian Institute. Drowning their sorrows while the directors are out adventuring, these folks keep the Institute running. (This is all fictional for those who needed the clarification, including my husband who I pleaded with not to ask our server if the shrunken heads were real).
As if the ambiance isn't enough, the menu is surprisingly exceptional, including some shareable plates and pupu platters. Wheatly prioritized the quality of food from the start, bringing on Chef Al DeVane from Carolina Son BBQ who, according to Wheatly, has been a "godsend." The drinks were also meticulously crafted mostly by Wheatley and his wife, Bunny, who spent years perfecting the recipes.
On select evenings, the stage comes alive with a vaudeville-style revue featuring a variety of acts as well as an interactive cast of wandering comedic characters. The burlesque shows are particularly popular and always sell out.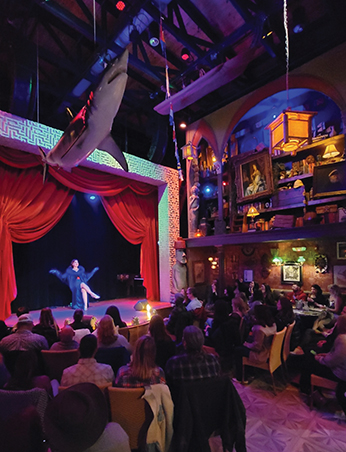 Considering the ups and downs over the years, including a temporary 10-week shut down due to a refrigeration mechanical issue, Wheatley has spent a lot of time contemplating exactly what's working for the location and what's not. The good news is they're now in a position of needing to bring on new staff and are always on the lookout for talent (who don't also mind serving and interacting with guests).
"I'm moving a lot of our talent in-house to ensure more reliable entertainment for patrons," says Wheatley. That includes a comedian and burlesque performer as part of the wait staff, and a house band, VibeXotica, playing every Friday and Saturday night.
They've also added movie and trivia nights that—with 13+ hours (before 8 pm) and 18+ evenings—offer a younger crowd and families more options for things to do in the downtown area.
But honestly, the whole place is a vibe just on its own and is well worth a visit regardless of featured acts or events. The food and drinks are spot on, and it's a great place to roam and talk amongst friends or to enjoy a date night. It's certainly one of the most memorable spots I've found in Wilmington. But for the perfectionist that Wheatley is, it will probably always keep evolving and improving.
"This place has been my entire life for the last four years," he says. "No place will ever be perfect or complete to me, but this comes pretty close."