A House Becomes A Home
22 Jul 2015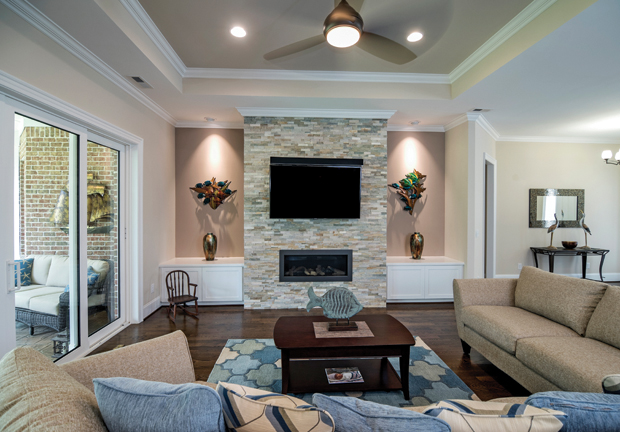 By JOHN CHAMBERS » Photos by G. FRANK HART
Over the course of 40 years the Sweetwoods learned to love the Carolinas one week at a time. Family vacations gave way to college campus visits and frequent trips to the mountains of South Carolina where their daughter attended Clemson University.
"Our daughter met her husband to be at Clemson," says Jim Sweetwood. "He's an engineer and a surfer and as graduation approached, he studied the East coast. That's when he found Wilmington and learned the area was a top surf spot, so they headed this way."
When Jim and his wife, Marianne, came to the Port City for a visit, they knew it was time to trade Ohio for the North Carolina Coast.
"After we decided to make this our home, it was just a matter of finding the right location.
They took time to explore, really looking at where to live and seeking the right blend of neighborhood and view, activities and amenities, and found Porters Neck Plantation. Marianne, the retired elementary school principal, and Jim, the semi-retired business software consultant, found their place.
"It was exactly what we were looking for."
When moving to a new area, especially when relocating from afar, as so many do when they come to our slice of the coast, several challenges arise. The first is location, a problem easily solved by the Sweetwoods' trips to visit family and their own research (plus the insight of their daughter and son-in-law). The second is rent or own, and the Sweetwoods knew they wanted to own. Then it's new construction or existing house, and they wanted something new, something that was wholly their own. Finally, it was the matter of buying a lot and selecting a builder.
Like so many others, the Sweetwoods rented a house and took their time in selecting a lot, finding what Marianne called "the perfect lot for us" with "spectacular [golf] course and lake views."
"When we picked the lot, we found that it was owned by Charter Building Group and we needed to build on it within two years. That made the choice pretty easy," Jim says. But it was a big decision and they had to think about it. "We knew Charter had built many homes in this area and in talking to some of these owners, they were very pleased with the process and results. So that did it."
The Sweetwoods bought the lot and began the process of selecting a home design to fit both the space and their lifestyle. Since Charter Building Group has built over 400 homes in Porters Neck Plantation, they have a keen eye for what works within the neighborhood and what works on clients' lots. As a "portfolio builder," Charter has a portfolio of home plans at their disposal; when new owners settle on a plan, they customize from there and walk away with a brand new turnkey home.
"We have a very large portfolio that we update based on market trends," says Holly Overton, New Home Specialist with Charter Building Group. "Currently, there's a large demand for one-level open floor plans like the Sweetwaters' new home. Their home, a customized version of one of our most popular floor plans, The Somerset, is an open-concept plan with that one-level living and spacious outdoor living areas."
With portfolio builders like Charter Building Group, clients receive a mix of value and the personal touch that makes a house a home. How it works is this. Charter offers a published price for their floor plans (including materials, finishes, appliances, fixtures, etc.). Clients choose from a set of blueprints to build as printed or they may customize a plan to fit their personal preference. According to Overton, there are many gradations of the custom/semi-custom home, but Charter works with clients to provide them with the maximum flexibility in architectural design and product selections. A designer works with the homeowners to select interior and exterior finishes and to help incorporate the homeowners' ideas into the finished product, making that desired concept into a brick and mortar reality.
Home building is a competitive industry and many builders try to cut corners in terms of design, materials, build, and finishes, delivering a product that almost, but not quite, matches the new owners' expectations, though the builder in question did come in with the lowest bid. That's not the case with Charter, where Overton says "it's not always about the lowest bid, we know quality and dependability are equally important to price."
Richard Donaldson, Project Manager and Founder of Charter Building Group (and Overton's father), says, "We strive to take our client design ideas and manifest these wishes into a home that is both attractive and functional while staying within their budget."
And they succeed.
He continues, "The classic look and resale value of the homes we built 20 years ago proves that Charter Building Group's design and construction quality make our homes a great investment."
It was comments like this, from homeowners and their builder, which helped the Sweetwoods select Charter.
"This wasn't the first house we've built, so we had a pretty fair idea of what we wanted. Over several meetings with Holly, we were able to choose a plan that matched our lifestyle and lot. Then we hammered out the final design," Jim says. "Marianne and I love houses, so we enjoyed the design part of the process. Holly was especially patient with us as we explored different options and ideas."
Many of those options and ideas made it into the final design.
"We always had very traditional homes and we decided that this time around we wanted a more transitional look, maybe even with a nod to the contemporary," he says. To that end, they replaced the traditional mantled fireplace and bookshelves with a ribbon fireplace and niches on either side. "On Houzz.com we saw a design using a muted multi-colored stone for the fireplace wall and we went with that."
That same stone on the fireplace wall made its way into the kitchen where it serves as the much-complimented backsplash.
The Sweetwoods moved the laundry room to be closer to the master suite and closets. Although this isn't the case on the standard plan, the Sweetwoods "brainstormed with Holly and Richard until we worked it out. Since we've been living in the house, we've realized how well this change works for us."
And one more change: retirement. "Since we retired, we don't need that office we've always had in the past, but we still needed some sort of work area. We decided to modify the bay window onto the porch to create a window seat with bookshelves on one end and storage below. We had a custom table built for the window seat and that now serves as our desk/game table/casual dining area. We spend a lot of time there."
Speaking of where the Sweetwoods spend a lot of time in their new home, Marianne's favorite space is the kitchen, with its generous island and openness to the rest of the main living area; Jim's is the back porch where he reports he "reads, dozes, watches the birds and golfers, and dozes." Though, in fairness, "we both love to sit on the porch in the evening and share a glass of wine."
As favorite as those favorite spaces may be, the best part of their new home is having a space ideal for family gatherings. With both of their children and their spouses and their 16-month old grandson—who, Jim reports, loves putting his "stamp" all over the house—in the area, family gatherings have been the real joy.
Resources
Charter Building Group, 910-769-2440, charterbuildinggroup.com
Quote: "We always had very traditional homes and we decided that this time around we wanted a more transitional look, maybe even with a nod to the contemporary."
Tag1: (top) Modified bay window with custom table for dining or card games. (below) Front elevation.
Tag2: (below) Dining room with built in bar area. (bottom) Marianne and Jim Sweetwood.
Tag3: The master bedroom offers great views of the golf course and the master bath is large and comfortable.