A Little Bit of Ireland
03 May 2022
A cherished homeland inspires a stunning Gothic manor

By Lori Wilson » Photos by G. Frank Hart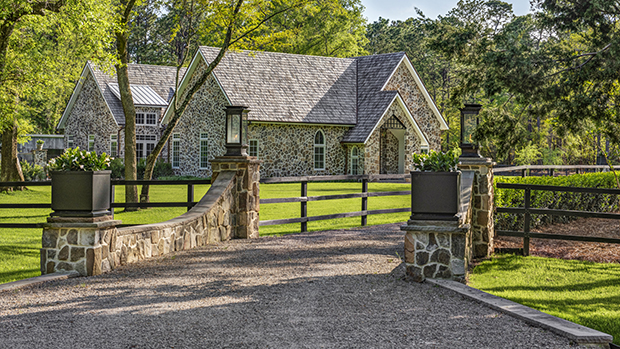 Nestled on nearly four acres of perfectly kept green grass sits a bold structure that looks as if it's been there for many lifetimes. And that's the exact vision owner Colin Gray wanted for his newly built house.

Four decades ago, Gray moved to the United States from his home country of Ireland to continue his soccer career. His house off Greenville Loop Road is a tribute to the small Irish town where he grew up – specifically, the church where the body of his grandfather rests and where his siblings were married.

This church in Barrowhouse, Ireland, of County Laois, dubs itself a "chapel of ease," or a building built as an accessory to the main parish church, as a space more accessible to country parishioners. For Gray, his new home is just that – one of ease and peace, the place of his dreams.

"Sometimes I wake up in the morning and pinch myself to make sure this is real," Gray says.

As a soccer player, he spent many of his early stateside years in Massachusetts, Rhode Island and eventually New York, where he also gained experience redesigning other homes of his – a process Gray enjoyed as an artistic endeavor. After retiring from the soccer world, Gray transferred careers and began a pharmaceutical company of which he is President and CEO. Pharmgate is a part of the pharmaceutical and medicine manufacturing industry focused on livestock and poultry, and seven years ago Gray relocated his corporate office to Wilmington.

"I visited Wilmington on recommendation of one my employees," Gray explains. "And I fell in love."

Before finding what would become his little slice of Irish-like heaven, Gray lived in both Landfall and Autumn Hall, however the neighborhoods didn't suit his deepest desires.

"I spent a lot of time just driving around trying to find something," Gray shares.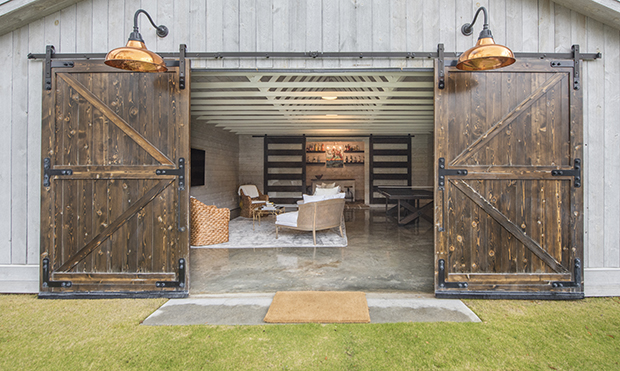 In 2020, the perfect plot of land appeared. It had a house on it that at first Gray considered adapting to his own needs and vision, but then the Irishman's desire for the roots of his homeland spurred him in another direction, and his creativity began to flow. This multi-faceted man began sketching his future home's layout in an Excel spreadsheet, which designated all living spaces be designed around what is now the pool courtyard. With cathedral windows and the stone of his boyhood church, did he also sketch the family horses now visible through every windowpane throughout the finished house? With the drawings of his Ireland-inspired homestead in hand, enter builder Jason Gannon of Gannon Building Group.

"He had told me he wanted it to look like it'd been there 100 years and it just appeared out of the ground, like a gift from times long gone," builder Gannon says of Gray's vision.

As a small, boutique building company, Gannon appreciates custom requests like Gray's, even when they present challenges, such as ensuring that every room, even the linen closets, have 14-foot ceilings.

"That's the difference between building something cookie-cutter and really custom, so custom that no one else has it," Gannon says. "This was his [Gray's] idea from the start, from the stone on the outside to the high ceilings."

The exterior walls, from bottom to top – perhaps the most stunning feature of the whole structure – are fashioned with old quarry rock from both Tennessee and Pennsylvania. Each stone is a masterpiece of its own. The cedar shake roof, while already popular in coastal areas of southeastern North Carolina, is also typical of classical buildings in Ireland.

The windows of the main living areas are all lancet in shape, typical of Gothic church styles that allow for natural light to beam indoors and languidly stretch across the repurposed wooden floors. The large panes also provide stunning views of his green pastures, which is home to his two horses, Starburst and Chief, and the donkey, Smartie, who, thanks to Gray, are enjoying their senior years grazing in the meadows that his brother T.J. proudly manicures.

"Gothic churches often had courtyards, a safe place of reverence and prayer where tranquility and serenity were of utmost importance. The creation of this feeling was paramount in the design of the house," he explains.

In Gray's case, the serene courtyard features a saltwater pool and lounging area, Roman-Gothic style statues, and a stone privacy wall built from the same rock as the house. Copper gutters outlining the stone keep the construction feeling authentic and mature.

While some trees on the property had to be removed to create pastures for the horses and donkey, Gray has worked closely with Santiago Landscaping to bring new growth to the land.

"I would spend many evenings in the company of my two dogs and a rum and coke just sitting in communion with the in-process house and the land allowing them to speak to me. Design, for me, is a collaborative process encompassing design, emotion, and reality," he says.

After 40 years making his living in the U.S., such ruminations helped Gray finally create a familiar home for himself – newly built with an original design yet oozing the tranquil calm Gray longed for that he once felt as an altar boy in his home church, and the peace he always found spending time with horses and dogs in nature.

While the exterior of Gray's house could be described as ornate, beginning with the custom-made 10-foot double-door grand entrance, the interior remains bold, yet with a more minimalist, almost monastic approach.

The kitchen, living room, and dining room encompass one large seamless space, the high ceilings optimizing the supreme acoustic conditions for the music that he plays frequently.

"Music is the voice of the angels," Gray says with feeling.

This Irishman's passion for horses also appears throughout the house in large portraits, lighted in gallery fashion, of wild horses from Sable Island, Nova Scotia, taken by one of his favorite photographers, Drew Doggett. Gray once owned racehorses that competed in Ireland and throughout the United Kingdom but now just tends to Starburst and Chief, both rescues.

He designed the paneling and modeling of the entry hallway to frame his most loved photographs. The laundry and the "dog room" off the hallway feature Dutch-style stable doors. Fully equipped with bath stations and sleeping cubbies, the dog room is more like a canine playroom for his two pups and their friends (in case Gray's admiration of animals wasn't yet clear).

Gray has managed to flawlessly display his passions in a space that otherwise features mostly modern, minimalist furnishings and finishes. His use of reclaimed materials gives the interior a warm yet sophisticated vibe.

The real masonry fireplace, a replica of one in a French chateau, includes fire brick recovered from an antiquated building in Boston. Reclaimed mixed wood flooring from a Tennessee tobacco factory is the handsome foundation of all the main living spaces and three bedrooms.

While shades of gray and white color the house throughout, the occasional deep blues and use of gold flourishes add depth, such as the sizable kitchen mirror, given a brass-like, antique finish, acting as a focal-point backsplash for the oven and range. In the kitchen prep room and galley pantry, blues arrive in the form of intricate mosaic-style tile squares.

Other striking tile designs were installed in the bathrooms, in which none of the finishes are the same – from marble rectangles to hexagonal patterns to a tile that mimics the shape of gingko flower petals. The walk-in shower of the master suite, complete with four shower nozzles, boasts impressive marble sheets that nearly reach the ceiling.

Also unique to each room are the chandeliers – many featuring gold or glass while others feature macrame-type shades and sea glass. These light fixtures add up to a total of 22 unique chandeliers in the 3,348 square foot home.

While the bedrooms – all accessible to the pool courtyard – each bring special characteristics to the home, Gray maintains his minimalist approach by ensuring all decor serves a purpose. Even the antique tractor seat gifted by one of his daughters was cleverly refinished to double as a sort-of kitchen countertop basket.

Gray's dream home would not be complete without the detached garage turned "pub" space, ideal for entertaining.

To achieve his Irish aspirations, the original home on the four-acre lot was demolished. However, the bones of the two-car garage remain the only structure to stay from the original blueprint, with newly attached horse stables and a feed shed. Here, Gray incorporated existing elements, when possible. For example, he simply refinished the concrete floor, on which party games are played, and he repurposed the former owner's workshop table to create a one-of-a-kind bar.

Indeed, a very special piece lives on from the prior owners. The couple whose home it was had maintained a "prayer walk" on the land where, today, Gray's horses can often be found resting. Gray used the stones from the husband's prayer walk trail to create the floor of his bar, where he has shared several special nights with family and friends. Here, Gray even designed proper pub seats that resemble a picture-perfect nook of a small-town Irish pub.

He and Gannon continued the reclaimed flavor in the interior and exterior of this accessory dwelling. In fact, Gray and his brother purposefully weathered metal corrugated sheets for a rustic look on the walls. They also used reclaimed barnwood on the inside and out.

"When we started putting the siding on there, my guys were taking out all the pieces with knots and cracks," Gannon shares with a laugh. "My guys thought they were taking the pieces they thought were bad, but Colin said 'no, no, use those first!' "

After all, this homeowner with an old soul did say he wanted it to look like "it'd been there forever." And perhaps for "forever" this will be Gray's home, one that will always echo his beloved Irish roots.