Lunching Like a Local
03 May 2022
Where to find the best midday munchies

By Fanny Slater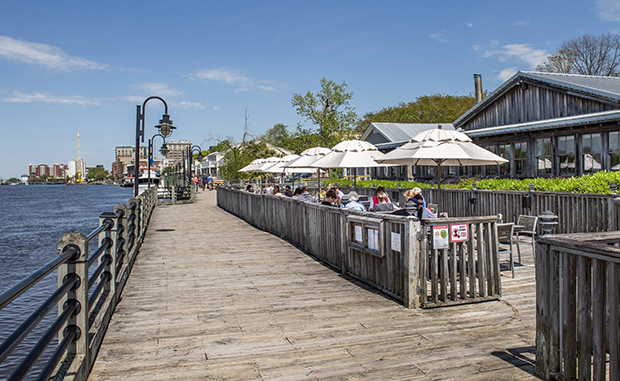 With the masses working from home the past two years, it's no surprise that many rely on reheated leftovers at lunchtime. And while there's nothing wrong with brown-bagging it, we could all use a little motivation to renew our passion for those noontime nibbles once again. So if the idea of perking up your lunch hour is music to your ears (and belly), you've landed on the right page. From beautifully bitter beer cheese-drenched fries to Parisian-inspired tuna tartare with capers, Wilmington is a melting pot of glorious midday goodies. Here's where to turn when that hunger pang strikes.

Lovey's Natural Food & Café
910-509-0331, loveysmarket.com
Start by sifting through Lovey's premium beauty products and supplements, then make your way to the café's hot and cold bars to create a marvelous mishmash that fits your taste buds like a glove. This independently-owned natural foods store perpetually keeps a vibrant collection of cold salads (like the ever-popular, oh-so-garlicky spinach Caesar) and hot items on deck — all suited to special dietary needs like gluten-free, vegan, and beyond. If buffet-style isn't your jam, scope out the deli's delicious, made-to-order menu or hit the prepared foods case for stellar grab-and-go tidbits like the best tuna salad wrap you'll ever have. For those on a liquid diet, Lovey's juice bar offers smoothies and healthy fresh-pressed refreshments.

Pilot House
910-343-0200, pilothouserest.com
Coastal comfort food with a Lowcountry flair is the name of the game at this downtown legend. Since 1978, Pilot House has been enchanting locals and tourists with their versatile cuisine spiked with Cajun flavor. Every dish has a down-home feel which matches the historic ambience of the dining room. Planted smack dab on the riverwalk, Pilot House's people-watching patio has always been part of its charm (and makes for a lively lunch hour). Midday menu prices are reasonable at this outdoor oasis, and the lush crab melt on griddled sourdough and crab cake sammy with tangy beurre blanc are top choices.

Elijah's
910-343-1448, elijahs.com
Another Wilmington seafood haven whose backdrop is the Cape Fear River, Elijah's has been making headlines (and customers happy) for decades. Ravenous patrons in search of some afternoon refreshments with a side of waterfront views always land at this spot on the south end of the riverwalk — and it's easy to see why. Popular handhelds include the grilled salmon BLT on a yeasty pretzel roll, while entrees like blackened mahi over linguine with silky alfredo sauce helped put this place on the map. If the weather is iffy, head inside and enjoy the array of remaining relics — paintings, ship models, and nautical artifacts—from when Elijah's was a maritime museum.

Brasserie Du Soleil
910-256-2226, brasseriedusoleil.com
Lingering over a long lunch is about as European as it gets, and Brasserie Du Soleil is Lumina Station's answer for the question: how do you flaunt your best impression of that laidback lifestyle? The elegant café offers a treasure trove of French fare, and settling into the airy courtyard makes the saffron-scented mussels taste that much sweeter. Thanks to ingredients like poached pears, seared tuna, and crispy potatoes, Brasserie's "create your own salad" section takes everything into far more elevated territory than one might expect. You'll be hard pressed to find a table that isn't sporting an overflowing crock of caramelized, umami-rich onion soup with croutons and nutty gruyere.

Famous Toastery
910-256-7030, famoustoastery.com
Tucked away near Airlie Gardens, this brunch venue keeps its doors open 'til 2 PM every day. So while FT's claims to fame may be breakfast-y bites like biscuits and gravy, afternoon eats are fully accessible at this Carolina franchise. It's hard to beat the Harvest Wrap with artichoke hearts, roasted veggies, tangy goat cheese, and quinoa in a lemon-garlic dressing — but the blackened Southwestern Burger with pepper jack and jalapenos is a spice-lover's dream. If you're a first timer, don't let the rotating staff confuse you. FT's signature "every server is your server" concept means that sweet tea refills and extra sides of ranch never go forgotten.

Tequila Comida & Cantina
910-399-1643, tequilacc.com
As a self-proclaimed chips and queso expert, I'm here to tell you that Tequila Comida is the real deal. Traditional flavors meet unconventional dishes in this kitchen, and it's impossible to not melt over their humble homemade tortillas. Owners (and siblings) Ramon and Miguel Villaseñor were already bona fide Wilmington heroes for their authentic Mexican gem Los Portales, so a hefty fan following was expected. They gained instant regulars in us all, however, when we realized that the lunch menu delivered many of the same exquisitely scratch-made fare as dinner, but with a lower price tag. Pair the smoky Mole Poblano with juicy chicken (for under 10 dollars) with one of their adventurous cocktails like the Tequipiña Colada with coconut tequila, pineapple juice, and vanilla gelato.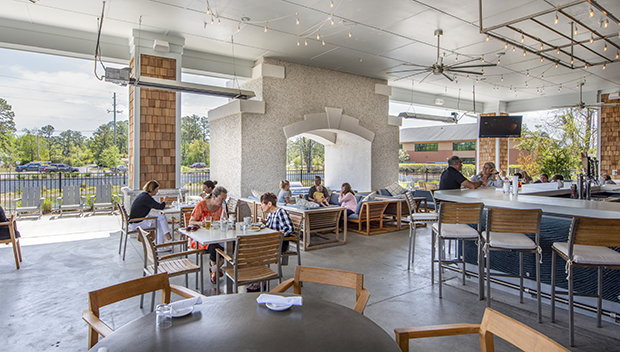 Blue Surf Café
910-523-5362, bluesurfcafe.com
Marry root beer floats, a novel lineup of handhelds, and starters like crispy chips teeming with parmesan, cilantro, and lime — and you've got Blue Surf Café. This celebrated coastal hub is known for their all-day hours and inventive twists on coastal cuisine. They rock counter-service only, which means that if time is of the essence — you've come to the right place. The "Good Afternoon" menu is packed with impressive sandwiches, salads, and wraps and there's something for everyone. If you're laying off the meat, the black bean burger with chimichurri mayo and roasted tomato vinaigrette is legit. On the other end of that spectrum, the meatloaf (infused with fragrant basil and sweet brown sugar) on brioche with spicy mayo and house ketchup is a can't-miss.

RuckerJohns
910-452-1212, ruckerjohns.com
The cozy dining room in this North Carolina family-friendly fav is habitually buzzing with guests anxiously eyeing the mounds of greens at the next table. The specialty salads are all the rage at RuckerJohns (well, and those sinfully flaky honey-butter croissants), but there's plenty more to enjoy like flatbreads, burgers, and southern staples like lump crab cakes and crispy shrimp platters. If you're looking to cash in your carbs at this classic American eatery, you'll want to land on the "Oodles of Noodles" section for mouthwatering items like chargrilled chicken penne bursting with Cajun spice, roasted red peppers, and creamy alfredo sauce.

Havana's
910-458-2822, havanasrestaurant.com
Walking distance from the Carolina Beach boardwalk, Havana's is a heavenly lunch paradise where the jerk chicken skewers have the perfect amount of heat and the clam chowder should be charging extra for an autograph. The kitchen sources local ingredients as much as possible and keeps dietary needs in mind with choices like lemony riced cauliflower tabouli with fresh herbs. Seafood lovers marvel over the blackened mahi tacos with sesame ginger vinaigrette and sriracha aioli, while gimmicky offerings like the Redneck Cuban with vinegary Carolina BBQ and honey mustard is a hit with the natives.

JohnnyLuke's Kitchen Bar
910-769-1798, johnnylukeskb.com
From the sweeping selection of beer taps to the quirky New American pub grub that always lands rave reviews, this two-story Market Street bar and restaurant is one-of-a-kind. Head to JohnnyLuke's lower level on a rainy afternoon to enjoy some quiet time with your gooey, golden-brown baked brie with jalapeno berry jam, or join the party on the upstairs deck to see why the al fresco dining receives plenty of nods from the public. Hearty, open-faced meatballs subs, grilled fish tacos, and a smothered buffalo chicken flatbread round out the menu.

Rooster & The Crow
910-399-4780, roosterandthecrow.com
Go for the bacon jam-covered fried green tomatoes, but stay for the juiciest fried chicken you'll ever wrap your fingers around. Branded for colossal portions at reasonable prices, Rooster & The Crow was a welcome addition to the Chandler's Wharf's dining scene in 2019. The pet-friendly patio just off the riverwalk is a hotbed for socializing and chowing down on some seriously good southern food. The Port City Hot Chicken Sandwich with "Nashville style" hot sauce, slaw, and pickles is the worth every bead of sweat.

CheeseSmith
910-399-3253, cheesesmithco.com
Remember the days when you had to chase down this grilled cheese truck before they took off with your buffalo baby? Me too. When Molly and Brendan Curnyn decided to turn their mobile eatery into a brick-and-mortar building (sufficiently stocked with beverages of all kind), you could hear all of Wilmington rejoice. Today, CheeseSmith is permanently "parked" in the Cargo District and is a magnet for hungry mouths. I clearly have an attachment to the buffalo chicken variation (armed with life-changing buttermilk ranch and pickled slaw), but the Brendito with bacon, pepper jam, and cream cheese is a close second. Share beer cheese fries on the sunlit patio while scrolling through their drool-worthy Instagram.

Mess Hall
910-604-4927, messhallilm.com
If the words "Scott's tots" don't mean anything to you, drop everything you're doing and get to Mess Hall. Another Cargo District hot spot (affixed to Alcove Beer Garden for the best of both worlds), this burger outpost came with a simple concept and has been nailing it every step of the way. Mess Hall's expertly narrow menu showcases beef-centric smash burgers and superb chicken tendies, but don't get it twisted—the vegan offering is just as much of a showstopper. For those who crave something familiar, the Old Fashioned with onion straws and secret sauce is the way to go. The McWhat? is not exactly what you think (see: tenders, tomatoes, and a single patty between potato buns), but it's still worth getting messy for.


Seaview Crab Company Kitchen
seaviewcrabcompany.com
SCC has been one of Wilmington's most quintessential seafood markets since 2006. So when they opened their dine-in kitchen, loyal customers flocked from near and far to see what Chef Brandon Stark had in store for them. Owners Joe, Sam and Nathan always had high hopes for a one-stop shop that dazzled with prepared deli items, and their dreams came to fruition two years ago. Expect chef-inspired seafood dishes like gorgeous salads, thoughtfully-crafted tacos, and po' boys with five-star quality. You can't beat the lunch box specials — like an indisputably fresh fish sandwich that comes with a homemade side and a drink for around 10 bucks.

True Blue Butcher and Barrel
910-769-7010, wearetrueblue.com
The more informal sister restaurant to True Blue Butcher and Table, this spin-off from Chef Bobby Zimmerman presents as a lunch-friendly operation. Situated in the trendy South Front District, Butcher and Barrel still skews in the direction of its roots by boasting a butcher shop and selection of high-quality meats — but has also found its own voice. The spirited vibe (seriously, the liquor options are extensive) on the open-air patio is contagious, and regulars of the new location are loving playful menu options like the pork belly buns with ginger scallion sauce and pungent kimchee salad. Burgers are a must-try.