Above and Beyond
06 Jul 2016
From meticulous woodwork to large, bold fabric patterns, these interior design mavericks ensure your next project with be fabulous and fun
By JESSICA SMITH and DEAN BLAIN
Photos by KELLY STARBUCK PHOTOGRAPHY and MARK STEELMAN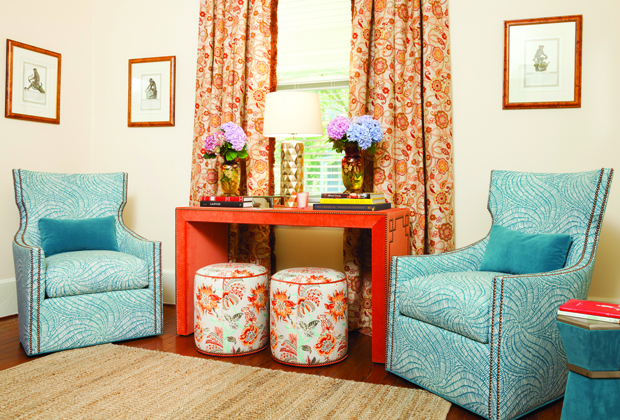 Jennifer Kraner and Lauren Brown
Big Sky Design
910-793-3992
bigskydesignonline.com
By DEAN BLAIN
Photos by MARK STEELMAN
When Jennifer Kraner and Lauren Brown of Big Sky Design were contracted to provide interior design for the Porters Neck Country Club, what they found was a very traditional design. It had an old plantation feel, Big Sky owner Kraner said, lots of dark greens, deep reds and golds. It had that classic country club motif.
The club wanted to open up the space, make it lighter, more in step with the times. They realized they needed help. "We were looking for someone who had experience with a club," said country club General Manager Marc Tingle.
Big Sky had previously designed the Bald Head Island clubhouse. The firm has also completed a number of hotel projects. They were highly recommended.
The project came with one caveat. It had to be complete in time for the spring wedding season. The country club books a lot of weddings. That gave Big Sky just four months to finish the entire project. Normally they would have six to seven months for a job of this scope, since they typically spend about six weeks nailing down just the paint colors.
Big Sky got to work selecting carpeting, lighting, new furnishings, window treatments and paint colors. From floor to ceiling they changed everything.
All ideas had to go through a committee of country club members, which meant coordinating many schedules and meeting many different expectations. "Big Sky did an excellent job of putting together quality selections for the committee to choose from," General Manager Tingle said.
"We are a collaborative design firm and it was a collaborative project," Kraner said. "It was a really great fit for us. It is fun when people come and bring designs of their own."
With Big Sky's guidance the committee settled on whites and creams to open the space up. The color came in the form of indigo and varying shades of blue. They reupholstered the two existing lounge chairs in the lobby and re-carpeted throughout.
"In the ballroom is where we were really able to have some fun," Brown said. They designed the carpet in creamy tan with a large scale blue floral print. "Rather than having fifty small repeats of the floral pattern," Brown said, "instead it's about six large floral patterns across the room." They softened the room by switching out all the gold fixtures with champagne-colored fixtures. The walls and the drapery treatments are a neutral color to make the space feel more open. The idea was to have all eyes gravitate to the bold floor pattern. "The carpet is the showpiece," Brown added.
The club couldn't agree more. "Our members love the outcome," Tingle said.
Style Tip
"If you're trying to lighten a space," Kraner said, "you need to take everything into consideration, all surfaces and elements." And finally..."Don't be afraid of large patterns," Brown added. That was the most important element in this design.
---

Nancy Mullineaux
Dezign Inspirations / Home Design Resource
910-256-5644
dezigninspirations.com
Dezign Inspirations, a full-service interior design firm, offers a unique blend of services for both residential and commercial interiors. Run by owner Nancy Mullineaux, the business includes a full-scale design resource showroom that serves as a one-stop shop for clients who are building, remodeling or designing a home.
The showroom gathers everything that might be needed under one roof. "People don't have to run all over town looking for tile, furniture, flooring and granite, trying to pull every detail together independently," said Mullineaux. With over thirty years of experience, Mullineaux enjoys helping clients transform their dreams into reality by offering inspirational design concepts for every style and budget.
Mullineaux has made a specialty of working with clients from the ground up, beginning with the blueprints. For one recent project, a new home built by Wilsey Custom Homes Inc. for Charles and Lisa Alfano, Mullineaux partnered with her clients for over a year to create a home that reflected their lifestyle and personality.
Located in St. James Plantation, the home backs up to a nature preserve, and her clients value a connection with the land and surrounding environment. "For a lot of people who move to our area, a new home is an opportunity to update their look. Clients tend to want a more comfortable, more informal design, with furniture and colors indicative of the coastline," said Mullineaux.
To select the furniture, the designer took the Alfanos to shop at the High Point furniture market, which offers a vast selection of home goods. They fell in love with a cream fabric embellished with bold, seaglass-aqua and brown spirals, evocative of crashing waves. Mullineaux upholstered a chair, ottoman and accent pillows with the find, and the fabric became the basis for one of the home's color palettes.
"That seaglass color is so fresh, with a zen-like feeling reminiscent of the ocean," said Mullineaux. The designer paired the rich sheen of the inspiration print with the neutral tweed of the sofa, adding a masculine element to the room with a sleek brown leather chair.
A seafoam area rug draws out the room's blue-green tones, and the print's oceanic swirls are echoed in the sinuous lines throughout the room. "I love to bring the unexpected to a space, as it's those distinctive special touches that make a design exceptional, similar to how the perfect necklace and earrings make an outfit," said Mullineaux.
In the kitchen, the client selected an exotic, multi-colored white granite for the countertops, with reflective undertones of seaglass and taupe. Mullineaux chose a natural pewter glaze to accentuate the details of the cabinetry and complement the colors of the marble backsplash. "In all my designs, I feel it's important to consider all the details of the room so that each element sings together like a symphony," she said.
By using a common denominator—whether it be a material, a color or a repeating fabric— to pull the eye from room to room, Mullineaux strives to create a unifying flow in every home she designs. In the St. James Plantation home, all the paint colors were selected to coordinate with every aspect of the adjacent rooms, including fabrics, flooring, bedding and tile.
"If you're building a custom home, hiring a designer who has the expertise to consider every visual element will help you avoid costly mistakes," said Mullineaux. The designer carefully ensures that each detail harmonizes with its adjoining areas, considering such subtleties as pairing the whites, cool grays and blues of the fabrics, cabinets and furniture with a complimentary nickel finish or metal fixtures.
"When everything is installed and I'm setting up final touches like furniture, accessories and window treatments, that's the most gratifying time," said Mullineaux. "After months of work, seeing the look of excitement, wonder and pure satisfaction on my clients' faces is very rewarding."
Style Tips
If your home is fully or partially carpeted, consider ripping out your old carpeting and laying wood flooring throughout. "Having a unified floor treatment creates a natural flow from room to room," said Mullineaux. "To emphasize the different personality of each space, accentuate with area rugs."
Paint your ceilings the same color as the walls. "White ceilings cut off a room," said Mullineaux. "Painting your ceilings the same light, fresh color as your walls makes your crown molding pop, and the entire room feels homier, brighter and more expansive."
Try using more stain-resistant outdoor fabrics indoors, particularly if you have dogs, children or grandchildren.
---
Debby Gomulka
Debby Gomulka Designs
910-352-7339
debbygomulkadesigns.com
As the owner of her eponymous design business, Debby Gomulka has been designing interiors across the Southeast since 2000. Her projects range from one-room kitchen or bath makeovers to whole house historic renovations. Her business emphasizes the idea of eco-luxury, and she practices adaptive reuse with reclaimed materials whenever possible. The end result is the creation of a luxury experience that also encompasses principles of historic preservation.
One of her favorite recent projects was an elegant, Hamptons-inspired reading room featuring pops of savory persimmon. Gomulka's client spent summer vacations with her family in the Hamptons, and the design was meant to evoke those nostalgic schoolgirl days. The modern, clean lines of classic pieces blend seamlessly with more traditional elements, such as the patterned floral fabric covering the ottomans. The room is grounded by a cool turquoise color palette, warmed by twists of reds.
From the initial design meeting to final project installation, the process for the reading room took about eight weeks. "My client's love of bold, clean fabric designs, coupled with a Ralph Lauren/Tory Burch inspiration, gave me the vision for her dream room," said Gomulka. "The turquoise swivel chairs are the most comfortable chairs you have ever sat in! Between the contrasting velvet and the stunning nailhead trim, the attention to detail is amazing."
Unconventional finds, such as the velvet hexagon side table or the velvet console with custom, Greek key nailhead design, are a staple of her designs. "I love to create the wow factor," said Gomulka. "I pull from a wide variety of styles and architectural periods to deliver my client's desired vision for their home or business."
Listening is the first step in her design process. When she first meets with a new client, Gomulka brings her 'tool kit of inspiration' — consisting of fabric swatches, a fan of paint colors, inspirational photos and other design goodies — to jump-start the collaboration.
"Interesting stories always unfold in the initial phases of design, which is when you really get to know your client's personality," said Gomulka. "It's always an exciting process. Before you know it, the layers of design begin to take shape and soon a new room comes to life."
For Gomulka, understanding color psychology is key to practicing successful design. She works to uncover her client's positive and negative associations with particular colors before creating a custom color palette for the project. "Like a sponge, I enjoy absorbing my clients' dreams for their home and then helping to create that magic," said Gomulka.
By engaging her clients in the design process, Gomulka helps them discover their own sense of style. "Watching my clients experience so much happiness in their newly designed space is very fulfilling to me."
Style Tips
Comfortable and sensational upholstery is a must. After that initial investment, Gomulka advises updating your lighting for a quick and easy style injection.
Depending on your preferences, accessories, rugs, lighting and window treatments all offer opportunities for glamour. Devising a well-planned budget at the beginning of the design process provides the opportunity to decide which pieces will serve as your anchoring showstopper. "Fabulous accessories are the icing on the cake," said Gomulka. "My clients will splurge on that one special piece they've just got to have, the one which captures their vision of their dream room."
Change your color palette. "Sherwin-Williams has some wonderful buttery yellow hues that blend with so many patterns and contrasting hues," said Gomulka. "They also provide sparkle to a room when the lighting plan comes together!"
---

Renee Russo Smith
Nest Fine Gifts and Interiors
910-256-6378
nestfinegifts.com
Discerning shoppers in Wilmington are likely familiar with Nest Fine Gifts and Interiors, a home furnishings boutique in the Forum. Founded in April 2011, Nest offers comprehensive interior design services as well as unique furniture and accessories.
Renee Russo Smith, one of Nest's three in-house designers, has been practicing design for 18 years. Her California background influences her aesthetic, a blend of casual yet elegant refinement. "Good interior design makes people feel better. We not only create beautiful spaces, but we also make sure they are functional," said Russo Smith.
One of her recent projects, a vacation home in St. James Plantation, was featured in the 2015 Brunswick County Parade of Homes and was the recipient of the Diamond Award for Interior Design. Built by Signature Construction Group, the home features a gourmet kitchen with an open concept. Russo Smith collaborated with the Charlotte-based client for several months on the design, and was instrumental in picking the lighting fixtures, paint colors, cabinets, countertops and flooring.
During the collaborative process, Nest's retail boutique serves as a convenient meeting space, as designers can see which pieces their clients gravitate towards. Along with picking items from the store, clients can work with their designer to customize pieces through unique fabric choices.
"This design began when the client fell in love with a hand-painted, 72-inch round dining table," said Russo Smith. "We flanked it with upholstered captain's chairs, and added complimentary dining chairs to create an eclectic look. The hand-carved wood chandelier and custom area rug completed the room."
The client also loved the geometric-print club chairs in the living room, which set the tone for the rest of the furnishings. "We began with a neutral palette, pulling in lilac and beautiful pale blues as accent colors," said Russo Smith. "With the driftwood mirrored coffee table and jute rugs, the final vision is a sophisticated, clean coastal look — luxurious and modern, yet comfortable."
The house feels light and airy, and its open design is welcoming. "It was a pleasure to work with my client to create a stunning home that will be enjoyed by the family for years to come," said Russo Smith.
Style Tips
Don't be afraid to part with old furniture that you've had for a long time, advises Russo Smith. "The hardest thing for people to do is to pare down what they already have. If you're trying to work around a piece of furniture that you don't really love, and it's just serving as a placeholder — try removing it," said Russo Smith. "When you get rid of the elephant in the room, it frees you up to think clearly about how you want the space to flow and function."
On a similar note, don't be afraid to leave that space vacant until you find just the right piece. Try to avoid feeling rushed to make a purchase.
If your furniture is of good quality, consider simply recovering what you have. "If a client has high-quality furniture that is worn or dated, we can do wonders with new fabric," said Russo Smith. "If not, it might be time to go ahead and invest in a piece that will stand the test of time."
---
Gigi Sireyjol-Horsley and Judy Watford
Paysage Home
910-256-6050
paysage.com
At Paysage Home, a home furnishings gallery at Lumina Station, the emphasis is on classic, balanced design. Since 2004, the shop has offered carefully curated case goods and upholstered furniture to the public, alongside sumptuous accessories and eclectic lighting.
The business also offers interior design services for jobs both large and small. Owner and lead designer Gigi Sireyjol-Horsley and designer Judy Watford use their experience to interpret their clients' vision into a cohesive work of art. "While each room is an independent space, with its own colors, textures and patterns, the entire house should create a unified experience," said Sireyjol-Horsley.
When the designers first meet with a potential client, they listen carefully to how the individual discusses his or her ideal style. "We pick up on subtle clues to understand what colors, places, or visions create a spark. People exude so many emotions when they talk about their houses and family life," said Sireyjol-Horsley.
After the initial consultation, the designers go to the drawing board to create a presentation for the client. A room's design might begin with an inspiration piece, such as a beloved painting in the client's home, or with a concept, such as bringing the outdoors inside. "From there, the color palette falls together through fabrics, art, accessories and paint," said Watford.
The designers note that one key element of design is the art of understanding the emotions tied to our sensory experiences. "If a client took a trip that made them feel at peace, we might base our design around that environment or culture," said Sireyjol-Horsley.
Generally, the project progresses collaboratively, with the client and designer working hand-in-hand, but some clients give the designer free reign after the presentation. "The key is to find what is comfortable and to have open communication," said Watford.
"Some of our clients have a vision for their space before they meet with us, but many don't," added Sireyjol-Horsley. "What sets a great designer apart from a good designer is the ability to elevate those ideas to a realm that even the client couldn't have imagined."
Style Tips
If you love a piece, don't be afraid to refinish it – whether it's a worn old credenza or your kitchen cabinets. Sometimes, all it takes is a coat of paint or new upholstery to bring a piece back to life. "You don't have to discard the piece! A designer can help you find the right colors or fabric to make your furniture look completely different," said Sireyjol-Horsley.
Invest in your home by buying a few beautiful, classic, well-made pieces of furniture, such as a high-quality sectional or sofa. The designers note that great pieces can move from room to room and house to house. "Most of the time, something sensational isn't something trendy. You know that something is worth the money when you can't stop thinking about it," said Sireyjol-Horsley.
Keep evolving and honing your personal style. "Style doesn't have to fit in a box, or under the umbrella of one particular label," said Sireyjol-Horsley. Surrounding yourself with objects that you find beautiful and inspiring can recharge your spirit and boost your energy.
---
Samantha Nguyen
Samantha's Coastal Interiors
910-448-0381
After 34 years in the interior design business, Samantha Nguyen has done almost everything – from restaurant interiors to establishing a custom faux finish and wallpaper business. As owner of Samantha's Coastal Interiors since 2003, Nguyen enjoys working closely with her clients to improve their quality of life. "My job is to interpret who my clients are so that their house's interior is a reflection of their personality and how they live," said Nguyen. "A home should feel like it evolved over time, and not as if it came out of the pages of a catalogue."
Three years ago, Nguyen began fielding calls from older homeowners who didn't want to move into assisted living communities. These clients loved their homes and wanted to stay, but they needed help making their long-time residences suitable as they aged. "The process often starts as making sure that my clients can get around their home in a wheelchair or a walker," said Nguyen. "But through design, we are able to transform these spaces into homes they never believed they could afford."
Known as aging in place, this national trend embraces making the necessary home modifications that will help the elderly live comfortably and avoid falls. With her background in renovation and construction, Nguyen partners with contractors to make a home handicap-accessible and ADA compliant.
Often her job is an educational process, and she strives to lay out all the options so her clients can make an informed decision. For example, she recently advised an older couple against installing a natural slate foyer, as the uneven and slippery nature of the surface might soon prove dangerous. "When you age and begin to lose core strength, you start to shuffle your feet," said Nguyen. "I can help my older clients get the exact look they want, at a fraction of the price, without the hidden hazards."
Nguyen customarily begins a project with a walk-through of the client's home, asking countless questions and learning her client's personality through wide-ranging conversation. Surprisingly, clients often confess that they have no idea what their tastes are. "I always end up in their closets, getting a sense of the colors and patterns that speak to them," said Nguyen. "You can listen with your eyes as well as your ears."
For a recent project, the client was an avid gardener who was downsizing her home with the goal of aging in place. "As she loves flowers and birds, we brought in the outside as much as possible, choosing a pale yellow for the walls paired with big, modern florals throughout," said Nguyen. "Her tall ceilings have wonderful architectural details, which we accented with a fresh aqua to bring in that classic Southern airiness."
Over her lifetime, the client had collected several cherished pieces, and Nguyen refinished much of her furniture. "I partner with several talented craftspeople who were able to restore the wood finishes perfectly. My client is thrilled, as she says they're prettier now than when she bought them," said Nguyen.
Nguyen reupholstered the client's beloved camelback sofa and pair of wingback chairs, pulling a treasured fabric from resized couch pillows. A fresh pattern on the sofa and a vibrant Monet print over the fireplace marries the colors together for a unified, modern look.
Nguyen prides herself on minding her clients' budgets as if they were her own, and she values transparency in all of her purchases. "It's critical for clients to know how and where I've spent their money, so they are comfortable with the value they're receiving," said Nguyen. "Often, I've been so careful to save them money throughout the process that they can afford to take on an additional bedroom or a second phase of design. I like to help my clients accomplish as much as they can within their means."
Style Tips
Great design does not have to be expensive. "I believe in being creative and getting the best value for your dollar. You'd be amazed at what one can do on a limited budget," said Nguyen.
Art doesn't have to be expensive, either — just something you love.
Don't be afraid of color on the walls, advises Nguyen. "If you make a mistake, you can always change it!"