A tranquil and inviting new home build on Carolina Beach exudes coastal charm
By DEAN BLAIN » Photos by G. FRANK HART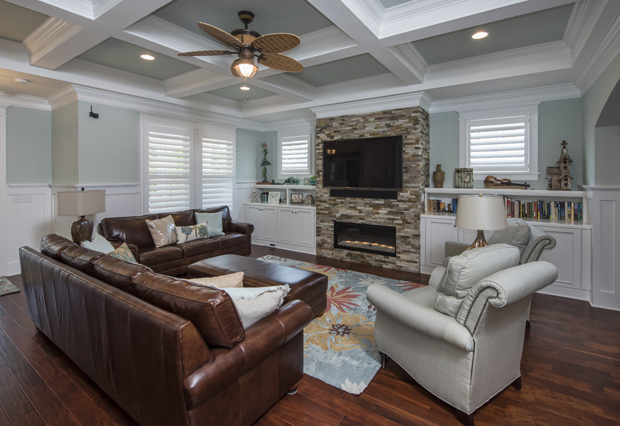 Judy Holt and her husband Jack know what they like. They've built six homes to live in over the years, and their new home at Carolina Beach is a culmination of everything they've learned through the doing. They wanted a custom built home designed around the kitchen. A kitchen is the heart of a home, after all, and these days it's about so much more than cooking. It's for entertaining too. So their bright kitchen is the focal point upon entering the graciously open floor plan of their new 3,800 square foot home.
The coastal Charleston-style house is fronted with a two-story, stacked-porch and large columns. Inside, the home boasts five bedrooms, four bathrooms and two half-baths. Ten foot high ceilings serve to open the space. Mike Poziombka of Coastal Traditions Design Build, designed the home to the Holt's specifics. They knew exactly what they wanted: a large kitchen, several bedrooms and a large master, a two story porch, a large screened-in wraparound porch, a three car garage and an elevator. Everything about the house is customized. It helped that the house is set on a double lot, Poziombka said. "We had all the design space that we needed. The clients were willing to do whatever they needed to do to get the house they wanted."
The Holts found the Wilmington area by way of Hinton, West Virginia; Wilmington, Delaware and Pittsburgh, Pennsylvania. They were ready for warmer climes and a laid back, retired lifestyle. "Everywhere else we went, there was something we didn't like...like no shopping," says Judy. She liked the restaurants, the tennis and the beaches of Wilmington. She liked the people. "It has an eclectic group of people," she said, "It's the total package." Of Carolina Beach, she believes the community is changing its complexion for the better. "I don't want anyone else to know about it," she joked.
When it came to interior design, Judy wanted the house to reflect the colors and the accents of the ocean. "I wanted it to look like sea glass," she said. She wanted to bring the outside in. For color, she went with muted blues, greens and grays, colors with names like palladian blue, jubilee, blissful blue and guilford green. For ambiance, the gas fireplace will eventually feature driftwood and stones to resemble a fire on the beach.
Judy also knew what she didn't want. "This is the last time I'm ever going to build," she said. She intended to learn from her previous mistakes. No more shag carpet and no more autumn gold appliances, she joked. She went with acacia wood floors throughout...no carpet. She wasn't sure about the floors until her sister said, "Which one of your houses do you say, 'Boy I miss that carpet?'" So she went with wood. Every decision was calculated. "I don't want to wake up ten years from now saying, 'I don't like this place.'"
Judy is a self professed tech geek. The new house is hardwired for sound, security, television and more. There's a seven-foot-tall electronics cabinet in the closet to prove it. Judy can pull up her security cameras from anywhere with her iPad. "I can watch the deer eat my plants," she says.
Judy's husband Jack is a collector of Americana. A four-foot-tall solid wood Mickey Mouse statue greets you upon entering the house. Upstairs there's a Shoney's Big Boy statue and a five-foot tall carved cigar store Indian. In the garage Jack has a large lighted sign from Disneyland. Jack loves Disney, Judy said. The couple went to Disney World and camped out for their honeymoon, Judy chuckles.
For the kitchen design, the Holts went with Markraft Cabinets. Judy worked alongside Lauren Hill and Meredith Shaver from Markraft, two designers recruited by company president Cee Edwards. "He did a great job selecting talented designers with great personalities," Judy said. Meredith took over the project after Lauren left for maternity leave.
Meredith and Judy set about making the kitchen of the Holt's dreams. "I wanted it to be light, bright, functional, durable and stunning," Judy said. It was a tall order. Judy pulled photos from websites and magazines, and presented Meredith with ideas that she liked. "Meredith didn't try to impose things on me, she listened. Her sense of design is fabulous, and she was great at taking my taste and making it better." Meredith was always patient and encouraging, Judy said. "She never made me feel like I was bothering her."
"I think she has a very eclectic style," Meredith said. Judy had a talent for fusing contemporary with traditional. "She knows what she wants and she's not afraid to tell you, and she's got really good taste in combining old and new," Meredith said, "mixing her tech side with her love of antiques."
Meredith and Judy agreed on traditional cabinets, and employed a modern, contemporary design and layout. The finished kitchen establishes the range hood as the focal point. There are lots of drawers. Judy and Meredith played with dimension by bringing some of the cabinets out, staggering them to create the impression of depth. They incorporated a large display area into the scheme for Judy's antique dishes and a kitchen island big enough to seat four. Judy wanted the kitchen bright, and the color of the cabinets is alpine white with a smoke glaze. In keeping with Judy's beach motif, the countertops are bright, sand colored quartz with flecks of sparkle. "Just like the beach," Judy said. All the appliances are KitchenAid and they are black, stainless steel, modern. "It's like gunmetal," Judy said, "It hides fingerprints and when you clean it, it doesn't streak." Judy also loves the large, white farm sink and her favorite touch...the small, crystal chandelier hanging above the sink. "I love the whimsy," she said. Not one to shrink from technology, Judy also installed an iPad in the kitchen, a master control panel for the entire house.
"The challenging part was making sure that all your choices go together, and you don't see that until everything is put together," Judy said. "You have this fear that you're going to see everything and say, 'What was I thinking?'"
But Meredith and Judy are both extremely pleased with the outcome. "Together I think we created a really good kitchen," Judy said.
The Holts were extremely pleased with the service provided by Markraft, saying the installation and follow up was amazing. "The follow-up is just as important as the beginning process," Judy added. "If someone's not going to come back and fix it, what's the point?" And she doesn't heap praise where it's not deserved. "Praise owes its value to its scarcity," she said. Markraft checked and rechecked every cabinet door.
Even though the Holts have only been in their house for three weeks, Judy said she already feels at home. "It's comfortable and soothing, and the kitchen is a joy to cook and entertain in." After building five previous homes, Judy said this is the last. "It's home," she said, "the home I'm staying in."
Resources
Coastal Traditions Design Build, 910-386-3109, coastaltraditionsnc.com
Markraft Cabinets, 910-793-0202, markraft.com