An Elevated Dining Experience Illustrated Through Interior Design
01 Nov 2023
Designer Jamie Meares pays homage to Olivero's roots by incorporating elements of the story behind the restaurant
By Katie Schmidt » Photos by Anna Routh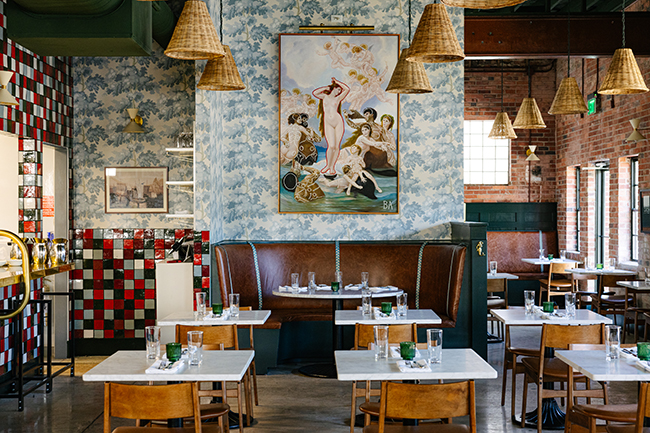 With its fresh ingredients, uniquely crafted menu items, suited-for-food-pairing cocktail menu, and prime location on Third and Castle Street, Olivero has captured the attention of food lovers in the Wilmington area. And while all restaurants certainly ought to be serving up delicious food (and oh, Olivero does), these days it often takes a little extra to set an eating establishment apart from others. It takes "vibes," which—thanks to the founder of Furbish Studio and talented interior designer, Jamie Meares—Olivero is serving alongside every dish.
Growing up in Winston-Salem, Meares and her family frequented the Wrightsville Beach and Wilmington area. After attending college in Chapel Hill and then moving to Raleigh, Meares launched a lifestyle blog in 2006, with a focus on design, travel, and fashion. It's from this same blog that Furbish Studio was born, essentially offering a tangible and in-real-life iteration of the blog where folks could peruse the unique and stylish items Meares has come to be known for.
Also in Raleigh during this timeframe was Olivero's owner Sunny Gerhart, a James Beard Awards nominee and owner of St. Roch Fine Oysters + Bar in downtown Raleigh. St. Roch was Meares' first foray into interior design.
"My partner is really good friends with Sunny and so that was the initial connection," Meares says. "We started going to St. Roch and we loved the food, but it just did not have much of a vibe in there. Sunny is a great cook, but he just put his head down and hadn't had time to think through the interiors or the feel of the restaurant."
So Meares set out to do exactly that for St. Roch and now, years later as Gerhart started to build his concept for Wilmington's Olivero, the two teamed up again.
"It felt like a natural thing for us to do," Meares says. "I work well with Sunny and really like his style. I trust him and it's a lot more fun and rewarding to work with a chef and a restaurant where you know the food comes first. Whatever we do design-wise is 100% backed up by Sunny and his cooking. So, it's not smoke and mirrors trying to make something out of nothing."
Going into the work on Olivero, Meares knew that Gerhart wanted to make the restaurant an homage to his mother's side of the family, with an emphasis on their Italian and Spanish heritage.
"We started with what I knew about Sunny," Meares says. "He's funny and weird and kind of edgy and got some grit to him and loves his family."
One of the first things guests undoubtedly notice when walking into Olivero is the striking tile fixture surrounding the open kitchen and bar area. Meares had been wanting to try out a mosaic tile installation and just so happened to be renovating her house at the same time as conceptualizing pieces for Olivero. She decided to do a trial run in her son's bathroom and ended up loving it.
"I hadn't worked with that product before," she says. "It's a handmade tile from Morocco and I had been loving it and saving it and wanting to try it somewhere. I thought it would be perfect for Olivero because it has this rustic vibe. It's such a statement—it's colorful but it's kind of rustic, which tones it down and doesn't make it feel too juvenile or silly. But I thought this could be cool because it's kind of got an old-school diner feel and the colors are kind of Italian. It makes a big punch."
Another standout in the restaurant's decor is the gallery wall of Gerhart's family photos. With so much of the drive behind the restaurant's overall concept being a celebration of heritage, this felt like an especially crucial piece to tie into the ambiance.
"That's a signature of mine to do a big grouping of art," Meares says. "I love art and the story it can tell—especially a gallery wall. I went through a photo album of Sunny's family and combed through and picked out the ones that I thought were the most expressive and had them all custom-framed. I always loved that this is the real story—the real family that the restaurant was dedicated to. That just adds such a living breathing touch to the restaurant."
While the art and tile may be what first catches the eye of Olivero's patrons, everything from the lighting and plateware to the wallpaper in the restroom was well thought out and expertly executed, all coming together to elevate the vibe of an already-excellent-tasting dining experience.
"You couldn't have a restaurant like this without someone like Sunny," Meares says. "I mean his food is delicious. Flavors are just remarkable—they're super bold, unexpected, and inspiring. At my best, my design is like that. So, I think that it's a unique pairing of what the restaurant looks like and what the food tastes like. It's just kind of bursting with flavor and it's not what you think it would be or should be. It's better, more fun, and super clever."