Another Man's Treasure
17 Nov 2013
With new management at the reins, it's business-as-usual for Wilmington's largest consignment store
By KIM HENRY » Photos by SUSAN FRANCY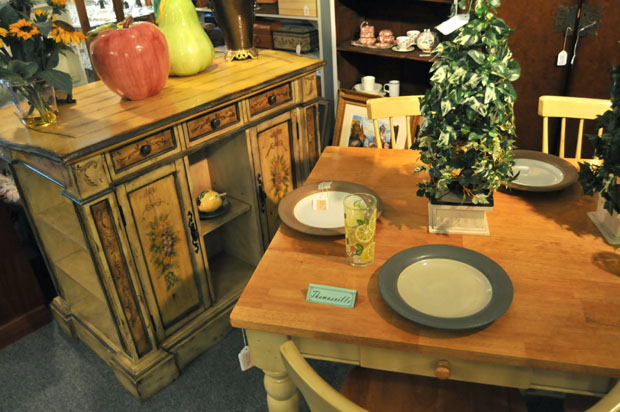 If you love a good peruse through timeless treasures, then you have no doubt come across The Ivy Cottage. Opened in 1998 by a mother and daughter team, the store has been steadily expanding for fifteen years, and has recently entered a new chapter of its life in the shape of a new owner.
Andrew Michael Keller, known to all as Drew, seemed destined to one day take over the antiques empire, and that day finally arrived in May of this year. "It's been a very busy few months," smiles Keller from behind his desk in the middle of cottage two. " My wife Marie and I bought this business and our first child Abigail was born three months later — it all happened so quickly!"
Thirty-five year old Keller spent his childhood moving around the world as his father was in the Air Force. He lived in France, Germany and the UK, as well as many different parts of the US. "While other kids were going to baseball games, I was getting dragged around European flea markets, antique shops and old churches!" says Keller. Growing up amid buildings and artifacts that were hundreds of years old ignited Keller's curiosity for all things ancient and unusual.
"I wanted to be a paleontologist when I was a kid, but I have always been a bit of an entrepreneur too, so I guess working here is the perfect combination." smiles Keller. Having moved down to Wilmington from New Jersey at the age of twenty-one and completing his biology degree at UNCW, Keller started working at The Ivy Cottage as a delivery person in the warehouse.
"I had a natural eye for consignment, I was around it all day and it wasn't long before I was one of the biggest consigners in the store," explains Keller, whose natural love of anything out of the ordinary is obvious by the collection of oddities that adorn his desk.
The Ivy Cottage has around 8,000 consigners, making it one of the biggest consignment stores on the East Coast. It has three main buildings, a warehouse and outdoor space that displays outdoor furniture. Each cottage is somewhat themed, with cottage one housing the half price room and more eclectic goods, cottage two holding the more classic vintage objects such as Persian hand knotted rugs and chandeliers, and cottage three sporting a nautical theme and the seasonal displays.
The store is the temporary home to hundreds of pieces of fine china, glassware, pictures, lamps, desks, chairs, furniture and a myriad of other collectables, but it also very clear about what it does not stock. "We don't do electrics, clothes, baby items, plastic lawn furniture, futons, pianos, machine made rugs or anything made from pressed wood," says Keller. The list may be subject to change but it is clear that Keller and his team of thirty employees want objects of interest, the real deal and quality vintage goods.
Keller strives to authenticate every piece that comes in and this process often requires research which is what he loves to do. "Picking is my passion! I love taking something and figuring out its roots and its authenticity," says Keller. "People often have no idea what they actually have and it's our job to tell them. Sometimes they don't realize the worth of their object and at other times, they can be convinced that they have a genuine antique and it's actually worth very little. It goes both ways."
All four buildings are in a constant state of flux as goods come and go on a daily basis. One of the many changes that Keller has already accomplished as the new owner, is the installation of a new computer system that allows all four buildings to communicate with one another. He is gradually refurbishing all three cottages and streamlining the entire operation to make it even more simple for buyers and sellers to transact business.
As Keller takes the transition from employee to owner in his competent stride, The Ivy Cottage looks set to remain one of the most eclectic places to shop in Wilmington, if not the entire East Coast. It seems to house everything from a random letter opener, to antique furniture worth thousands of dollars. With consigners receiving 60% of the sale price, shoppers basking in vintage paradise, and Keller and his team being immersed in their passion for antiques, it appears to be a strategy that's a win for all. 910-815-0907, threecottages.com