Basil Pestare
08 Jul 2020
By ANNE POSTIC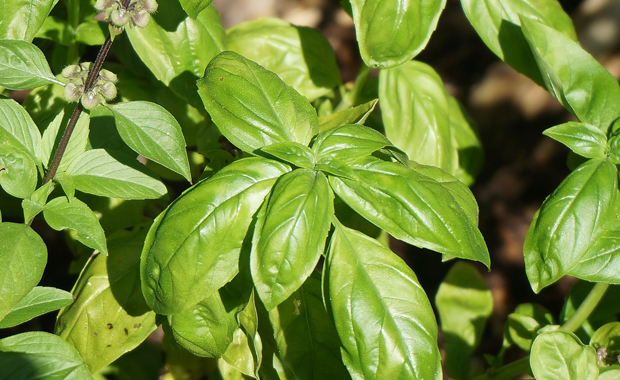 Like many of you, I've become an avid gardener, if only to make sure I get outside to check on the progress in the garden. And my basil is going nuts. How many caprese salads can we eat? (Answer: A lot, but the tomatoes aren't ready yet, so that'll have to wait.) Since I'm not much of a gardener, herbs are the only near guaranteed success. So, what do I do with all this bounty? One of the best ways to use basil is in pesto, and it's so simple to make.

Basil is the first herb that comes to mind when most of us think of pesto, but in Italian, the word itself comes from "pestare," meaning "to pound or crush." And traditional pesto is crushed with a mortar and pestle. Don't have one? Don't worry. A food processor does the job just as well, and it's easier and quicker. (Side note: "Easier and quicker" is also my motto in the kitchen.)

First, take out a food processor or a high-powered blender. Or a mortar and pestle if you're a purist with a little more time and elbow grease. Collect
your ingredients:

• 8 to 10 cups loosely packed herbs (Yes, you can mix them.)

• 1/2 cup of pine nuts (or walnuts, almonds, cashews, pecans, or whatever other nuts you love)

• 1 to 2 cloves of garlic (Skip the garlic if you'll be drizzling your pesto on fruit, unless you really love garlic)

• 1/2 cup parmesan, feta, goat cheese, or any other cheese you think will work

• 1/4 to 1/2 cup of the freshest tasting olive oil you can get your hands on

• a little salt and pepper

Pulse the herbs, garlic, and nuts in a food processor until they're finely minced. Add the cheese and pulse a few more times until blended. Drizzle in the olive oil, pulsing only as much as you need to blend it into the other ingredients. Transfer your pesto to a bowl and add salt and pepper to taste. That's it!

Alter this recipe as much as you like, depending on your preferences. After all, a recipe is nothing more than a list of suggestions. The only rules are the ones dictated by your tastes. In our family, we pretty much like everything spicy, so I add a few shakes of Espelette pepper, cayenne, or hot sauce. You do you.

If you find yourself with more pesto than you can eat, try harder. Pour a little olive oil over the top before you put it in the fridge to preserve the pretty green color. (Or don't. Brown tastes as good as green, in this case.) You can put it in omelets, soups, and salad dressings. Spread it on avocado toast. Use it as a condiment for burgers and sandwiches. Slather it on chips and snack away.

Still have too much? Pesto is a great treat for neighbors, your children's teachers who've been working overtime, or anyone else who's been on your mind and deserves a little love.