Buzzworthy 30
07 Nov 2018
A refreshing roundup of Wilmington's current top eats
By FANNY SLATER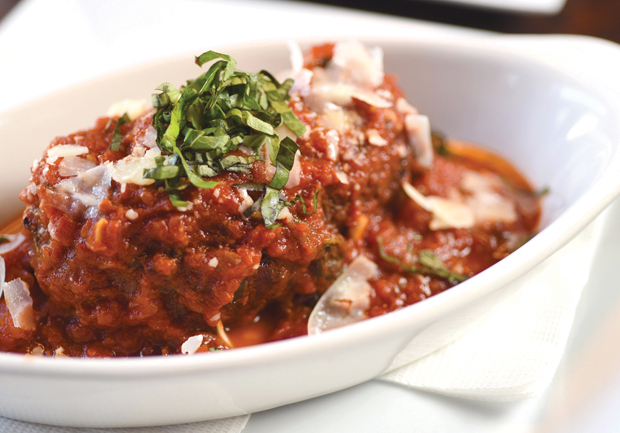 The Port City's dining scene is only as solid as the troops who've make the team. We've looked into the new kids on the block, the loyal landmarks, and the off-the-beaten-path players—and brought you the best bites our city has to offer.
Warning: Do not read hungry.
Savorez
Though the northside was formerly known for being a bit shifty, it's now one of Wilmington's most flourishing neighborhoods. Thanks to unequivocally topnotch Latin-American cuisine remixed and handcrafted by Chef Sam Cahoon, North 4th Street's Savorez was a hit from day one. The cozy, colorful atmosphere mirrors the subtly genius nuances of the vibrant menu. No one passes up the exotic Langousta Y Coco (lobster ceviche bathed in a bright coconut-ginger broth), and the Sam's brunchtime Shrimp n Grits with chorizo gravy and goat cheese polenta is so worth getting out of bed for.
Kyoto Asian Grille
This Market Street Asian eatery often goes under the radar, and I'm constantly making it my mission to let the crab rangoons out of the bag. A friend with a noodle affinity once led me to Kyoto after reading their nearly perfect ratings online, and I have been a loyal follower ever since. The mighty kitchen conquers everything from super solid hibachi to wildly fresh sushi to my personal favorite—the tangy Shrimp Pad Thai tangled with sweet red onions and smoked bean sprouts. Don't skip the curries, stir-fry's, or extremely reasonably-priced lunch specials. You know what? Just try everything.
Beer Barrio
Once upon a time (three years ago), breweries and bottle shops began popping off on every corner. So when Beer Barrio's power couple Chef Stephen Durley and beer sommelier Hayley Jensen decided to drop a beer-and-taco joint smack dab in the middle of it all, it was more than serendipitous timing. It was a brilliant business move. Locals love to load up on from-scratch guacamole while sipping a pilsner in the sun. Snag a multi-colored barstool under the whimsical Mexican coastline mural and chow down on Durley's righteous handhelds like the smoky, double-decker beer braised beef taco.
Anne Bonny's
If you're a regular downtowner (raises hand), you were familiar with The Barge—the only actual floating restaurant-slash-bar on the river. With an uber narrow selection of hot dogs, burgers, fries, and canned brews—however—Wilmington wanted more. Enter: Anne Bonny's. This pirate-themed eatery came in hot and soon became one of downtown's most beloved outdoor establishments. From frozen summer cocktails (get the Dreamsicle, you're welcome) to craft beer on tap to consistent live music and a killer lineup of scratchmade eats (the soft pretzel is an XXL and the crispy buffalo shrimp are drool-worthy), Anne Bonny's is The Barge on steroids and we're all juicing.
Bella's Bar Local
It's after midnight. You're as equally starving as you are certain that you can't get a decent meal because all restaurants have closed their kitchens. Hang a turn down Market Street towards the river, beebop into Bar Local, and meet the man behind the curtain (no seriously, his kitchen is so small it's behind a curtain). Dennis Mancinelli is widely acknowledged for having regular events, being one of Wilmington's friendliest bar owners, and serving up some of the freshest cooked-to-order food downtown. In addition to infusing sake, shaking up cocktails, and offering a notable craft draft collection—he dishes out Italian tapas, entirely scratch-made pizzas, and whatever other gourmet delicacies (seared tuna or Columbian turkey soup, anyone?) he feels like whipping up in the back.
Cruz
You all know (and love) the brand. Maybe you're a sandy-toed regular at Tower 7, or k38 is your weekly salsa spot. No matter which one of the Live.Eat.Surf group's restaurants you frequent—each Baja-style location has its own faithful following. Cruz is the newest, slightly more upscale, flashier baby of the bunch. The restaurant's oversized canvas photos of waves crashing, surfboards on the walls, and blue-and-white striped décor speak Wilmington's coastal language—but listen closely and you'll hear the sexy Miami accent. Creative twists like the Cali Cauli—lightly fried cauliflower tossed in zippy sauces done three ways—and the Steamer Lane Stacks of avocado, crunchy cucumber, and fresh seafood are house favorites.
Los Portales
If Mexi-American fare is what you're craving, you're at the wrong place. Los Portales is unquestionably one of the most authentic taquerias in town, and one sip of the bright, tomatoey Michelada will prove just that. The cuisine is as close to roadside-stand Mexican as it gets—which means chopped onions and cilantro galore. Don't be afraid to dress it yourself though, as the extensive salsa bar of citrusy sauces and spicy toppings is always up for grabs. The homemade corn tortillas are the perfect size for ordering one too many, and you'll want to be adventurous with your fillings. With over a dozen meat options (mild choices like marinated pork all the way up to bold moves like beef tongue), Los Portales is one-of-a-kind. Pozole on the weekends FTW.
Detour Deli & Café
You better believe the northside jumped for joy when a sandwich spot finally made its way down the street from the bars. We expected run-of-the-mill hoagies, but were hit with crazy-great breads and deliciously unconventional toppings. Though the long, thin brick building has just enough room for dining-in—not to mention a small al fresco area—many rely on Detour subs for their trusty to-go efficiency. For traditionalists, deli meat and cheese hoagies (like the classic Italian) will hit the spot. To take your palate on a test drive, sample a silly-named favorite like the Raoul Kildare (a turkey and spicy chorizo Torta), a Jicama Banh Mi, or a Spam Po' Boy with slaw and remoulade. Yes, I said Spam.
Foxes Boxes
On the surface, this charming North 4th Street café is recognized for their niche business model of serving thoughtfully-prepared, health-conscious food in boxes. But take a look beyond their pick-a-protein-and-side gimmick, and you'll see there's a whole lot more to love. Owners Randy and Rachel Fox have always been compelled towards a socially-conscious nature, and their massive relief efforts post-Hurricane Florence were a reminder that Foxes Boxes provides far more to the community than tasty eats. That Cuban Pork Sandwich, tho. I personally dig the Farmer's Flatbread Pizza—an ever-changing array of seasonal goodies; and the Korean BBQ-esque Kalbi Steak perfumed with ginger and soy is also hard to ignore.
Fortunate Glass
Though Fortunate Glass specializes in small plates, their around-the-world flavors are larger than life. Acclaimed as one of Front Street's snazziest wine bars with an emphasis on artisanal tapas—this humble restaurant never fails to make it onto locals' scavenger hunts for downtown bites and sips. Score a charcuterie plate nestled with carefully-selected global cheeses to pair with your Brut Rose. For larger appetites, keep the Duck Empanadas with lavender goat cheese and berry chutney for yourself and order two of my favorite—the fabulously funky Truffled Mushroom Pizza with meaty shiitakes, Chianti onions, and buttery Havarti.
Steam Restaurant & Bar
The Riverwalk's newest Embassy Suites needed an exceptional eatery to parallel the hotel's classy coastal demeanor and style—and Steam hit the nail on the head. The restaurant's spacious interior is sophisticated without being pretentious, and the enclosed outdoor patio offers serene Riverwalk views. After-work cocktail hour is a hit here in large part to the authentic mixologist shaking up on-and-off the menu specialties. All seafood dishes are a homerun—like the creamed leek and béarnaise-smothered fried Oysters Wilmington or the luscious Blue Crab Cake. If you've got comfort food on the brain, the No Temp Burger Burger with house bread-and-butter pickles and special sauce on an "everything" brioche bun is your ticket to happiness.
Bill's Front Porch
Formerly Capt'n Bill's—this outdoor volleyball-themed Market Street grub factory is known for sandy toes, masterfully made in-house beers, and homemade pub-style fare. One step through Bill's rustic doors and you're greeted with colorful wood panels, sizzling trays of Tater Tot Skillets, and an open viewing party of the brewing process. They're famed for their impeccably crisp southern fried chicken, but the hand-rolled beer grain pretzels and succulent BBQ are equally delightful. Beer-wise, the malty Mosaic IPA is a beloved flagship, the Citra Pale Ale is crushably crisp, slightly sweet, and hop-forward, and the Schwarzbier is a hard-to-find German black lager that's always on tap. On a sunny weekend, hit the back patio for brunch and giant Jenga.
Wrightsville Beach Brewing
From the enormous draft list to the oyster-rific art to the smoky beer-infused pizza crusts loaded with everything from crab cakes to creole remoulade—you can't go wrong at WBB. Ask owner Jud Watkins for a flight of his favorites or tap into the classics like the sessionable Puppy Drum Pale or the Orange Krush Kölsch permeated with fragrant orange peel and hints of vanilla. Get your veg on with the flash fried Tempura Cauliflower tossed in your choice of sauce or satisfy your seafood dreams with the Kimchi & Fried Oyster Bites whose acidic punch of vinegar and chili cut the fat from the fryer. That crackly hopped-up dough makes the pies—and the Po' Boy Pizzas are a southern specialty.
Port City Chop House
PC Chop House is celebrated for all things steak, but there's much more than meats the eye (see what I did there?!). To kick off the meal, can you really pass up Jalapeno Bacon Deviled Eggs packed with pimento cheese? The rich, sherry-laded Blue Crab Bisque is also a treat yo'self type of starter, but go on—you deserve it. Lighter Chop House fare includes the silky Sashimi Tuna app tossed in a sesame ginger vinaigrette. The main courses will feed your fix for everything from a Manhattan Strip to a Dry Aged Pork Loin Chop with spiced apple chutney to Chilean Seabass and beyond.
Shuckin' Shack
Good news, your favorite downtown haven for lobster rolls and ice cold Pacificos has basically doubled in size. Shuckin' Shack's got laidback locations all over our coastal paradise (ie. Leland and Carolina Beach), but if you're a Front Street regular—you've just earned some more space at the bar. Each oyster shop boasts solid steam pots, seafood tacos, and piles of perfect hushpuppies. With weekday specials on point and an insanely fresh lineup of things that came from the sea, Shuckin' is a staple for families, date nights, and rowdy crowds alike. Did I mention the crab? Not to get all Bubba on you, but there's Crab Balls, Crab Dip, Crab Legs, Crab Cakes…
Tarantelli's
Familiar Tuscan fare sprinkled into a family-centric environment with a splash of Montepulciano is the epitome of Tarantelli's spirit. This warm European café (housed in the former Hotel Tarrymore) raised the standards of Italian dining when their pasta twirled into town in 2016. Beautifully crafted dishes like the Sicilian Braciole—thin rolled and stuffed beef tenderloin with loads of garlic, pine nuts, parmesan cheese and prosciutto—tastes like home to those who grew up with traditional Italian cooking. It's rare to dine at Tarantelli's without spotting a group wow-ing over the Spaghetti al Formaggio Parmigiana prepared tableside in an enormous oversized wheel of Parmesan cheese (doused in whiskey and lit on fire).
Blue Surf Café
Beachy vibes meet serious chef skills in this rustic-chic venue where meals are put out three times a day. Blue Surf nails the casual brunch scene—go for the garlic and onion Potato Hash "Hippy" style with feta and veggies—but does upscale lunch and dinner like a boss with items like chicken, mahi, shrimp, or veggies with ginger-and-scallion-scented coconut pesto over rice noodles. For a rib-sticking good time, the Braised Beef Brisket with jalapeno chimichurri and roasted potatoes will do the trick. Double check the daily specials on the board as the seasonal selections change-up often to make sure customers are getting quality fare that's sourced close to home.
Cape Fear Seafood Company
The fish are dying to get in the door at CFSC (insert smirk). This Wilmington hot spot has three locations all turning out familiar, yet creative land-and-sea favorites. Consistently commended for Lowcountry hits with French twists (would anyone ever get tired of applewood bacon Shrimp & Grits?), CFSC's plates are filled with flawlessly executed creativity and most importantly—butter. If a downhome southern meal is exactly what you're after, the seafood platters—which you can get broiled or grilled, not just fried—are a comforting bite of the coast. Don't miss the substantial lump Bald Head Island Crab Cakes drenched in lemon beurre blanc.
Caprice Bistro
If you're trying to figure out your next date night move, say "oui" to Caprice Bistro. This elegant French eatery (with zero pretention and one hundred percent charm, I might add) is a dinnertime win every time. Start your evening in the swanky upstairs cocktail lounge where the mixologists know their drinks backwards and forwards and the Escargots Petits Gris sautéed in garlic Roquefort cream are divine. I never leave without slurping my way through a mammoth mountain of thyme-perfumed Mussels Marseillaise in a white wine-lemon broth with "frites" and mayo. For a meal you'll never forget, don't pass up the exquisite Waterzooi (a creamy, exotic herbed seafood stew).
Catch
Global twists on regional seafood is the sweet spot of this Asian-southern fusion restaurant. Catch is more than just a nautical mecca for regional fare with an exotic twist—it's a comfort food palace where celeb chef and James Beard nominee Keith Rhodes always has something up his sleeve. Even traditional dishes like the Caesar salad are given a facelift with ingredients like Parmesan Powder and Bermuda onion. If the soft shells are in season, stop your menu searching right there. Other standouts include the signature NC Lump Crab Cakes in Lobster Cream and 1/2 Pound "Hong Kong" Tempura Lobster Tail with a citrusy ponzu reduction.
Ceviche's
Locals can't get enough of this Panamanian café's spirited Latin-inspired cuisine. But don't take our word for it, ask Guy Fieri who stopped into Ceviche's for an episode of Diners, Drive-in's, and Dives. For a true taste of the tropics, sip Ricardo's Rum Swizzle made with two varieties of exotic rum, fresh pineapple and orange juice, bitters, and housemade grenadine syrup (seriously, who makes their grenadine from scratch?). Kick back in this relaxed seafood shack with as many tapas as your taste buds can handle. The Jerk Camarones & Tres Queso Empanada (shrimp and three cheeses) are trickled with roasted cherry tomatoes and a spicy herbal dipping sauce. Bite right into the restaurant's name with the Corvina ceviche (Pacific Sea Bass with lime, red onion, jalapeno, and grassy cilantro). Not feeling fish? You'll be all over the crusty Pork Cubano with Dijon aioli and nutty Gruyere.
Copper Penny
Eagles fans unite over heavenly food and hoppy brews at this family-friendly Philly-themed sports bar (also featured on Guy Fieri's Food Network series). Even if football isn't your thing, it's likely that Copper Penny's wings are. These award-winning jumbo handhelds have been voted Wilmington's favorite many times over and everyone has their own personal sauce preference or two (spicy garlic and copper gold for me). Ask for extra of the silky, housemade ranch and don't miss the extensive draft lineup. Thanks to an ambrosial combo of short rib and Angus beef, the burgers are easily some of the best in town. Other between-bread favorites are the Wright Brother's Turkey Club (with house-roasted turkey) and the 109 Chesnut Chicken Sandwich with caramelized onions and spicy mayo.
Fork N Cork
If you don't leave Fork N Cork with barbeque sauce on your shorts—you've done it wrong. This quaint, gourmet burger bar was always locally famed for its enormously satisfying creations, but it too got a national nod when Guy Fieri and his DDD crew popped in for chef/owner James Smith's confit duck wings and beef wellington bites. Artisanal beef burgers like the Duck Duck Goose (a ground duck patty with country pâté, a fried duck egg, and port wine cherry sauce) is a house hit, but the brisket sandwich is the hidden gem. Fourteen hour-smoked brisket, red onions, crunchy pickles, and house barbeque sauce. C'mon.
Havana's
As well as having the best seat in town for Carolina Beach's weekly fireworks, Havana's atmosphere delivers a tropical escape where the wine list is a mile long and the signature Hot Rum Bananas Foster is made for two. Take a load off on the front porch or covered patio and enjoy the light show from this historic cottage. Exclusive Havana's dishes include the Lobster Shrimp and Grits with salty Tasso ham and seared horseradish-encrusted Yellowfin Tuna with ginger soy and wasabi aioli. Brunch is always buzzing and crispy seafood platters (served with fries and cranberry slaw) for lunch are constant crowd-pleasers.
Indochine
Indochine's authentic oriental ambiance (married with artfully prepared Thai and Vietnamese fare) gives them a top spot on our lists every time. On the weekends when the dining room and outdoor garden are bustling with hungry patrons, call-in for pickup with their super easy (separate-from-the-restaurant) to-go service. Favorites from this far East café include the outrageous Roasted Duck with Red Curry—a de-boned duck feast marinated in a coconut milk, lychee, pineapple, and kaffir lime leaf broth. For something less rich, the light Vietnamese Pork Meatballs are loaded with citrusy lemongrass and come with shrimp fried rice and pickled veggies.
Ruth's Chris Steak House
Superior customer service and a first-rate dining experience are what bring regulars back to Ruth's Chris time and time again. Situated in our downtown Hilton on the Riverwalk, this familiar steakhouse never fails to provide a heap of quality wines and loads of divine sides for your expertly cooked, butter-topped beef. Ruth's Chris serves up some of the finest USDA Prime Beef around and all custom-aged steaks are seared to perfection. Give into temptation with the well-marbled 40-ounce Tomahawk Ribeye and take it one step further by getting it crusted in blue cheese, roasted garlic, and airy panko breadcrumbs. Oh yes, I did.
Tequila Comida & Cantina
This novel eatery sprung up in Money Junction towards the beginning of summer, and has been stacking up rave reviews ever since. Opened by brothers Ramon and Miguel Villasenor of Los Portales, this higher-end, modernized Mexican hot spot is known for its refined twists and gorgeous plates. Don't bank on chips and salsa and bottled cocktail mixes when you take your seat—the brothers put out fresh baked bread and chili-infused olive oil, and the mixologist hand-squeezes piles of citrus for the refreshing margaritas. Let your palate take a walk on the wild side and opt for dishes like banana leaf-wrapped pork and pan seared duck breast in tamarind sauce with Chef Ramon's stunningly intricate moles (think: multiple chilis, pumpkin seeds, cloves, and other aromatics).
The Italian Bistro
Italian Bistro's family-friendly dining room (who serves brunch, lunch, and dinner I should mention) is only made homier by the scent of simmering marinara. All items are made in-house and heavily influenced by local ingredients. When the clock strikes noon, patrons still have their pick of a wide variety of Italian specialties—but the crusty signature sandwiches (like the fried Mediterranean Eggplant with roasted red peppers, artichoke hearts, and oil and vinegar) are an ideal lunch. For dinner, go hearty or go home with the spicy Arrabiatti—homemade hot Italian sausage in a spicy garlic and crushed red pepper marinara with penne and sharp parmesan cheese.
RuckerJohns
Although RuckerJohns may be a chain, this inviting establishment is habitually flooded with customers. Everyone has their own favorites, but there's no one who doesn't go gaga for the flaky, butter-laden honey-glazed croissants. Usual suspects like boneless buffalo bites and tater skins are always great for sharing, but with a huge menu of offerings—don't fill up too fast. Go oodles for noodles with the Shrimp Beurre Blanc or keep it low-carb with one of RJ's popular mixed green creations. The ginger teriyaki Seared Tuna with fruit, salty feta, wonton strips, and raspberry vinaigrette is as healthy as it is addictive.
True Blue Butcher & Table
A craft cocktail spot, elegant restaurant, and butcher shop all-in-one, True Blue offers diners a unique, full-rounded experience. In an effort to please guests on every level, the chef welcomes food change requests (unlike many other kitchens that firmly state "no substitutions"). The Scallop Ramen in unctuous bacon broth with Lady Edison pork belly, wild mushrooms, and a soft-boiled egg is a flavor explosion. If you're here specifically for the unmatched meats but don't want to overdo it—the Steak Frites with "steak sauce" and fries is a superb shareable.