A New England Farmhouse on the Southeastern Coast
07 Nov 2018
Firetti Builders bring a couple's vision to life in St. James Plantation
By BRIAN MULL Photos by G. FRANK HART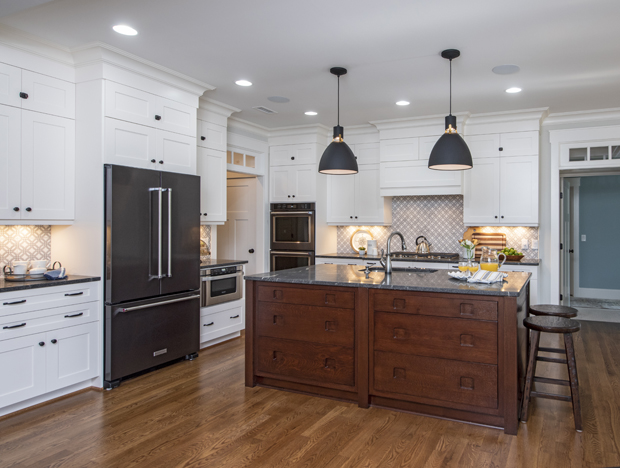 Retirement wasn't necessarily an immediate priority for Brad and Leslie Wurst a couple years ago. All the signs just kept pointing them in that direction.
When the South Carolina-based textile company where Brad worked for 30 years began closing its mills, the Wursts decided the time was right. Earlier this year, the Connecticut based couple landed in the Reserve in St. James Plantation in a Firetti Builders custom built home.
The Wursts knew they wanted to settle somewhere along the Carolinas or Georgia coast in retirement. They are avid boaters, owning a Bertram 31, one of the most popular and influential designs on the water, as well as a smaller center console boat.
"We did a lot of boating in Long Island Sound, Brad did a lot of fishing in that area," Leslie said.
"We came down here with friends. And right away felt like this area was for us. We said, 'let's just get down here and enjoy it.'"
Brad and a friend drove the Bertram down the Atlantic shoreline, docking it at St. James Marina.
Selecting the proper builder was imperative and Brad knew exactly what he desired. His father and grandfather were builders and his brother continues in the family business. After carefully considering three or four options, the Wursts chose Firetti Builders, who have built more than 175 homes in Southeast North Carolina since 2001.
Since 2005, Joe Firetti II has operated the business his father started in Maryland in the late 1970s. A past president of the Brunswick County Home Building Association, he's built homes in expanding developments across the region such as Winding River, Compass Pointe and Waterford.
In each home, Firetti Builders emphasizes premium quality, workmanship and service. A three-time Diamond Award winner at the Brunswick County Parade of Homes, the company prides itself on providing a home designed specifically to the needs of each client.
For the Wursts, that meant the inclusion of a Gambrel Roof, which is a symmetrical, two-sided roof featuring one steep angle and one shallow angle.
"We wanted that look and Firetti was able to incorporate that," said Leslie, who was an executive assistant for a market research company. "Firetti was great and took what we had in mind, and we were really happy about that."
A beautiful slate front porch leads to the inviting foyers. The gourmet kitchen features stacked cabinetry and a custom center island, adjacent to a dining room with coffered ceiling. There are full guest suites upstairs and downstairs - with the latter featuring a built-in window seat - and a delightful sunroom with vaulted, beamed ceiling.
The master suite includes a spacious bathroom complete with walk-in shower and ceramic tile while the upstairs rear-facing bonus room has a neat balcony offering a wooded golf course view.
The high standard of excellence homeowners have come to expect from Firetti Builders is apparent from door-to-door. Firetti Homes include a 1-year Comprehensive Warranty by the Bonded Builders Home Warranty Program. This includes a full 10-year transferable structural warranty. Approval from the Bonded Builders demands a long-term commitment to quality workmanship and a thorough review of a company's financial stability, experience and construction skills.
Throughout the home, the Wursts strived for and achieved a New England cottage, farmhouse decor and feel. Tracy Barnard of McKenzie Baker Interiors brought their vision to life. Her husband, K.C., who specializes in building electric guitar amplifier cabinets, built the reclaimed wood mantle located above the fireplace as well as the reclaimed wood bench in the drop zone.
"They trusted me," Barnard said. "Leslie came to me with ideas of how she wanted the house to feel. Being from that area, I felt like I knew them and that sensibility they were going for. We wanted it to feel like a farmhouse but not feel like Grandma's farmhouse. They were very open to ideas. It was a really fun project from start to finish we picked out everything from lighting to plumbing to the finish."
"With the building process, Firetti's office hooks you up with a interior decorator which was huge," Leslie said. "Tracy got our vibe right away and that we were looking for a New Englandy cottage house. She and Brad both went to (the University of Connecticut). It was just a great building experience with Firetti and his whole team."
Delina Devoid of 3D Designs was the architect responsible for interpreting the Wurst's wishes and designing their home.
"The laundry room is adorable and Leslie's favorite," Devoid says with a laugh. It's easy to understand her affinity for the area, which turned out larger than originally planned and elicits rave reviews from anyone who tours the house. The room includes a black-and-white shiplap porcelain tile floor and farm style sink with bridge faucet in addition to the dropzone which has the unique custom bench made from reclaimed wood.
St. James Plantation appealed to the Wursts because it offered everything they desired, from the beach to boating, the community, golf and the nearby town of Southport, which the Wursts enjoy as a casual stroll back to a simpler time. They rode out Hurricane Florence in their new home and while there were harrowing moments, they survived unscathed.
In addition to the new neighbors they've enjoyed meeting and getting to know, as it so happened, they ended up living just down the street from old friends from Connecticut, Bob and Colleen Intriert. The couples didn't intend to retire together. Initially, the Wursts thought they'd settle in Savannah where their parents live, however they've been thrilled with the choice to reside in Southeastern North Carolina.
"Everyone here is so welcoming," Leslie said. "There's so much to do."
"Brad hasn't sold one of the couple's boats yet, but he might end up going that route," Leslie said. With 81 golf holes a short drive away, the wooded view of The Reserve layout in the backyard and plenty of friends to help fill out your foursome, Brad's interest seems to be leaning toward the links rather than the sea these days.
Whether the ride takes place on a golf cart of motor boat, returning to their coastal dream home confirms the Wursts had perfect timing in their retirement destination.

Resources
Builder: Firetti Builders, 910-477-6018, firettibuilders.com
Interior Design: McKenzie Baker Interiors, 910-762-4222, mckenziebakerinteriors.com
Architect: 3D Designs , 910-622-5094, 3d-designsinc.com