Canapé Restaurant
15 Mar 2015
When two companions and I arrive at Canapé at 6:30 on a recent Saturday evening, nothing about its location in the Brooklyn Arts District or its unpretentious ambiance hints that we--who dine out frequently--will enjoy one of the best meals we've had in Wilmington (or almost anywhere, for that matter).
By CATHERINE KIMREY BREEDEN Photos by JAMES STEFIUK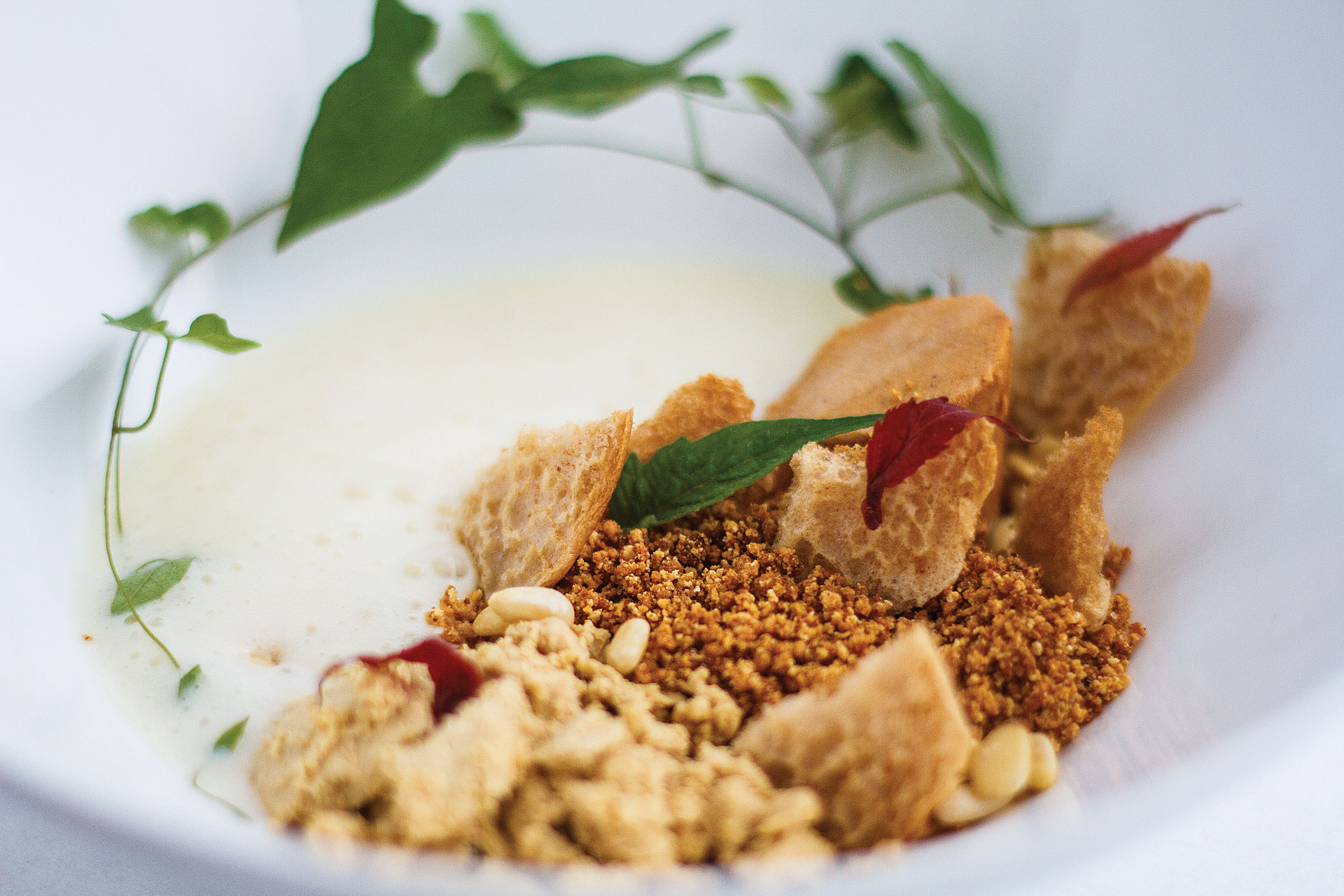 The dining area of wooden tables and high tops seats 68, and fills quickly. Most of the couples and groups, representing all ages, are casually dressed and appear to be enjoying themselves in spite of the high decibel level. A curated collection of works for sale by local artists graces the walls. The open kitchen area affords a view of Executive Chef Matthew Gould saucing and garnishing each dish before it is served.
We begin our Canapé adventure by ordering the bartender's special, a light and refreshing mix of vodka, soda, and cranberries, with a hint of ginger. The special cocktail changes frequently, and at $5 is a bargain.
Canapé's unique menu is divided into four categories: Air (poultry), Land (beef, pork, lamb, veal), Sea (seafood), and Earth (vegetarian). Each category offers only one starter and one entree, and our server explains a few unlisted specials. We begin with delicious and delicately flavored French onion soup; and with succulent local oysters from Lockwood Folly served on the half shell, their saltiness enhanced by a tasty dashi broth. The appetizers tease our palates, and set the stage for what comes next.
Although it is difficult to choose from the available temptations, we settle on fresh wild salmon from the Pacific Northwest; and mushroom ragout. The salmon, pan seared to perfection, is sauced with miso vinaigrette and accompanied by compressed zucchini ribbons in vinegar and sugar, dressed with arugula; and fluffy melt-in-your-mouth cauliflower purée. The creamy ragout features button, cremini, and shiitake mushrooms, combined with a vegetable veloute sauce, topped with crispy sunchoke chips and accompanied by roasted farro.
Although sated, we can't resist the pastry chef's sweet endings. After considering the three options available--including a cereal-flavored homemade ice cream and a chocolate confection--we share a just-right lemon tart. It captures a perfect balance of sweetness and fresh citrus flavor encased within a delicate crust. Our check is a reasonable $85 before tax and tip. We appreciate that there is no charge for splitting dishes.
The next week I visit with Chef Gould, who is also a partner in the restaurant, and who turns out to be as interesting a conversationalist as he is a creative wizard in the kitchen. He is a former music promoter, and a singer and musician who plays harmonica and caja, a wooden South American percussion instrument. On some weekends he features live musicians in the dining room.
He began his culinary career at age 16 as a dishwasher and salad maker at the Hideaway Restaurant in Middleboro, Massachusetts. Since then he has honed his skills in locations as diverse as Albuquerque, New Mexico; Seattle, Washington; Vancouver, Canada; and Mexico City. Classically trained in French cuisine, he worked at several restaurants in Wilmington, including Caprice and the Country Club of Landfall, before opening a series of one-night pop-up restaurants at different kitchens around town. The pop-ups provided an opportunity to experiment with various cuisines, and gauge the types of food that local diners were ready for, before he and a financial partner opened the brick-and-mortar Canapé in March 2014.
Chef Gould explained that each of his prior ventures allowed him to add to his so-called "Batman's utility belt" of kitchen expertise. He cooks whatever is fresh and appealing, and follows his sense of which flavors and textures work well together. "I try to stay away from run-of-the-mill protein," he says. "I like to feature duck or game hen instead of chicken. I favor rabbit, which I get fresh from a source in Charlotte, and usually have it available in some form."
After dining at Canapé a second time, I can attest that the excellence of the cuisine is consistent. Executive Chef Matthew Gould is adept at utilizing all the techniques that he has gathered to create tantalizing and unusual dishes.
On a return visit my companion and I start our meal with the beef tartare and the house-smoked salmon. The tartare is an unusual preparation of coarsely chopped--rather than ground--raw beef, mixed with capers and topped with an egg. Although the server says that the tartare is a popular item, and a frequent Canapé diner praises it, my companion and I decide that this version must be an acquired taste, even though we enjoy the traditional one. The salmon appetizer, topped with creme fraiche and caviar, on toasted crostini is more to our liking. In fact, we love it.
We share the rabbit entree. Braised, then finished in the oven, it is served in a bowl: small pieces of mild-tasting meat mixed with polenta dumplings, Brussels leaves, mushrooms and cream. Delicious! The portion is so generous that we have leftovers to take home. We end our meal with lemon chess pie plated with chocolate drizzles, and French-press decaf.
On my next visit I'm looking forward to experiencing what Chef Gould calls "Food Church." On Sundays he offers a menu featuring unique dishes with an ethnic flair, served family style or a la carte. Recently the offerings included homemade dim sum, homemade ramen noodles, seasonal vegetables and--of course--fabulous desserts. Based on the meals that I've enjoyed at Canapé, the Sunday selections, whatever they are, will be delectable.
Any adventurous eater who craves distinctive fare owes it to herself or himself to give Canapé a try. It offers fine dining in, as Chef Gould says, "a neighborhood restaurant without stodginess or stuffiness."
Canapé Restaurant
1001 N. 4th Street, Wilmington NC
910-769-3713
canaperestaurant.com