Catch Seafood Restaurant
01 Oct 2013
Modern. Seafood. Cuisine.
By LIZ BIRO » Photos by JAMES STEFIUK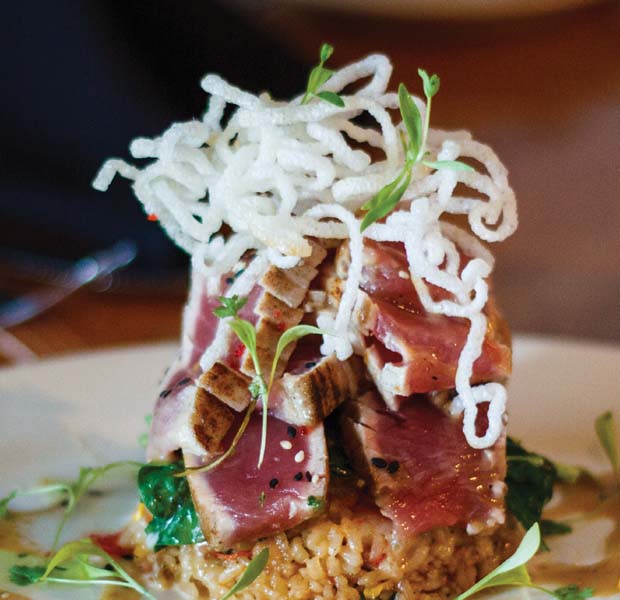 BACK IN 2009, A Food & Wine magazine best new chefs issue owned a shelf at the tiny, original Catch restaurant in downtown Wilmington. A Catch fan pasted owner/chef Keith Rhodes's picture among top American toques depicted on the cover.
Catch devotees wanted the world to meet Rhodes, the cook they considered Wilmington's best-kept secret.
Just four years later, a much larger space in north Wilmington hosts Catch, and famous names like Gwyneth Paltrow, Robert Downey Jr., Tom Colicchio and The James Beard Foundation know Rhodes and his new-American seafood restaurant.
In the past two years, Rhodes was nominated for a "Best Southeast Chef" James Beard Award. The national James Beard Foundation's honors are the so-called "Oscars of the food world." Additionally, Rhodes competed on Bravo TV's highly rated program "Top Chef."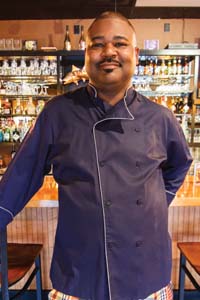 After sampling Rhodes' popular blanched shrimp "ceviche," zesty with limes, oranges and tomato, actress Paltrow in 2012 tapped Rhodes for a private cooking lesson at Catch. She was in Wilmington filming the movie "Iron Man 3." Paltrow featured the Catch class on her lifestyle blog goop.com.
Paltrow and Downey Jr. are only two stars who choose Catch. Actors Gary Cole, Vanessa Bell Calloway, Sharon Lawrence and Terri J. Vaughn all dined here. Celebrities also line up for the Catch food truck, which film crews book to feed the likes of Susan Sarandon and Melissa McCarthy. Catch food has been on television, as well. The restaurant recently supplied fare for a five-star restaurant scene in the HBO show "Eastbound & Down."
Rhodes ultimately caught Food & Wine's attention, too. In 2012, the magazine listed Catch among the 26 best restaurants on Bravo's "Top Chef." During the show's 10 seasons, 159 professional cooks, many with their own restaurants, have competed.
"We just try our best every night," Rhodes said during a quick break at the sunset-hued Catch bar before another busy Friday evening.
Nearby, servers readied the dining room's varnished honey wood tables set against sky-blue walls, hung with huge photographs of ocean waves and seaside scenes.
Staff interrupted Rhodes to ask about local seafood and produce deliveries. Behind him, Thai basil thrived in a hydroponic garden. In the kitchen, cooks prepped components for the night's specials, including pan-roasted Wahoo atop pink-eyed peas stewed with country ham. Creole-seasoned hollandaise and tiny Swiss chard would garnish the dish.
The combination exemplified the "modern seafood" preparations Rhodes envisioned when he opened Catch in 2006. Local ingredients, Rhodes' American Southern cooking roots, and international influences he gathered while working beside various chefs shape the menu.
"I think our food is very cycled with the seasons. It's a lot of different personalities, and it really just depends on me and how I'm inspired," Rhodes said.
Reared in Philadelphia, Rhodes at age 13 joined his grandparents in Wilmington after his mother died. Fried fish; salty, steamed oysters; and old-fashioned banana pudding marked family meals. Rhodes especially loved late-night hamburgers he shared with Granddad after the elder's bartending shifts at a private yacht club.
"Even on his days off, he totally enjoyed cooking all the time," Rhodes recalled.
Rhodes' first kitchen job, dishwashing, was at that yacht club. It's stunning food motivated Rhodes to become a cook. He found a mentor in the head chef at the downtown Wilmington restaurant Deluxe, now closed but in its heyday arguably Wilmington's finest restaurant. Two years later, Rhodes helmed the kitchen.
All those experiences shape Catch, which Rhodes described as "a local, independent restaurant that prides itself on customer service and creative cuisine."
"And then it's just a quality type thing," Rhodes continued. "We want to use the best ingredients, whether they're local or from abroad."
Rhodes calls on area markets, farmers and fishermen for fresh food. His wife, Angela, who works alongside him at the restaurant, takes the Catch crew deep-sea fishing several times a year. Grouper, snapper, mahi and other fish they hook land on the Catch menu.
Asian cuisine especially charms Rhodes, hence Catch classics like Firecracker Shrimp. Spicy cognac cream, sometimes sherry cream, naps plump tempura-fried shrimp. Ginger might zest Rhodes' crab cakes, which in 2011 were deemed the best at the annual N.C. Seafood Festival chef competition in Morehead City. Stir-fried bok choy accompanies duck confit and pimento macaroni and cheese.
Angry Lobster is a nearly 2-pound, whole, shellfish wok-fried in sweet chili basil sauce. The delectable meat might play against a yin and yang bed of crunchy, fried rice noodles and soft Israeli couscous blended with wakame slivers. Offerings change according to Rhodes' imagination.
"It could be 1 o'clock in the morning, and I grab a piece of paper, and I'm writing, and it just flows and flows and flows," Rhodes said of menu ideas.
Staff contribute their thoughts, resulting in unusual fusion dishes that define Catch.
This night's Wahoo special showcased Rhodes' love of Southern cooking, as does Catch's well-known North Carolina sweet potato salad with baby spinach, goat cheese, dried cranberries, toasted hemp seeds and honey shallot vinaigrette.
Saffron lemon aioli enriches seared grouper with an eastern North Carolina succotash of corn, okra and tomatoes that Rhodes seasons with basil. Plum ginger habanero conserve spikes chicken-fried quail on a pimento cheese biscuit.
Savory notes touch barman Richard Watson's cocktails, too. Muddled cucumber brightens a margarita. Salt, black pepper and ancho chili powder rim the glass. Paltrow called the drink "the most refreshing cucumber margaritas."
Rhodes appreciates the national attention, but his heart stays in Wilmington. Local customers are as important as celebrities. He strives to boost his community, too. Rhodes promotes other area chefs and plans more restaurants to boost the economy as much as satisfy his imaginings. Already, he runs the Vietamese-inspired Phun Seafood Bar in downtown Wilmington.
Catch, however, will remain the center of Rhodes' affection.
"It's definitely something special here," he said. "When you eat here, you eat a lot of love."
Catch
6623 Market St., Wilmington
910-799-3847
catchwilmington.com