Passports Not Required
01 Oct 2013
Learn new watersports or spend your days in the spa. Frenchman's Reef in the U.S. Virgin Islands offers high energy activities, luxurious pampering and everything in between.
By ROBERT SWEENEY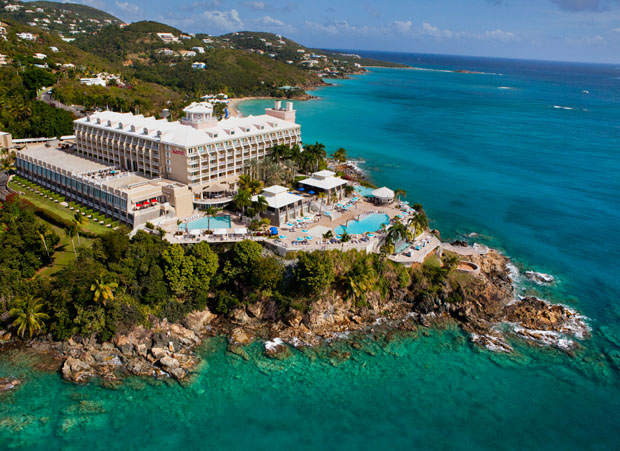 Scuba diving is my guilty pleasure. I know which dives are favorites with other enthusiasts, and I have my to-do list for future trips. As a result, when my family got the opportunity to take a seven-day trip to the U.S. Virgin Islands, I was all over it. My wife was interested in some quality pool time, shopping and snorkeling with turtles. My two teens wanted to explore the beaches and try their hand at new watersports. And I just wanted to dive. And so we packed our bags and headed for the airport.
The plane touched down in Charlotte Amalie after less than four hours in the air and one stop in Atlanta. We'd decided to rent a car. Driving on the left side of the road was no big deal, and it gave us the freedom to see and do more things. We grabbed the luggage and were at the Marriott Frenchman's Reef & Morning Star Resort, where the adventure began. Along the way, we could tell that there was much to discover in St. Thomas despite its size (32 square miles). That would come later.
First, accommodations at the resort are nothing short of spectacular, especially after its $48 million dollar renovation in 2011. You may not need a passport to travel here, but the atmosphere is distinctly Caribbean – it's another world. Apparently, love birds find it appealing. There are more than 200 weddings held here each year.
Even the rooms feel exotic, although amenities are top-drawer and we lacked for nothing during our week in paradise.
It All Begins with Water First, the family checked out the infinity pools, fitness center and beach front. My wife scheduled an afternoon at the Luxury Lazule Sea Spa. (Guests can reserve a private spa pool for $25/day.) The teens set off down the beach, and I spoke with the concierge about a dive. We all agreed to meet later.
I went diving near the Cow and Calf rocks with the Aqua Action Dive Center out of Secret Harbor. My son took a Discover Scuba class, where he learned to dive and had personal supervision to keep him from descending more than the maximum depth of 40ft. My wife and daughter snorkeled.
Later, we compared notes over lunch at the Sunset Grill in Secret Harbor. The attractive restaurant puts a creative spin on island classics. Fish sandwiches, burgers, chicken salad, plus lots of local favorites, sourced locally whenever possible.
The next day, we had a breakfast that would be replicated for the entire trip – a huge buffet at Aqua Terra at the resort that featured scrambled eggs, made-to-order omelets and all kinds of fresh fruits and breads. There was no reason to go elsewhere.
Afterward I went diving. On weekends, weather permitting, special trips are made to French Cap Cay, a deep rock pinnacle in exceedingly clear water with enormous ledges that support super-sized queen angelfish, plus some sea creatures like lobsters and nurse sharks. It was amazing.
My son went with me and had a personal dive master who made sure he stayed at the 40-foot maximum. The ladies went snorkeling again. It really is beautiful, clear water for viewing.
We had lunch at the Fat Turtle, in downtown Charlotte Amalie. It had great views and good burgers and fish sandwiches. The place is hopping at night, but still busy during the day. It was rated #2 of the island restaurants on Trip Advisor.
Late in the afternoon, we drove to Mountain Top for a scenic view of Magen's Bay. The banana daiquiris are justifiably world famous! The local Botanical Gardens offered a nice change of pace and are worth a visit.
We returned to the Aqua Terra at Frenchman's Reef for dinner. The fish is fresh and the food worth staying at the resort for.
The next morning we decided to tour the resort. It gave us a great feel for all of the amenities they offer (and there are lots of them).
The teens spent the afternoon enjoying Stand Up Paddleboarding through the resort's Adventure Center. It's a growing sport in this area as well as back home, and everyone who tried it loved the view standing up and the full body workout.
Together, we went zip lining with Tree Limin Extreme. Situated high in the forest of St. Peter Mountain, you catch breath-taking views of Magen's Bay, the British Virgin Islands and beyond. The operators are certified and very safety-conscious.
For dinner, we branched out at Coco Joe's. It was Caribbean Buffet Night which meant lobster, shrimp, fish, prime rib, great vegetables and more. A Caribbean-style band entertained us and dancers kept the energy high. The beach views went on forever and the whole family loved it.
Still more watersports the next day, as we all went snorkeling with turtles through the Adventure Center. The tour goes out to Turtle Cove off Buck Island and turtles, large and small, old and young, swim up to you. This was great fun, but designed more for novices than experienced divers.
That evening, we were ready for night kayaking, a new and very popular adventure at the Marriott. A guide gave us our instructions and put us in a clear-bottomed kayak (think glass-bottomed boat in the Florida Keys). As the sun went down, we turned on the LED lights which ringed the bottom of our boats. We could see what was gliding below us and the effect was amazing, with all the boats and lights, and the shoreline in the distance. It was a very satisfying adventure for all and I would highly recommend it.
The next day there was time for one more dive, and so we went diving at Grass Cay and Congo Cay with Coki Beach Dive Center (my wife and daughter snorkeled). This was a great, personalized dive with only 4-6 people on the boat (on this day, it was just my family of four and the dive master). We saw three-foot lobsters, a very large octopus and a school of baby squid – all in all, a remarkable adventure.
Playing Tourists
For lunch, we decided to explore Charlotte Amalie, the capital of the U.S. Virgin Islands and a duty-free Mecca for shoppers. Before-trip research told us that the best buys on St. Thomas included jewelry, alcohol, china, crystal, perfumes, art, clothing, watches and cameras. There are literally hundreds of shops, some housed in older historic buildings. One thing we didn't do was research on the going price for cameras and gold before we left home. It was difficult to determine the truly great bargains and I will definitely do my homework before returning.
Lunch was at Molly Malone's, another favorite with locals and visitors. Our last two dinners were equally memorable: A Room with a View, at Bluebeard's Castle offered an excellent fine-dining experience overlooking the harbor. Filet mignon, lobster, shrimp scampi – it was all good.
The last night was a bit more low-key. The Caribbean Saloon gave us excellent views of the Fourth of July fireworks on St. John, and homemade pizza – just right to begin to wind down. This was a perfect way to combine a wonderful family vacation with diving – what could be better?
Some History
St. Thomas is contained in only 32 square miles, but it feels like much more. Magen's Beach and Sapphire Beach are frequently touted as among the best of the 40 beaches on the island. Watersports are king, with swimming, sailing, diving, snorkeling, fishing, parasailing, kayaking, and stand up paddleboarding. But there's history, starting with the name, which was given by Christopher Columbus in honor of Ursula, martyred by the Huns for refusing to marry a pagan prince. Old sugar plantations have largely disappeared and the tumultuous slave trade was discontinued in 1848 after the practice was prohibited. What remains are the vestiges of a colonial way of life. In 1917, the islands were purchased from Denmark for $25 million in gold. Today, the gold comes in the form of tourists seeking a Caribbean vacation without completely leaving the U.S. behind.
Enjoy the island's world-renowned golf course, and energetic nightlife. Climb the famous 99 Steps of Charlotte Amalie for an incomparable view of the Caribbean. Visit the second-oldest synagogue in the Western Hemisphere, Fort Christian or French Impressionist painter Camille Pissarro's childhood home.
For more information:
For a list of the island's beaches, www.vinow.com/stthomas/beaches_stt