Celebrating 20 Years of Top-Tier Boating Services
28 Feb 2023
With a third store soon to open, the future looks bright for this family-owned, customer-focused business known today as one of the area's premier boat dealers

By Joe Jancsurak » Photos provided by Anglers Marine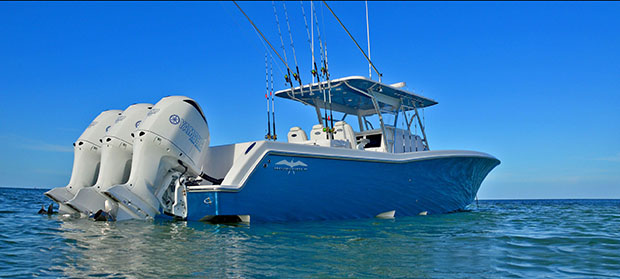 Successful businesses need plans, priorities and principles. For Anglers Marine NC, a 20-year success story with locations in Supply and Clayton, the plan calls for strategic growth with a third location in the works in Morehead City. Its top priorities: paying close attention to customers and market trends.

Overseeing this family-owned business is C.W. Hamilton, president; his wife Carol, chief financial officer; their son Wes, vice president and general manager; and daughter Dana Hobbs, account executive. The family dynamic can be a challenge, concedes Carol, but well worth it.

"Challenging because all of us have competitive Type A personalities," Carol explains. "Rewarding because we remain unified in our goal of offering customized options to meet our customers' boating needs and desires." She adds that as tournament fishing competitors, C.W. and Wes know firsthand the needs of their customers.

Customized options include equipping boats with LED underwater lights with unique colored lighting options, sophisticated GPS products, custom marine mat flooring, colorful powder-coated T-tops and power poles (shallow-water anchoring systems) to name just a few. As for its inventory, boating enthusiasts will find top-of-the-line sport fishing and pleasure boats that include such brand names as Invincible, Cape Horn, Robalo, Key West, Starcraft, Bayliner and Savannah Skiff Boats.

While understanding and reacting to market trends is important so, too, are demographics, notes Carol. "A lot of our market lives in the Research Triangle area of Raleigh-Durham, but they own beach houses here. Recognizing this, we added the Clayton store six years ago and this spring will open another in Morehead City."

The company's growth is made possible not only by the principals (C.W., Carol, Wes and Dana), but also by a 26-person team of sales associates, service technicians, office staff, a transportation specialist for boat deliveries and a social media marketing director. Brands such as Robalo, Key West, and Yamaha have recognized the company with sales and service excellence awards.

"We really are Coastal Carolina's number one boat dealership with the best lineup of boats and the area's most knowledgeable staff," Carol proclaims. "As the Southeast's largest stocking dealer, we have hundreds of boats to choose from."

And to think it all started inside an old gas station in Supply that the family transformed into their first store 20 years ago, just 300 feet away from the current location, built in 2014.

To celebrate its two decades of business, Anglers will hold its first open house/boat show since March 2020 on March 24-26. There will be food trucks, vendors and giveaways, including fishing trips, fishing equipment, Garmin GPS systems, Apple iPads, Yeti coolers and an all-inclusive three-day cruise.